Trump Could Drop Out Of Election 2020 If 'Polls Continue To Worsen,' GOP Operative Says
KEY POINTS
Bad poll numbers only bound to worsen as the pandemic spirals out of control is triggering talk Trump might abandon his candidacy
"You can see a scenario where he drops out," said one GOP insider
In a slip of the tongue, Trump said Biden is "gonna be your president because some people don't love me"
President Donald Trump's poll numbers are tanking so much even his supporters are admitting there's the strong possibility Trump will lose in November.
Some GOP pundits believe Trump could lose his reelection bid. Fox News Host Tucker Carlson tweeted out the painful truth Thursday when more polls showed Joe Biden's continuous dominance.
"President Trump may lose this election," Carlson tweeted together with a video from his show's Thursday episode.
In the clip, Carlson said "unless fundamental facts change soon, it could be tough for him to be reelected."
The idea of Trump dropping out of the election is also slowly becoming a reality for some of Trump's operatives. Trump has fallen behind Biden in practically all major polls since COVID-19 started spreading across U.S. Trump's widely maligned handling of the COVID-19 pandemic and his response to the racial justice protests triggered by the death of George Floyd on May 25 have magnified his unpopularity among American voters.
"It's too early, but if the polls continue to worsen, you can see a scenario where he drops out," said one GOP insider quoted by Fox News.
Another GOP operative said he'd heard the talk but doubts they're true. Nonetheless, he believes Trump will give up the fight "if he believes there's no way to win."
Charles Gasparino, Senior Correspondent at Fox Business Network (FBN), echoed these comments from GOP insiders. He tweeted:
"GOP operatives are for the first time raising the possibility that @realDonaldTrump could drop out of the race if his poll numbers don't rebound."
Gasparino said over the weekend, he spoke to a number of highly placed insiders. One of these people described Trump's current psyche as "fragile."
Even polls by friendly Fox News have been uniformly unfavorable for Trump. The latest shows him trailing Biden by 12 points. A RealClearPolitics average of polls shows Trump down almost 10 points to Biden. Now, other polls also show Biden leading Trump in many key battleground states.
The latest New York Times and Siena College poll released last week shows Biden leading Trump, 50% to 36%. This poll also confirms his continuing loss of support among male voters, whites and middle age voters. More disturbingly, the poll affirms Trump's loss of support among white voters from the Republican Party is increasing, especially among younger voters.
Trump is doing himself no favors by inadvertently letting slip he believes Biden will beat him. In a recent interview with friend, Sean Hannity over Fox News, Trump blurted out the possibility Biden will win in November when he said Biden is "gonna be your president because some people don't love me, maybe."
Still, some GOP supporters believe a lot can change between now and Election Day. David Tamasi, a D.C.-based lobbyist and GOP donor, emphasized to Fox News: "We have a long way to go. I'm not overly concerned at this point where things are."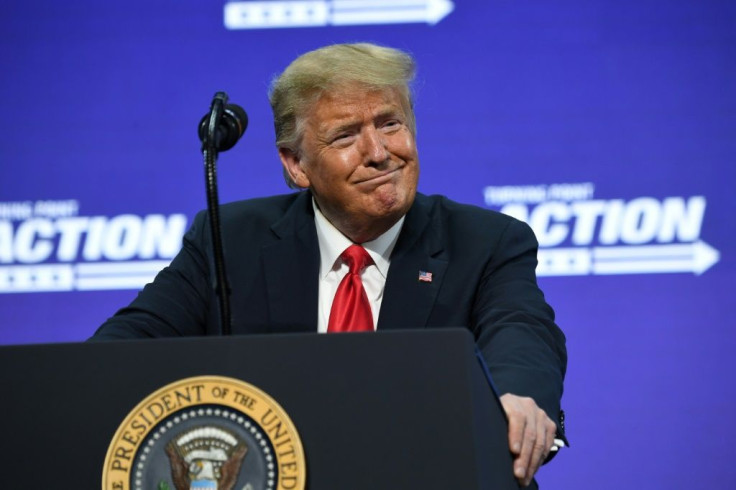 © Copyright IBTimes 2023. All rights reserved.
FOLLOW MORE IBT NEWS ON THE BELOW CHANNELS