'Trump ... A Cult Leader' According To Michael Cohen's 'Disloyal: A Memoir'
KEY POINTS
Michael Cohen describes President Trump as a "cult leader" and himself a former member in his new book
Cohen speaks about Trump's racist views on Black leaders, his relationship with his family, and views on his own supporters
The White House repeatedly denied Cohen's allegations and questioned his credibility
Ahead of the Tuesday release of his new book, "Disloyal: A Memoir," President Donald Trump's former personal attorney Michael Cohen compared his ex-boss to a "cult leader" and said he needs to resign.
"In the book, obviously, I describe Mr. Trump as a cult leader, and I was in this cult," Cohen told NBC News, describing his book's perspective as coming from a "former cult member" trying to convince other members to leave. "I've said this before, and I'll say it again: Open your eyes as I have. And I want you to appreciate that Donald Trump cares for no one or anything other than himself."
Cohen took it step further, saying he feared the lengths Trump would go to hold on to the White House.
"Donald Trump will do anything and everything within which to win," Cohen said. "And I believe that includes manipulating the ballots. I believe he would even go so far as to start a war in order to prevent himself from being removed from office."
Cohen has found himself at odds with the Trump administration since he began working on his book while serving his prison term for various federal crimes, including violations of campaign finance laws. He continued working on it after being released to house arrest in May due to the coronavirus pandemic.
He was taken back into custody in July for what Federal Judge Alvin Hellerstein said was "retaliation" over Cohen's planned book, but was released shortly after.
Cohen makes many claims against his former employer in the book, such as being an outspoken racist behind closed doors. One excerpt from his book says Trump generally has "low opinions of all black folks, from music to culture and politics."
One leader Cohen said Trump repeatedly criticized was late South African President Nelson Mandela.
"Mandela f***ed the whole country up," Cohen said in the book. "Now it's a s***hole. F*** Mandela. He was no leader."
The Nelson Mandela Foundation responded to this excerpt, saying Trump's own conduct while in office left him in no position to comment on the life or political career of Mandela.
"Reflecting on leadership, Madiba once said: 'A good leader can engage in a debate frankly and thoroughly, knowing that at the end he and the other side must be closer, and thus emerge stronger. You don't have that idea when you are arrogant, superficial, and uninformed.' We would recommend these words to Mr. Trump for consideration," the foundation said in a press release.
Cohen also highlights a video he said was meant for the 2012 Republican National Convention of Trump belittling then-President Barack Obama using an impersonator.
"Trump hired a 'Faux-Bama' to participate in a video in which Trump 'ritualistically belittled the first black president and then fired him," Cohen said in the book.
"Of course, you know, the script being written, Obama did not come out looking good in this script. And this was supposed to go out on Trump's social media platform. It was ultimately decided that it was not a smart move for him to do. And this, of course, was all going on during the birther — 'Birther-gate,' as we'll call it."
Cohen's book also speaks about Trump's views on Black and Hispanic voters, his relationship with his family, his views on Vladimir Putin, and the relationship with his own supporters.
The White House has repeatedly denied Cohen's allegations and challenged his credibility.
"Cohen is a disgraced felon and disbarred lawyer, who lied to Congress," White House Press Secretary Kayleigh McEnany said in a press release. "He has lost all credibility, and it's unsurprising to see his latest attempt to profit off of lies."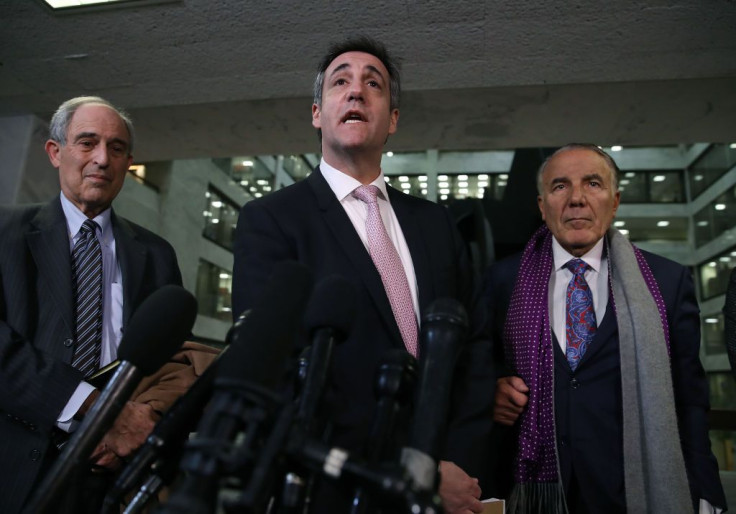 © Copyright IBTimes 2023. All rights reserved.
FOLLOW MORE IBT NEWS ON THE BELOW CHANNELS