Trump On Hong Kong Protest: China President Xi Wants To 'Quickly, Humanely Solve' Issue
Amidst the U.S trade war with China, President Donald Trump has turned attention to Hong Kong protests and the resulting turmoil in the island.
Trump news suggests that the U.S president wanted a "personal meeting" with China President Xi Jinping to solve the ongoing crisis in the former British colony.
"I know President Xi of China very well," Trump tweeted. "He is a great leader who very much has the respect of his people. He is also a good man in a 'tough business.' I have ZERO doubt that if President Xi wants to quickly and humanely solve the Hong Kong problem, he can do it. Personal meeting?"
Hong Kong has been on a boil since early June after the city-state brought in an Extradition bill seeking to handover people in Hong Kong to mainland China over criminal charges.
Although the proposal has now been suspended, it is yet to be scrapped totally.
The street protests against the extradition bill have now snowballed into calls for autonomy and full democracy plus the ouster of the Hong Kong leader Carrie Lam.
Trump also sought to link a China trade deal on how China handles the Hong Kong problem.
Trump's tweet noted that China is losing millions of jobs to non-tariffed countries. Thousands of companies are leaving. If China wants to make a deal, "let them work humanely with Hong Kong first!"
On Tuesday, trade war news was brimming with Trump's softening on trade issues with China and deferring tariffs on certain Chinese goods and chopping some items from the tariff list.
The intent was to avoid any disruptions to the holiday season before Christmas.
The deferral "helps China more than us, but will be reciprocated," Trump said Wednesday.
China warned against high-handedness in Hong Kong
Meanwhile, in Hong Kong, violent clashes between police and protesters continued on Tuesday night, after demonstrations at Hong Kong International Airport.
The Chinese government warned the protesters that their behavior was "close to terrorism."
There is fear of a direct military crackdown by China but most analysts rule out that option.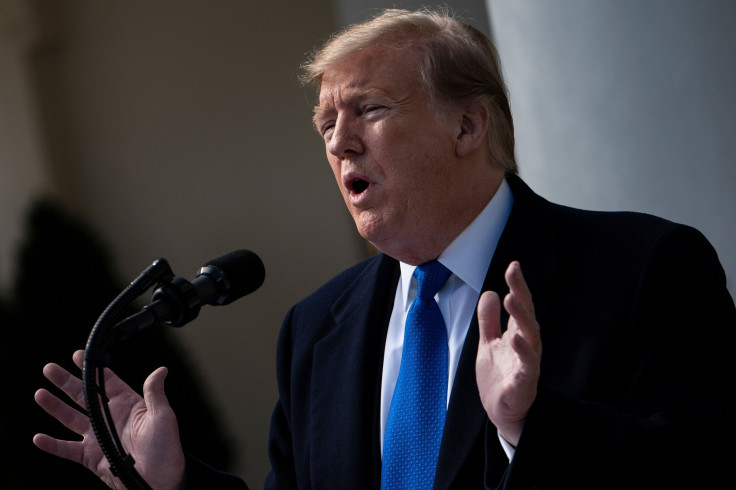 The U.S. president's national security advisor, John Bolton, also warned China against highhandedness in Hong Kong and urged it to handle the situation carefully, "because people in America remember Tiananmen Square."
Repeating the military repression on the 1989 student-led protests in China would be a "big mistake," he told Voice of America.
Meanwhile, satellite photos provided by Maxar Technologies showed Chinese armored carriers from the paramilitary People's Armed Police parked at a sports complex in Shenzhen.
The satellite image of Aug. 12 showed the Chinese security force vehicles inside the Shenzen Bay Sports Center in the Shenzhen city, bordering Hong Kong.
At least 500 vehicles were looking ready across the Hong Kong harbor.
© Copyright IBTimes 2023. All rights reserved.