Trump Inauguration Crowd Size Controversy: President Tweets Picture With Wrong Swearing-In Event Date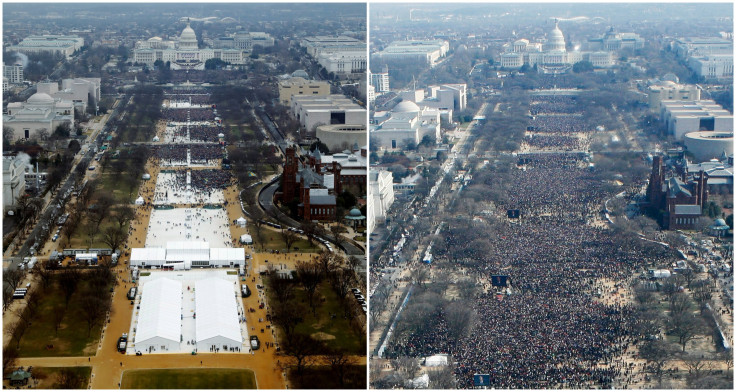 The controversy surrounding President Donald Trump's inauguration refuses to die down. The latest addition to the scandal involves the date of the real estate mogul's swearing-in event.
The president tweeted a picture of a framed panoramic photograph of the inauguration crowd Tuesday saying that it would be displayed at the upper or lower press hall in the White House. But the fine print said the inauguration happened on Jan. 21, 2017.
The swearing-in event occurred on Jan. 20.
The photographer Abbas Shirmohammadi told New York Daily News the mix-up was a simple "mistake."
"It was midnight, it was such a rush," he said. "We just corrected it."
Shirmohammadi, an Iranian immigrant, runs the Panoramic Visions photography service in Washington. He has taken similar panoramic images of the inauguration crowd for every president since Ronald Reagan. He said his latest inauguration picture wasn't very different from the rest.
"You can notice on the left side of the photograph, in the second section, there are some seats empty," he said. "That is exactly the scene as I saw it."
He added that he did not want to get involved in the "politics" of the issue but said he wasn't surprised the crowd size became such a major controversy in the first place.
"My only comment is: Welcome to Washington," Shirmohammadi said.
The Trump administration has repeatedly insisted that the inauguration drew the largest audience ever, disputing the fact that former President Barack Obama's 2009 swearing-in drew a much bigger crowd.
White House Press Secretary Sean Spicer even held an impromptu media briefing Saturday criticizing the press for spreading what he said was false information.
"This was the largest audience ever to witness an inauguration, period," Spicer claimed. "These attempts to lessen the enthusiasm of the inauguration are shameful and wrong."
Senior White House aide Kellyanne Conway also defended Spicer's claims, calling them "alternative facts."
© Copyright IBTimes 2022. All rights reserved.
FOLLOW MORE IBT NEWS ON THE BELOW CHANNELS