Trump To Kill North Korea's Kim Jong Un? US Orders Aircraft Carrier Closer To Korean Peninsula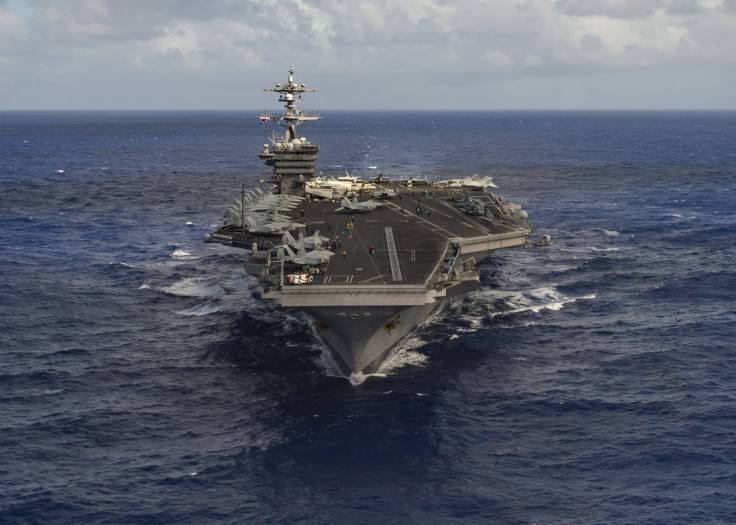 President Donald Trump may be considering to kill North Korean leader Kim Jong Un as nuclear threats from the reclusive country continues to be on the rise. According to recent reports, U.S. National Security Council suggested Trump that either assassinating Kim or deploying nuclear weapons in South Korea could help end the potential war in the Korean Peninsula.
One option "is to target and kill North Korean leader Kim Jong Un and other senior leaders in charge of the country's missiles and nuclear weapons and decision-making," NBC news reported, quoting multiple top-ranking intelligence and military officials.
Read: North Korea's Kim Jong Un Will Destroy US With A Nuclear Bomb If He Feels Threatened
The report was followed by news that U.S. aircraft carrier USS Carl Vinson, which was scheduled for a port call in Australia, has moved towards the Korean Peninsula amid growing concerns of a nuclear threat from North Korea.
A U.S. defense official said Saturday that the strike group will provide a show of presence in the region.
Moving the carrier strike group was a "prudent measure to maintain readiness and presence in the Western Pacific," Dave Benham, a spokesman for U.S. Pacific Command, reportedly said. "The number one threat in the region continues to be North Korea, due to its reckless, irresponsible, and destabilizing program of missile tests and pursuit of a nuclear weapons capability."
North Korea has continued its threat against the U.S. and South Korea despite several warnings from the international community. In March, North Korea carried out two ballistic missile tests. The reclusive country has so far conducted five suspected nuclear tests, including two last year. Analysts believe that a possible sixth nuclear test is being planned by Pyongyang for April 15, which is the 105th birthday of North Korea's founding president.
On Saturday, Trump and South Korea's acting President Hwang Kyo-Ahn spoke by phone, agreeing in close contact about North Korea and other issues.
© Copyright IBTimes 2023. All rights reserved.