Trump Mocks Pelosi: 'Teeth Were Falling Out Of Her Mouth' During Impeachment Interview
KEY POINTS
Trump has taken a low-blow at Pelosi by tweeting she was trying to prevent her teeth from falling out during a press conference
Pelosi hasn't responded to Trump's latest insult
This is the latest in Trump's series of attacks towards Democrats and the House Majority Leader
President Donald Trump, in his fight against impeachment and House Majority Leader Nancy Pelosi (D-CA), claimed Pelosi's teeth were "falling out of her mouth" during a press conference last week while she discussed the impeachment inquiry.
Ever since the start of the impeachment inquiry in September, Trump and the GOP have attacked the impeachment process. This includes insulting Democrats and their witnesses on social media.
Along this line, Rep. Mark Meadows (R-NC) on December 12 posted a tweet with the caption, "Because it wasn't true," along with a 26 second-long video showing Pelosi answering a reporter's question at her weekend press conference in Washington D.C. The tweet was Meadows' answer to the reporter's question.
"You yourself accused (Trump) of bribery. Why did you decide not to make bribery one of the articles of impeachment," asked the reporter.
To which Pelosi replied, "This was a decision that was recommended by working together with our committee chairs, our attorneys and the rest."
Pelosi should have answered bribery is included under one of the two articles of impeachment, which is Abuse of Power. Instead she replied indecisively, giving Meadows the chance to tweet his attack.
While on stage, Pelosi apparently had a cough drop or a mint in her mouth and was rolling it around as she spoke. Trump mistook Pelosi's cough drop for something else, and on Sunday retweeted Meadow's original post with the statement: "Because Nancy's teeth were falling out of her mouth, and she didn't have time to think!"
Pelosi hasn't commented on Trump's latest attack. Political observers note Trump's unfounded tweet is only the latest in a series of increasingly bitter personal attacks on Pelosi since she announced the impeachment inquiry on September 24.
On Dec. 5, Trump also accused Pelosi of having a "nervous fit" when the House Speaker lashed out at a reporter for asking if she hated the president.
"As a Catholic, I resent your using the word 'hate' in a sentence that addresses me," Pelosi declared. Trump was quick to slam her, tweeting: "Nancy Pelosi just had a nervous fit. She hates that we will soon have 182 great new judges and sooo much more."
"She says she 'prays for the President.' I don't believe her, not even close. Help the homeless in your district Nancy."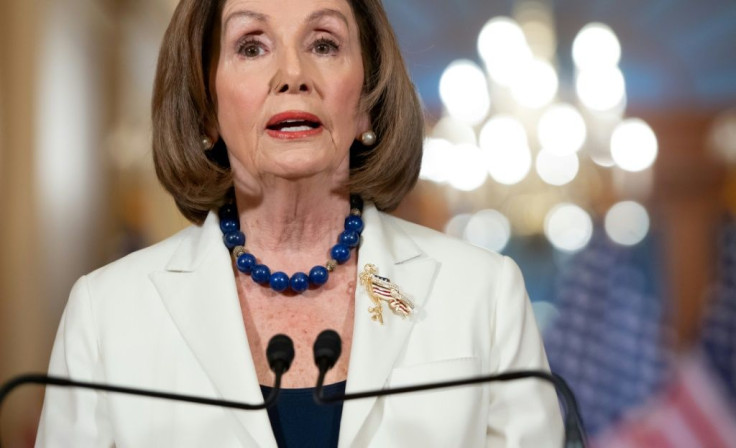 © Copyright IBTimes 2023. All rights reserved.