Trump Protests: Stoners Smoke Weed On Inauguration Day To Pressure New White House Administration On Marijuana Policy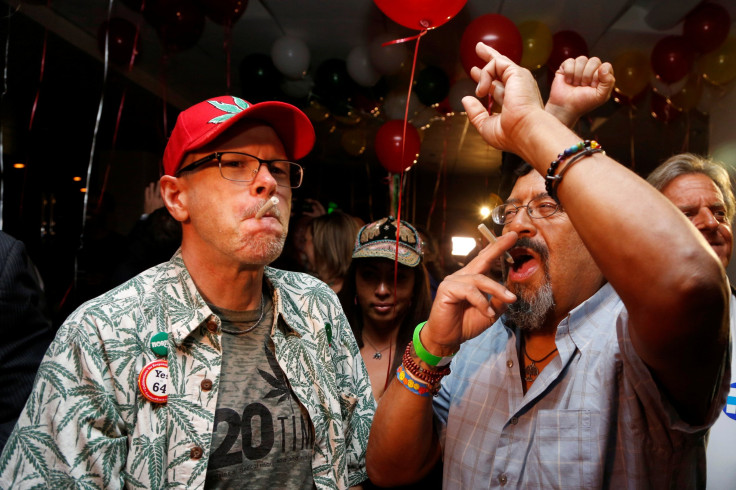 WASHINGTON-- The pro-legalization activists wore red "liberty caps" and passed out free marijuana to anyone with identification proving they were at least 21-years-old. Amid a haze of pot smoke, the hundreds of volunteers gathered on a wet and dreary Friday morning with just one goal: To hand out over 4,000 hand-rolled joints on Inauguration Day to Americans throughout Washington, D.C. and get people high for democracy.
The party went down just west of DuPont Circle, where the group was stationed with large amps playing a mix of top 40 music, reggae and stoner jams. The line for free joints extended over five blocks, with thousands of participants shouting various chants, including a crowd favorite: "when they go low, we get high."
It wasn't just millennials and liberals getting high for free. Dawn Lee-Carty, a 40-year-old mother, joined the crowd of demonstrators Friday morning to advocate for medical marijuana. She recently started medicating her own young daughter who suffered from conjunction dysfunction disease with cannabis oil pills.
"Who would have thought I'd end up here, advocating for the legalization of marijuana," Lee-Carty told International Business Times. "But my daughter went from having 50 to 60 seizures a day to being over 90 percent seizure-free. And she's not addicted to the opioids that are damaging our children's futures."
Organizers clashed at about 8:15 a.m. EST, when religious activists attempted to obstruct the free-marijuana demonstration. Two men claiming to be "messengers of God" shouted at the smokers, who then proceeded to take selfies with them and engage in a peaceful debate over the longterm effects of marijuana use.
"This isn't a protest against Donald Trump, we would love to work with the next president on legalizing marijuana throughout the entire United States, as well as the District of Columbia," said Nikola Schiller, co-founder of DCMJ, the group hosting the marijuana-fueled Inaugural demonstration. "I think there's an unprecedented opportunity to raise awareness for legalization at this moment in our nation's history."
Each group of Americans had their own unique way of celebrating in the days ahead of Trump's Inauguration Day, to say the least. Alt-right activists wore customs gowns and tuxedos to the #Deploraball, while the anti-Trump group #DisruptJ20 clashed outside of the soiree with conservative attendees and local authorities.
But DCMJ was hard at work Wednesday night, calling on volunteers and marijuana growers to come to the nation's capitol ahead of Inauguration Day to roll thousands of joints together. "It was a community effort," one organizer told IBT.
By Friday, the joints were being put to use as thousands got high just blocks from where the 45th president of the United States would soon be sworn in.
© Copyright IBTimes 2022. All rights reserved.
FOLLOW MORE IBT NEWS ON THE BELOW CHANNELS