Trump Supporters Ousted From Bernie Sanders' Rally Allowed To Return Without Banners
On Thursday, Vermont Sen. Bernie Sanders (I-VT) arrived at a campaign rally in University of Nevada, Reno, to endorse Senate candidate Jacky Rosen and other Nevada Democrats when a group of Trump supporters showed up.
Minutes after taking the stage at the venue to encourage his followers to go out and vote in the midterm election, Sanders drew people's attention to the handful of students who stood on the second floor of a parking garage near the stage, holding pro-Trump banners.
"Really? Do you really want to give $1 trillion in tax breaks to the 1 percent?" Sanders asked the group. "Is that what you want?"
Shortly after the senator had made the comments, Democratic campaign operatives were seen heckling the group and ousting them from the arena.
The emcee of the event, Will Adler, later told Reno Gazette Journal the unnamed university officials had asked him drive away the POTUS' supporters because they were not in a "free speech zone." Adler's comment was cleared up by the university police present at the scene when they said contrary to what the emcee might have believed, it was a public university.
While some of the members of the pro-Trump group were let back into the campaign rally a while after being removed, the "Make America Great Again" banners they were previously seen holding, were nowhere to be seen.
After the brief distraction, Sanders continued with his speech, reiterating the importance of the upcoming election in November and encouraging everyone to go out and cast votes.
"We need your help here in Nevada to transform the economic and political life of our country," he said, Las Vegas Review-Journal reported. "What I beg of you is not only get out and vote for Jacky Rosen, bring your uncles and your aunts and your friends and your co-workers. This is going to be a close election. And it is absolutely imperative not only for Nevada, but for the future of this country, that Jacky get elected."
At the same time, Sanders did not hold back from unleashing a stream of criticism against President Donald Trump and the Republican Party in general.
"What this president is doing no president in my lifetime has ever done," Sanders said. "And that is for cheap political gain he is trying to divide us up. To have one group hate another group."
He spoke on a range of topics that usually form the base of his political agenda, including universal healthcare, inequality, removing corporate funds from politics, protecting immigrants and the environment.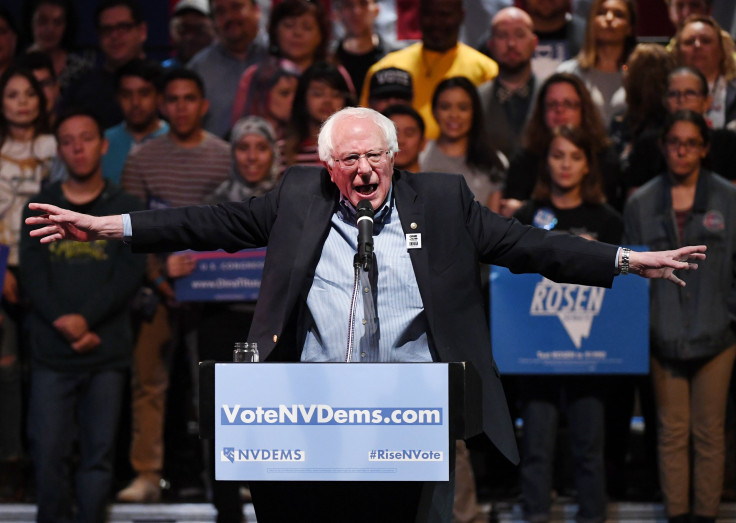 © Copyright IBTimes 2023. All rights reserved.