Trump Supporters Scammed Into Buying 'Trump Bucks' That Can Be Exchanged For Cash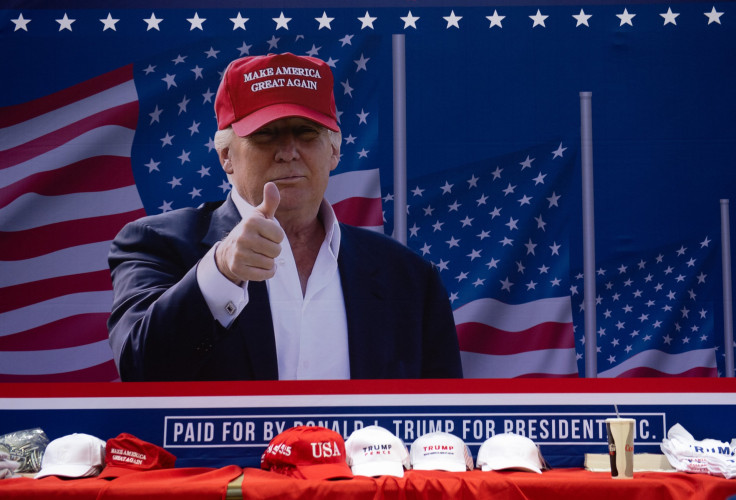 KEY POINTS
One Trump supporter warned others on Twitter that if they bought the items, they were "scammed"
A 75-year-old grandmother tried to cash the items at a Bank of America to no luck
The FTC confirmed it received one fraud complaint against Patriots Dynasty in January
Several supporters of Donald Trump were allegedly scammed into buying commemorative items bearing the former president's name and face, believing the items could be used as legal tender, according to a report.
The "Trump Bucks," which include coins, bills and checks, are being advertised via alleged AI-generated promotional videos impersonating the voices of celebrities and politicians such as Trump and Elon Musk, NBC News reported.
A number of Trump supporters allegedly spent thousands of dollars on Trump Bucks and other items after seeing the ads on social media and in chat groups but later discovered they were worthless when they tried to cash them in at banks, according to the report.
"Let's make America wealthy again," the AI-generated Trump voice said in one of the videos uploaded on Tiktok.
In the ads, viewers were urged to invest in the Trump Rebate Banking System (TRB) and were told the Trump Bucks they buy would be turned into legal tender worth more than the purchase price once Trump allegedly unveils a new monetary system.
The ads claimed that buying a TRB membership card allegedly issued by Trump himself would allow a person who, for example, bought a "$10,000 Diamond Trump Bucks" bill for $99.99 to cash that bill in for $10,000 at major banks and retailers like Walmart, Costco and Home Depot.
One YouTube ad claimed that TRB system membership cards would "allow Trump Bucks holders to use Trump Bucks as legal tender and deposit them in banks such as JP Morgan Chase, the Bank of America and Wells Fargo." However, just a few seconds before this, the ad said that the Trump Bucks "are not legal tender."
The companies allegedly behind the Trump Bucks and the ads are the Colorado-based Patriots Dynasty, Patriots Future and USA Patriots, according to NBC News.
The Federal Trade Commission confirmed to the outlet that it received a fraud complaint against Patriots Dynasty in January. However, it did not provide any further information about the complaint, including who filed it.
One purchaser named John Amann told NBC News that he bought $2,200 worth of Trump Bucks and other items but allegedly failed to cash them in at his local bank.
"[I]f you purchased any of the TRB systems items, you got scammed. The TRB vouchers, DJT golden checks, DJT diamond checks [and] TRB golden checks have no monetary values (sic). They are commemorative only," Amann tweeted.
NBC News said there is no evidence that Trump or his campaign team are involved in the purported scam. When reached by the outlet about the matter, the Trump campaign did not issue any statement or comment.
However, according to the outlet, Amann is just one of at least 12 people it identified who have claimed they bought Trump Bucks and other items after seeing promotional videos that strongly suggested that the former president was endorsing them.
"Now I'm questioning whether he is aware of this," Amann told the outlet of Trump.
A 75-year-old grandmother from Alabama, who refused to be identified for fear of harassment, told the outlet that she spent $1,500 on Trump Bucks after seeing ads on Telegram showing an AI version of Trump promoting the items and how, after a year, the items can be cashed in. But to her disappointment, that's not what happened.
"When we get [to the Bank of America] the lady tells me she's seen dozens of people coming in to cash these checks and they have nothing to do with this," the grandmother said.
"Now I realize, well, that was stupid," she added. "But I bought them because I believed President Trump, because he knows all about finance, and he was going to help the real Trump Patriots get rich."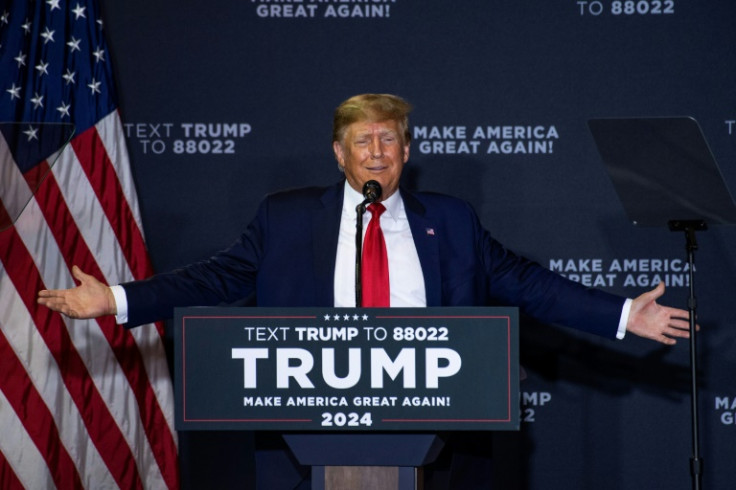 © Copyright IBTimes 2023. All rights reserved.