Trump Tours Phoenix Honeywell Plant Without A Mask Or Gloves, Despite Ongoing Coronavirus Concerns
KEY POINTS
President Trump toured the manufacturing plant that was repurposed to produce N-95 masks on Tuesday during his visit to Phoenix
White House and Honeywell officials said despite signs saying masks were required, Trump was allowed to tour without a mask and all precautions were taken to protect everyone's health
The decision was met with criticism by Rep. Nancy Pelosi, who called it "a vanity thing."
President Trump on Tuesday visited a Honeywell mask factory in Phoenix as part of his administration's push for states to reopen. Trump was wearing goggles but did not wear a mask or gloves while touring the plant despite ongoing concerns over the coronavirus pandemic.
A White House official told reporters that despite signs at the facility requiring masks, the company told them masks were not needed. Honeywell spokeswoman Nina Krauss echoed the White House and said all precautions were taken before and after the tour.
"Following White House recommended protocol, a small number of individuals directly interfacing with the President on Tuesday were tested for COVID-19 immediately prior to the event, received negative test results, and were permitted to not wear masks during portions of the visit based on that medical screening," Krauss told reporters. "All others present were wearing masks and social distancing in accordance with Honeywell's site policy."
Workers greeted Trump by blasting Guns N' Roses' cover of Paul McCartney's "Live and Let Die" over the factory's speaker system while he toured the facility. Videos also showed factory workers wearing goggles, masks and gloves.
Trump has been faced regular criticism for refusing to wear protective masks, even though health officials have continued to advise wearing masks while out in public. However, he appeared to be open to wearing a mask during his tour of the facility if the company said it was before departing for Phoenix.
"I think it's a masked facility," Trump said Tuesday before boarding Air Force One. "If it's a masked facility, I will. I don't know if it's a masked facility."
When he arrived in Phoenix, he was seen departing Air Force One alongside Sen. Martha McSally, Rep. Debbie Lesko, and Rep. Paul Gosar, none of whom were wearing masks. It was the same at a roundtable discussion about increasing aid to Native Americans hit hard by the pandemic that preceded the tour of the Honeywell facility. Trump would go on to tour the facility producing N-95 masks for distribution among healthcare workers across the U.S.
After the tour, Trump held a press conference to discuss his visit and praised factory workers for their continued efforts during the pandemic. The Honeywell plant previously specialized in designing and manufacturing aircraft propulsion engines and auxiliary power units.
"Moments ago we saw the brand-new production lines where you're making high-quality N95 respirators, they are made to perfection," Trump said. "There's no bad masks, like various countries have been sending. Bad masks from other places. Nothing like that at Honeywell."
Trump also reinforced how it was time for states to begin reopening throughout his visit.
"The people aren't going to accept it. They won't accept it, and they shouldn't accept it. We have a great country. We can't keep it closed," Trump said.
Trump's visit and remarks were met with sharp criticism by House Speaker Nancy Pelosi during an appearance on MSNBC's "Andrea Mitchell Reports."
"It's a vanity thing, I guess, with him," Pelosi said when asked about Trump not wearing a mask.
"You'd think as the President of the United States, you would have the confidence to honor the guidance that you are giving others in the country. Yes, he should have worn a face mask.
"It's really another indication that as we tell everyone to wash their hands, 30 seconds, soap and water, top and bottom, wash your hands, hygiene and sanitation very important in fighting this. Apparently, the president has washed his hands of this."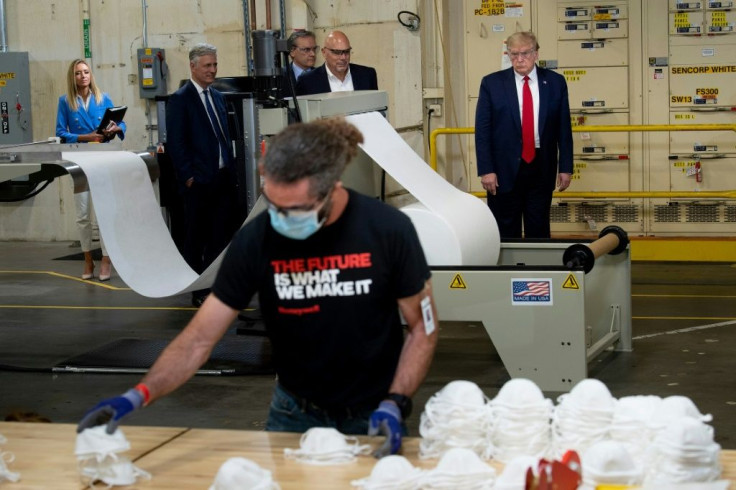 © Copyright IBTimes 2023. All rights reserved.