Trump Travel Ban: Adviser Says Courts Have No Right To Block Travel Ban, 'No Such Thing As Judicial Supremacy'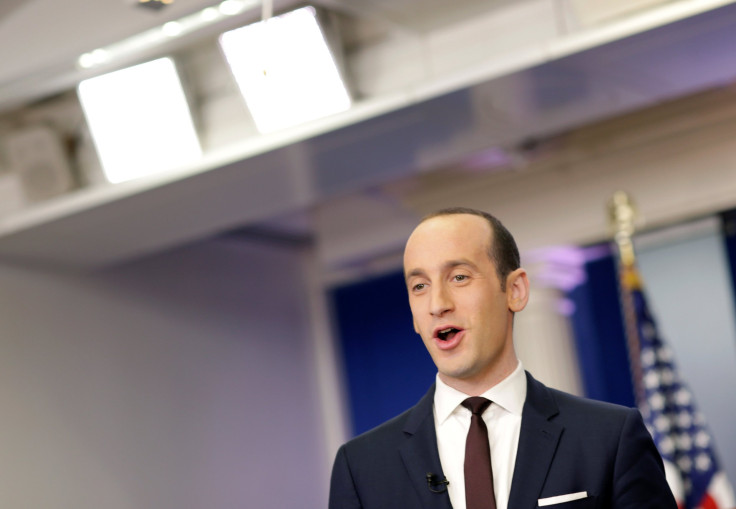 Presidential policy adviser Stephen Miller accused the courts of attempting to "take power for themselves" in refusing to reinstate President Donald Trump's executive order barring travelers from seven Muslim-majority countries.
Miller, in an appearances on both NBC's "Meet the Press" and ABC's "This Week," the order was strictly based on "security conditions in those countries" and was not aimed at keeping Muslims out of the United States.
Trump's order barred indefinitely travelers from Syria and for at least 90 days from Iran, Iraq, Libya, Somalia, Sudan and Yemen. It also suspended for 120 days the U.S. refugee program to give the administration time to develop "extreme vetting" procedures.
U.S. District Judge James Robart in Seattle issued a temporary restraining order suspending the executive order and the 9 U.S. Circuit Court of Appeals in San Francisco upheld the judge's ruling.
"There's no such thing as judicial supremacy. What the judges did both at the 9th [Circuit] and at the district level was to take power for themselves that belongs squarely in the hands of the president of the United States," Miller said, adding the administration has the option of seeking an emergency order from the Supreme Court or just issuing a new executive order.
Senate Minority Leader Chuck Schumer said on CBS' "Face the Nation" Trump should scrap the travel ban because it's "un-American and unconstitutional."
"I think he ought to throw it in the trash," Schumer said. "I think this executive order is so bad and so poisoned and its genesis is so bad and terrible that he ought to just throw it in the trash can."
Schumer said the order does nothing to make the nation safer. A better approach, he said, would be to tighten up the visa waiver program that allows travelers from 38 countries to enter the United States easily.
"But these days there are would-be terrorists who have infiltrated places like Belgium and France, and they could come into this country much more easily than someone who's a refugee from the seven countries the president mentioned. That needs real tightening up," Schumer said.
Miller justified the order based on a 1952 law that gives the president in times of war the power to "suspend admissions from the very country they were at war with." He said that takes priority over a 1965 law that says immigration decisions cannot be based on country of origin.
On undocumented immigrants, Miller said securing the Mexican border would save the United States hundreds of billions of dollars in years to come, virtually allowing the wall to pay for itself. An internal report from the Department of Homeland Security last week estimated the wall would cost $21.6 billion, way more than the $8 billion to $12 billion estimated by Trump.
Miller framed last week's immigration raids as an internal security issue, saying the focus is on those who have committed crimes but admitted people who pose no criminal threat could be caught up in the raids and deportations.
© Copyright IBTimes 2023. All rights reserved.
FOLLOW MORE IBT NEWS ON THE BELOW CHANNELS