Trump Wanted To 'Go After Bitcoin', John Bolton's Book Reveals
KEY POINTS
President Trump told Treasury Secretary Mnuchin to go after Bitcoin instead of being a trade negotiator with China
Mnuchin backed Trump in July 2019 when the President criticized Bitcoin on Twitter
The details of the conversation are in John Bolton's upcoming book, "The Room Where It Happened"
Former National Adviser John Bolton revealed in his upcoming book President Donald Trump's order to crack down on Bitcoin.
The Washington Examiner reported details of a conversation between Trump and Treasury Secretary Steven Mnuchin described in "The Room Where It Happened," a yet-to-be-published book written by Bolton. Trump allegedly told Mnuchin in May 2018 to stop being a trade negotiator and instead "go after Bitcoin [for fraud]." This was while the U.S. was preparing new trade sanctions against China, setting off a trade war between the two countries.
Apparently, the tense exchange ended with Mnuchin conceding. "If you don't want me on trade, fine, your economic team will execute whatever you want," he reportedly told Trump.
On Jan. 12, 2018, while speaking to the Economic Club of Washington, Mnuchin warned that Bitcoin might become the next "Swiss Bank Account" and that the U.S. was working with the G-20 to make sure it does not happen. In the month prior, Bitcoin reached the all-time high of near $20,000 per BTC. Many coins such as Ethereum reached their all-time highs in January 2018.
On May 24, 2018, the month that the heated conversation between Trump and Mnuchin took place, Bloomberg reported that the U.S. Justice Department opened an investigation into illicit crypto trading, wanting to find out "if traders are manipulating the price of Bitcoin and other digital currencies."
Trump publicly criticized Bitcoin on July 11, 2019, saying he is not a fan of Bitcoin and other cryptocurrencies. He argued that these coins are not money and they base their value on thin air. He also criticized Facebook's Libra, which was being positioned as a global cryptocurrency by the company.
Mnuchin backed Trump on July 18, 2019, telling CNBC that his department "will police Bitcoin and other cryptocurrencies with very, very strong regulations" and make sure Bitcoin does not become "the equivalent of Swiss-numbered bank accounts." After being told that the U.S. dollar is also used by bad actors for illegal transactions, Mnuchin said that statement is not accurate.
"We combat bad actors in the U.S. dollar every day to protect the U.S. financial system," he said.
In February 2018, Mnuchin had appeared before a budget hearing and Sen. Maggie Hassan, D-N.H., asked how the Treasury will monitor suspicious cryptocurrency transactions. Mnuchin replied that they are about to "roll out some significant new requirements at the Financial Crimes Enforcement Network (FinCEN)."
Chronicling his time as National Security Adviser, John Bolton's upcoming book has been delayed after the Justice Department asked a judge to stop its release for containing classified material.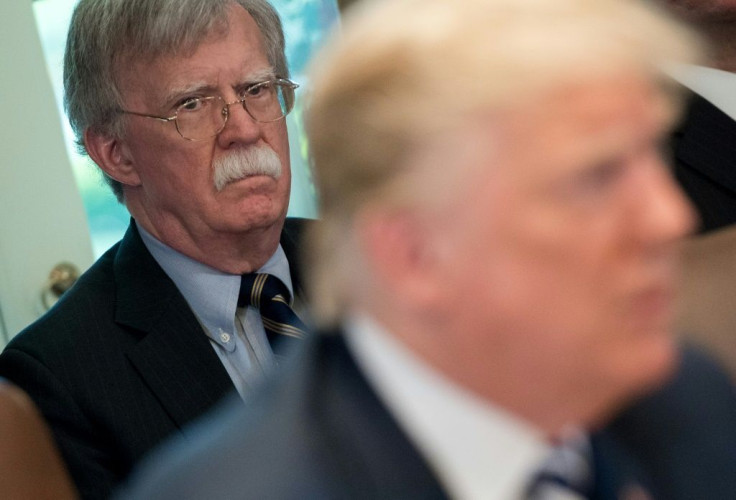 © Copyright IBTimes 2023. All rights reserved.