Trump Weighs North Korea Options Before Visit Of South Korean Leader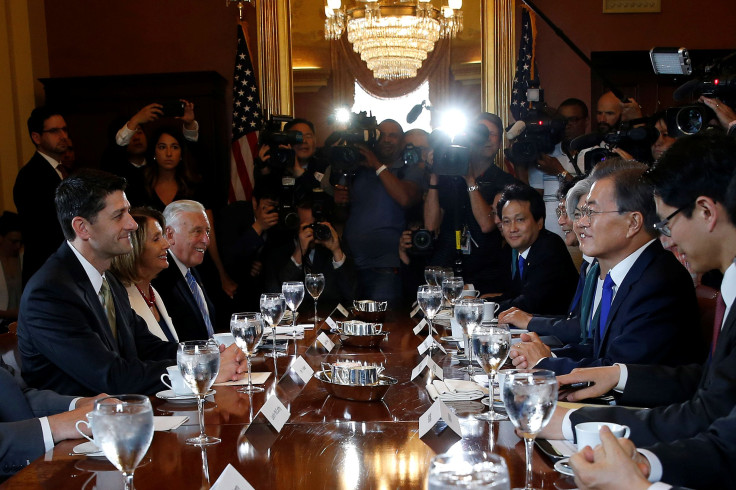 President Donald Trump was given updated military options, according to CNN Thursday, as the administration weighed how to deal with North Korea on the eve of a visit from South Korean President Moon Jae In.
Trump has taken a much harder stance against North Korea than his predecessor, but the administration grapples with what to do next. Trump has leaned on China to put heat on North Korea diplomatically and economically but might ask them to do more. Ninety percent of North Korea's foreign trade is with China.
READ: China Suspends Fuel Sales To North Korea Amid Tense Times
"There's recognition that there has to be more pressure on the regime. I think what you'll see in the coming days and weeks are efforts to do that," said national security advisor H.R. McMaster at a security conference Wednesday.
China suspended coal purchases from North Korea for the year after a February test of an intermediate range ballistic missile. North Korea exports almost all of its coal to China. In March Trump issued sanctions on several businesses in China that work with North Korea.
Some officials still feel that China has not gone far enough.
"The takeaway is China is still not doing what China needs to be doing, and while we're working with them in a very cooperative way right now, my sense is if they don't step up soon we're going to then move to the coercive mode, which means secondary sanctions," Senate Foreign Relations Committee Chairman Bob Corker to CNN Wednesday.
McMaster also confirmed that Trump will be presented with updated military options for use in case North Korea conducts more nuclear or missile testing, or other threatening behavior.
"What we have to do is prepare all options because the President has made clear to us that he will not accept a nuclear power in North Korea and a threat that can target the United States and target the American population," said McMaster.
Tensions with North Korea have been high since Trump took office. The administration's rhetoric is a departure from Obama's "strategic patience."
"(The) era of strategic patience is over," said Vice President Mike Pence during his April visit to South Korea "We hope to achieve this objective through peaceable means. But all options are on the table."
North Korea has also had 10 missile tests this year, and the situation became even more tenuous when Otto Warmbier, a 22-year-old American student imprisoned in North Korea was returned to the U.S. in a coma after suffering severe brain damage. He subsequently died.
Trump will host the newly elected Moon at the White House Thursday where the two will discuss North Korea policy. Moon, a liberal leader, has taken a softer approach than the U.S. towards North Korea.
READ: Will North Korea Denuclearize? South Korean President Denies Plans To Reduce Washington-Seoul Military Drills
"Without rewarding North Korea for its bad actions, South Korea and the United States should closely consult what they may give the North in return for a nuclear freeze, " said Moon en route to the U.S. Wednesday according to U.S. News and World Report.
The U.S. keeps more than 22,000 troops in South Korea according to the Atlantic Thursday.
© Copyright IBTimes 2023. All rights reserved.