The Trumps' Love Life: Melania's Key To A Happy Marriage Is Using A Separate Bathroom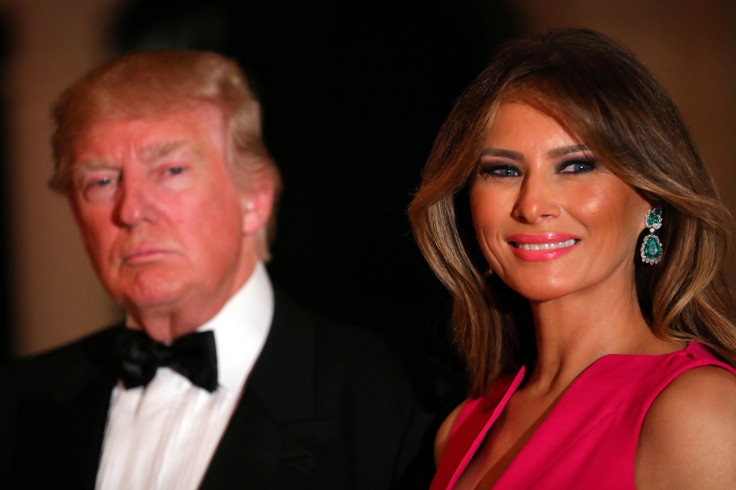 President Donald Trump's love life with first lady Melania Trump likely took a back seat following his hectic first months in the Oval Office, but things may have been smooth sailing for the presidential couple during their transition.
Despite not living together in their $100 million New York City penthouse anymore – the first lady stayed in Trump Towers with 10-year-old son Barron Trump, while the president moved into his new Washington, D.C., pad in January – the pair's arrangements have stayed mostly the same since Inauguration Day.
Read: Melania Trump Staying In NYC: Why First Lady Won't Be Throwing Any Parties In DC This Week
An unverified US Weekly report released this week said the Trumps sleep alone in separate beds, refusing to "spend the night together – ever." It wasn't clear who the source was behind the rumors, but the first lady's disdain for sharing her personal space isn't exactly new information.
Melania Trump and her husband have repeatedly shared what's made their marriage last for years: privacy, and having their very own bathrooms.
The first lady revealed last year she preferred her own, private area when it comes to using the toilet, following Trump's announcement he was running for the presidency.
"To the twice-divorced Donald, Melania is terrific," Julia Ioffe, who profiled Melania Trump for GQ, wrote last year. "He's never heard her fart or make doodie… Melania has said the key to the success of her marriage is separate bathrooms."
The president expressed his appreciation for never hearing Melania Trump use the bathroom since the two began dating in 1998 in a 2003 "Howard Stern Show" interview. In fact, Trump said he was most enthralled by the first lady's lack of flatulence.
"Isn't that amazing? In years, three and a half years she's never… wow," Trump said, recalling the fact he had never heard his wife fart.
The first family will reportedly all be under the same roof in the White House come June, once Barron Trump completes his year of schooling in Manhattan. For now, the first lady and president can enjoy all of the bathroom privacy they want.
© Copyright IBTimes 2023. All rights reserved.