Is Trump's Private Security Team Safe? Former Secret Service Agent Says Issues Could Arise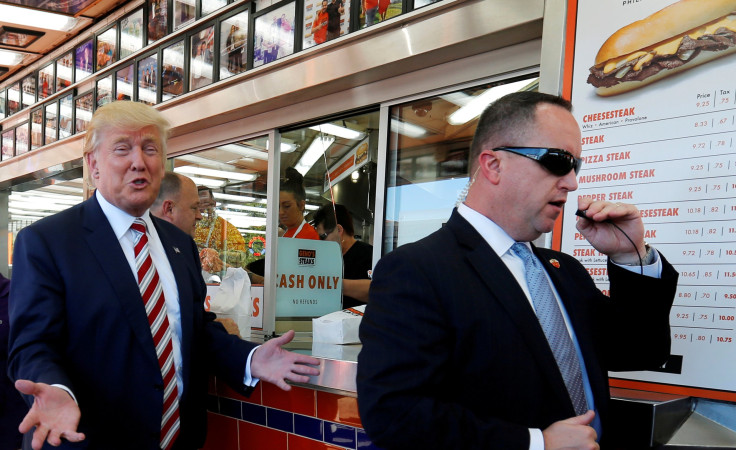 President-elect Donald Trump's plan to take some members of his private security team with him to the White House could pose a danger both to the Secret Service and the incoming president, a former Secret Service agent said Monday.
Gary Byrne, who protected President Bill Clinton and his family in the 1990s, told WGN Radio in Chicago the main issue involved with Trump's decision is protocol. He said a private security company could react differently in a number of situations, likely carry different firearms than the Secret Service and that integrating the two teams could be problematic.
One such problem could be the fact that Trump's current team is made up of private citizens, who aren't allowed to carry firearms into federal buildings.
Trump "puts a premium" on loyalty and relies on retired New York City police officer and sailor Keith Schiller, who has worked from Trump since 1999 as a part-time bodyguard, sources told Politico reported Monday. The president-elect's reported decision to keep on members of his private team, which bucks years of tradition, is unprecedented.
"It's gonna be interesting to watch," Byrne chuckled, "so the Secret Service agents and uniform division officers that protect the presidents are sworn federal police officers. These guys that Mr. Trump has are private security officers, you know, people who have worked for him a long time."
However, Byrne did confirm that loyalty is a major factor for Trump.
"The gentleman that is the head of Mr. Trump's detail has been with him for a long time, he's not just the head of his security he's kind of a, somebody that he relies on for business consulting and stuff. They are very close people," Byrne said.
Secret Service agents are quite wary over who joins their ranks, Byrne added.
"It's something new for the Secret Service," he said. "I will tell you, they are very, very particular about who they let inside that bubble, about protection, but that don't really have a choice here. These guys are a private company that's been hired by Mr. Trump for a long period of time, they're very close with him. So I see some problems from time to time integrating them.
"One of the problems I see with integrating, these guys are private citizens who work for security companies. They're not authorized to work in the White House complex, they don't have security clearances. The gentleman that runs his security has actually had some Secret Service training years ago when he was a New York police officer, and he's got some people that work for him that are former FBI agents, but they're retired they aren't government employees anymore."
Byrne gave an example of how the Secret Service might react to a rally, say at a Trump "Thank You Tour" event, where a private security officer could remove a disruptive person. However, the Secret Service would not unless that person poses an actual risk to the Trump.
"So there's gonna be some conflict. There already has been little things. You know, somebody in private security is going to react different than the Secret Service is. These guys these private companies, maybe 6 to 12 guys, maybe even 20 guys. The Secret Service is hundreds of people. It's hundreds of agents, it's got uniform division officers outside on the perimeter. They react different, they have different protocols, they're probably carrying different firearms, which could be an issue," Byrne said.
© Copyright IBTimes 2023. All rights reserved.