The Truth About How Barbara Walters Treated Her Co-Stars On 'The View'
Several reports about Barbara Walters relationship with her co-stars on "The View" have come to light after a tell-all book about the TV show and the women that hosted it has been revealed. Some of the criticism has been about Walters and how she treated her fellow castmates.
The book, "Ladies Who Punch: The Explosive Inside Story of "The View"" by Ramin Setoodeh, the New York bureau chief for Variety, takes a look inside the talk show and the revolving door of women that have hosted it. Several of the female hosts of the show spoke about their experience on "The View" for the book, giving readers an inside glimpse of what really went on behind the scenes
Jenny McCarthy, a co-host of the show from 2013 to 2014, had plenty to say in the book, which had excerpts from it first posted on Vulture. McCarthy opened up about how Walter treated her, dissecting her appearance and demanding her to change on several occasions, according to the book.
"Barbara would check out what I was wearing. If she didn't agree with it, or it didn't complement her outfit, I had to change," McCarthy said in the book. "Mind you, she doesn't look at anyone's clothes but mine. There were times when she'd say change, and she'd make people run out and get that dress in her size. I was a human Barbie doll."
McCarthy, who claims producers wanted her to be more like Elisabeth Hasselbeck, a former host of the show that she replaced, also feuded with Walters over her decision to not have her son, who has autism, vaccinated. McCarthy released the book, "Louder Than Words: A Mother's Journey in Healing Autism.," which discussed her thoughts on vaccinating her son, which Walters strongly disagreed with.
"I walked into her dressing room and she blew up at me," McCarthy said in the book. "She was screaming, 'How dare you say this! That autism can be cured?' My knees were shaking. I remember my whole body was shaking.
According to McCarthy, Walters had screamed, " You're such a liar!"
She went on to explain that "This lasted for about seven minutes. Finally, someone pulled me out of the room. I went back to my dressing room, not knowing what the [expletive] to do. One of my heroes just chewed me a new [expletive], and I'm going on live TV."
Walters may have also had a feud running with Whoopi Goldberg as the two women rivaled to be the moderator of "The View," as is written in the book. McCarthy explained the battle between Walters and Goldberg by saying, "The table reminds me a little bit of Survivor. There was a war between Barbara and Whoopi about Barbara wanting to moderate.
"This is one of the reasons I decided not to ally with Whoopi. It broke my heart when Barbara would shuffle to Whoopi and say, 'Can I moderate please?' And Whoopi would say no."
Reports have suggested that Walters is suffering from dementia and has had some outbursts that are uncanny for the TV journalist.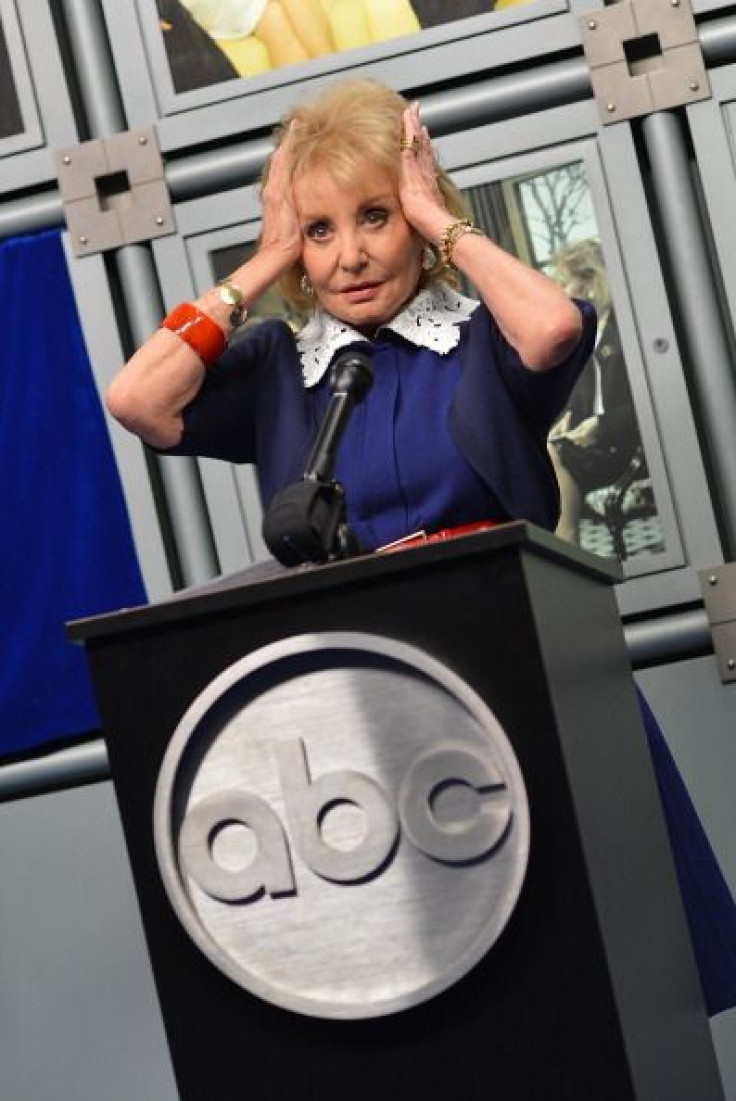 © Copyright IBTimes 2023. All rights reserved.