The Truth About Sunscreen: 8 SPF Myths Debunked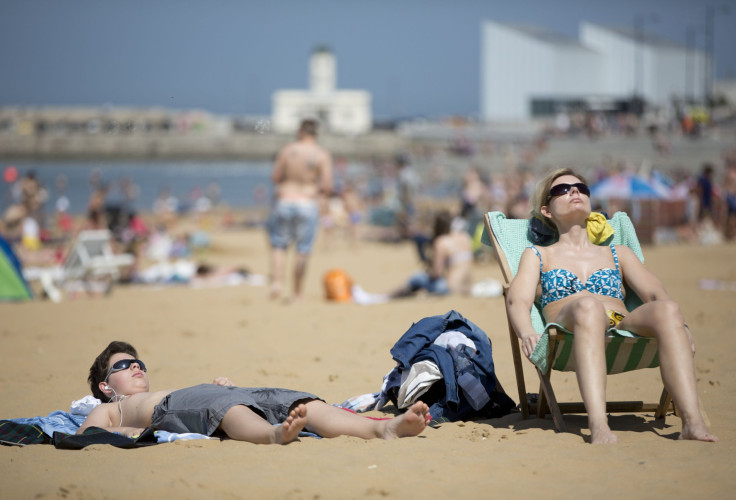 Your memory may be a bit hazy about how to use SPF properly, but that doesn't mean the sky is.
Now that summer has officially begun, temperatures are rising and the sun is shining more brighter. More sunlight means more ultraviolet light, which can be harmful for your skin and health. Overexposure to ultraviolet light can not only lead to sunburn, but has long-term health effects from wrinkles to cancer.
Ultraviolet light is made up of UVB rays, which cause sunburn, and UVA rays, which go much deeper into the skin. Both, however, can lead to skin cancer, the most common type of cancer in the U.S. with over 3.5 million new cases each year.
But despite the health risks, not everyone uses sunscreen properly. We've rounded up the most common myths about sunscreen and consulted the pros about the truth in SPF.
Any sunscreen is good sunscreen.
Not all sunscreen formulas are made equal and opinions on the matter differ. The American Academy of Dermatology recommends using SPF 30 or higher and a label that says "broad-spectrum coverage," which means it protects against both UVA and UVB light. The Food and Drug Administration says SPF 15 and higher is better, but agrees that broad spectrum ensures the best protection.
The AAD also notes that the means by which consumers use sunscreen—lotion, spray or stick—are all effective when used on dry skin 15 to 30 minutes before going outside.
I have dark skin so I don't need sunscreen.
People in ethnic groups who have darker skin—though less likely—can still suffer from burns or even skin cancer from overexposure to sun.
"Unfortunately, skin cancer is frequently diagnosed later in people of color—perhaps because of the misconception that they are not at risk—so it's often progressed to a later stage and is more difficult to treat," Los Angeles-based dermatologist Dr. Jessica Wu, MD, told Reader's Digest.
This also includes those who have a "base tan," Steve Rotter, MD, a dermatologic surgeon in Virginia told Reader's Digest. A tan is the result of production of melanin, the pigment that colors skin. Tanned skin is merely a sign the sun has already damaged skin and does not provide any protection.
I put on sunscreen. I don't need to reapply.
Whether waterproof or not, sunscreen does need to be reapplied throughout the day.
"The general principle is to reapply every two to four hours," dermatologist James Spencer, MD, of St. Petersburg, Florida told WebMD. "Sunscreen does go away with time."
It's cloudy outside so I don't need sunscreen.
Wrong. The Skin Cancer Foundation reports that 80 percent of the sun's ultraviolet rays can pass through clouds, which results in sunburns even in overcast skies.
"If you're going to be outdoors, you should wear sunscreen," dermatologist Jennifer Stein, MD, PhD, of New York University Langone Medical Center told WebMD. "Even when it's cloudy outside, you can still get sunburn through cloud cover."
I don't need sunscreen in the winter.
Snow actually reflects 80 percent of ultraviolet rays, so any spots left uncovered by clothes are at risk for sunburn. That percentage increases the higher the altitude, CNN reported.
The sunscreen in my makeup is good enough.
Most makeup nowadays has some form of SPF added in, but that's not enough.
"If you use foundation, a few spots of sunscreen on your face isn't going to be enough out in the sun," Stein told WebMD. "You should wear at least an SPF of 30. The easiest approach is to use a facial moisturizer that already has sunscreen in it."
I don't need sunscreen unless I am outside.
While glass filters out UVB rays from sunlight, harmful UVA rays can still seep through windows. So it's still important to wear sunscreen when sitting near a window or driving in a car, CNN reported.
My sunscreen from last summer is fine.
Sunscreen actually does come with an expiration date.
"Some sunscreens break down quickly, especially the ones that give you UVA protection. So it shouldn't sit in your bathroom cabinet for too long," Stein told WebMD.
© Copyright IBTimes 2023. All rights reserved.
FOLLOW MORE IBT NEWS ON THE BELOW CHANNELS