Twins Born 87 Days Apart: Irish Twins Amy and Katie Elliott Now Guinness World Record Holders [PHOTO]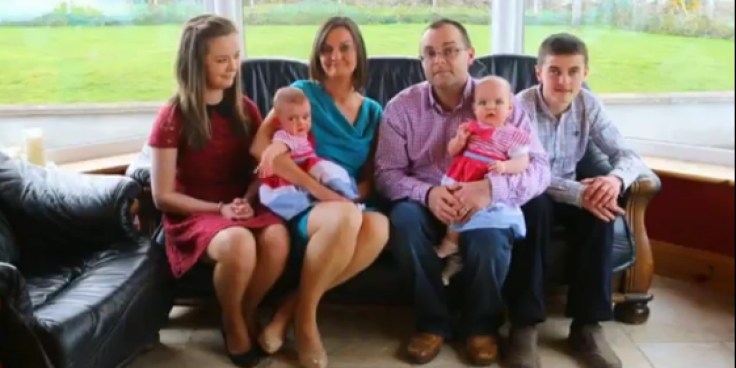 Twins Amy and Katie Elliott may be headed for the record books after being born 87 days apart. Their birth is now being hailed by doctors as "probably the first of its kind" in Ireland.
Glenmore resident Maria Jones-Elliott, 34, went into premature labor last year, which is common for women carrying twins. In June, she gave birth to the first set of twin girls, Amy, four months ahead of schedule. After doctors unsuccessfully tried to induce the birth of the other twin, Katie, she was born naturally on Aug. 27 -- 87 days after her sister, the Belfast Telegraph reports.
Eddie O'Donnell, a doctor at Waterford Regional Hospital, said most mothers deliver twins in quick succession. He said the births of these two twins not only broke the record for the longest interval between births, beating the current record of 84 days, but is also extremely rare.
"Two week is the longest I've ever seen," said O'Donnell, who noted the extended birthing process stemmed from the mother's lack of contractions after the first child was born. "There were cases documented as far back as the 1800s of babies born 40 days apart … Most people have never heard of this."
In an email to the Huffington Post, Guinness World Records spokesman Damian Field said if the family's claim can be substantiated it would break the Guinness World Record title for the longest interval between the birth of twins. "We currently await their evidence," he said. The current record holder lives in Pennsylvania and gave birth to a twin boy and girl 84 days apart between 1995 and 1996.
Maria Jones-Elliott and her husband, Chris Elliott, also have two other children, Olivia and Jack. The family is hailing the safe delivery of the twins as "miracles."
"Usually you experience nothing but joy at the birth of a new baby, but it was so achingly bitter-sweet as both of their lives hung in the balance," their mother told the (UK) Daily Mirror. "As I held Amy for the first time I stroked my bump and prayed to God. I just wanted my girls to be safe and well."
After she went into premature labor, Jones-Elliott said there was a period when she feared losing the girls.
"The doctors said they had never seen anything like it," she said. "It should have been a joyful time but it was horrific. I had one baby in intensive care and one inside me, clinging to life."
O'Donnell said, "In medical terms to have both babies and mum come through this healthy and happy is the medical equivalent of a lottery win. We are delighted for the whole family and couldn't be happier we were able to play a part in their miraculous birth."
© Copyright IBTimes 2023. All rights reserved.