Twitter Inc (TWTR) Q2 Earnings: $502 Million Revenue Exceeds Estimates But User Growth Disappoints, Again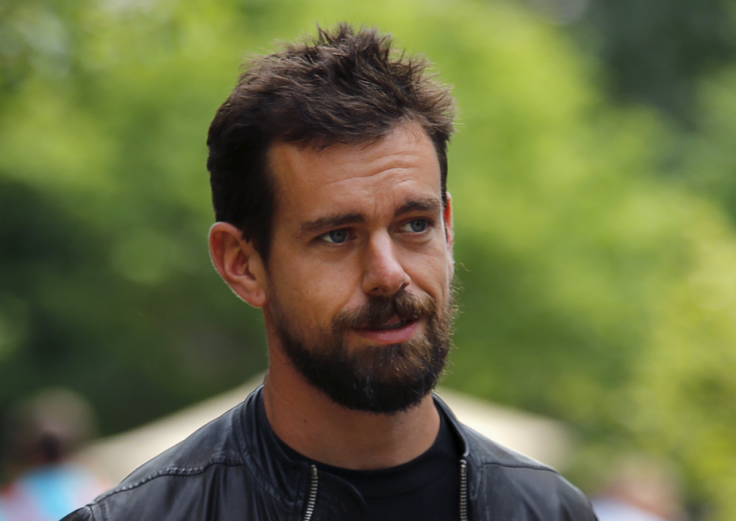 Twitter Inc. turned a corner on its ad business, with sales up 61 percent due to growth in its mobile ad business. Yet, user growth remained underwhelming, up 2.6 percent to 316 million, a deceleration from last quarter even as Twitter made many efforts to make the service more user-friendly.
"Our Q2 results show good progress in monetization, but we are not satisfied with our growth in audience," said interim CEO Jack Dorsey in a company statement.
Dorsey conceded that while Twitter is well-known, it remains baffling to non-users. "A lot of people know of Twitter, but they are unclear of why they should use it themselves."
Twitter has been trying to change how it surfaces content while also improving the ways that users can create their own and be involved in conversations. Twitter acquired live-streaming video company Periscope in January 2015, and the app was released in April. The company chose to show off that product by using it for their conference call.
While the microblogging site continues to struggle with user growth, Twitter has shown that at least its power users are helping to bring in some revenue, though not yet profits. ​
Success In Advertising
The revenue number -- $502 million from $312 million last year -- exceeded its own prior forecast and sent shares up 5 percent in after-hours trading. Analysts were expecting $481.3 million in revenue or 4 cents per share. Twitter is primarily a mobile service and revenue from smartphones accounted for 88 percent of the total.
Twitter had missed revenue expectations of its last earnings, but predicted that future results would get a boost from the ad technologies acquired as part of the deal for TellApart, a digital marketing firm. TellApart contributed $12 million in revenue over the past five weeks, Twitter revealed on the call.
Twitter Inc. (TWTR) Quarterly Revenue | FindTheCompany
CFO Noto also noted that the potential of auto-play video to further improve the company as a product. This shift could call more engaged advertising and with "call-to-action" button, as has driven mobile ad revenues on Facebook. However, the company only released the auto-play feature in June.
Twitter also has no current plans around money-making strategies for Periscope, Dorsey said. But he is looking for more ways to integrate Periscope with Twitter and its other video-sharing product Vine.
New Marketing Campaign
Wall Street has repeatedly criticized Twitter for its user growth. Twitter added 8 million users to its ranks in the quarter, but that number includes a significant caveat: 4 million are SMS-only users which are being counted for the first time. Twitter would have then added only 4 million active monthly users, excluding SMS. Last quarter, the site added 14 million monthly active users that pushed the network passed 300 million. That increase was a clear jump from adding 4 million in the last quarter of 2014.
Twitter has been releasing several new features to help with new user on-boarding such as a redesigned homepage. In May, Twitter rolled out a partnership with Google that surfaces tweets in search results. To help with user retention, Twitter added new reporting and blocking tools, and for engagement, the company introduced "While You Were Away" and improved analytics.
Twitter Inc. (TWTR) - Stock Price | FindTheCompany
But the company says it believes it has yet to reach "mass market." Noto said that the company has achieved less than 30 percent user penetration on where it reaches. The next step: a new marketing strategy. In fact, Noto announced that the company has begun the process of hiring a chief marketing officer -- a first for nine-year-old company. Marketing is currently a position designated to Noto.
"The product remains too difficult to use. We have not communicated why people should use Twitter. This is both a product issue and a marketing issue," Noto said. "We need to ensure that we have a unique value."
Dorsey discussed "Project Lightning" -- a new initiative for curating tweets during live events -- as a new driver for showing the relevance. He also said that the company is considering a "reverse chronological timeline" as it has begun to test through the "While You Were Away update. "Twitter will become the first thing that everyone turns to to start their day," Dorsey said. "Our goal is to show more meaningful tweets and conversations faster, whether that's logged in or out of Twitter."
A New Leader?
Twitter declined to provide insight into who has been considered as the company's next CEO. "I know this is a trending topic on Twitter, but unfortunately, we do not have an update today," Dorsey said on the call. "My focus is on raising the bar of an execution."
During the company's first-quarter earnings call in April, Twitter announced that Dick Costolo would be stepping down as CEO on July 1 and would be replaced by Dorsey on an interim. Dorsey has not officially taken himself out of the running. This week, Dorsey's other company Square Inc. announced its plan to file publicly.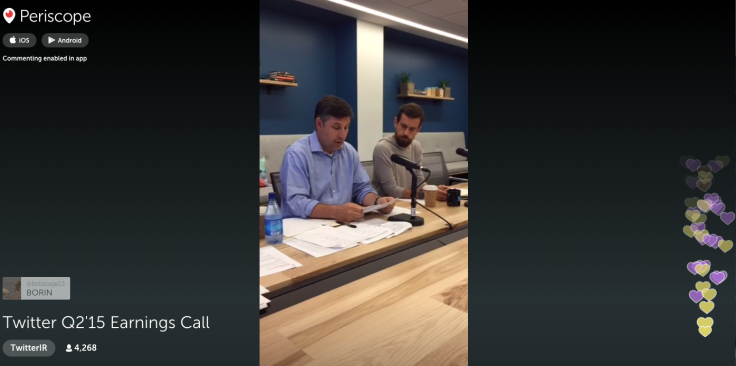 Twitter has put together a search committee to look for a replacement. Noto had been named one of the frontrunners. The former Wall Street banker has, at least, expressed his interest in the potential of the company he joined in July 2014. "I joined the company because of the significant opportunity," Noto said. "Twitter is incredibly unique in that it makes other companies and partners better. We are committed in doing just that."
This story has been updated to include comment and insight from the 5 p.m. investor's call.
© Copyright IBTimes 2023. All rights reserved.
FOLLOW MORE IBT NEWS ON THE BELOW CHANNELS