Twitter Reacts To Amy Robach And T.J. Holmes' 'GMA3' Exit Following Alleged Affair
KEY POINTS
Some Twitter users were not surprised by the news that Amy Robach and T.J. Holmes were leaving ABC News
Some felt doubtful that the relationship will last amid allegations that Holmes had multiple affairs over the years
The anchors' exit came over a month after they were taken off the air amid an internal investigation into their relationship
Social media users have mixed opinions about the news that T.J. Holmes and Amy Robach, the anchors of the third hour of ABC's "Good Morning America," have parted ways with ABC News.
On Friday, the network announced that Robach, 49, and Holmes, 45, who made headlines when their romance was revealed late last year, while they were both married to other people, have officially departed "GMA3: What You Need to Know." The announcement came weeks after the co-anchors were suspended from their roles amid an internal investigation into their relationship.
"After several productive conversations with Amy Robach and T.J. Holmes, about different options, we all agreed it's best for everyone that they move on from ABC News," a company spokesperson said in a statement provided to Variety Friday. "We recognize their talent and commitment over the years and are thankful for their contributions."
The announcement was met with mixed reactions on social media.
Some were not surprised by the decision but expressed support for the pair moving forward. A number of Twitter users, however, felt doubtful that the relationship will last amid reports that Holmes allegedly had multiple affairs over the years while married to his now-estranged wife, Marilee Fiebig.
"The fact that ABC executives pushed out Amy Robach and TJ Holmes for a consensual affair isn't surprising. Americans are incredibly puritanical. A country that allows gun violence but feels 'uncomfortable' about two equals having sex. I hope they got massive payouts," one Twitter user wrote.
"I hope Amy Robach doesn't think that TJ Holmes is going to suddenly be faithful. Girl, you lost your job for community peen. He's probably already cheating on her," another commented on a photo of Robach straddling Holmes following their ABC exit.
"Such absolute [b------t] that Amy Robach and TJ Holmes were fired. Two adults dating after they were separated from their spouses. ... Time for a lawsuit," a third user wrote.
"If another network picks up Amy Robach and TJ Holmes, trust and believe I'm gonna watch just for the sake of it," another added.
Their exit came after Holmes and Robach were taken off the air last month following a November 2022 Daily Mail report showing the pair packing on the PDA.
Robach is married to actor Andrew Shue, while Holmes is married to attorney Marilee Fiebig.
Holmes reportedly filed for divorce from Fiebig last month after 12 years of marriage.
The status of Robach's marriage remains unclear, but People and Page Six reported that she and Shue had separated in August 2022.
Shue's son, Nate, also seemingly reacted to the news of his stepmother's ABC departure over the weekend, Us Weekly reported.
Nate, who the "Melrose Place" alum shares with ex-wife Jennifer Hageney, took to his Instagram Stories Saturday to share a GIF of Jimmy Fallon gesturing with his hands, along with a caption that read, "Let's just move on!"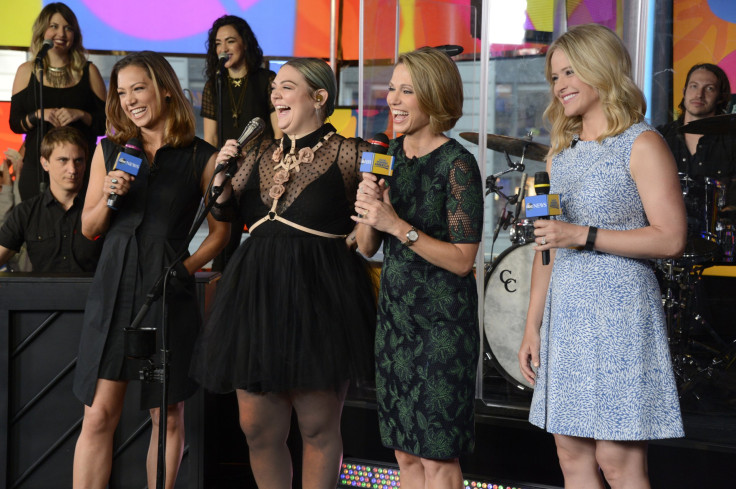 © Copyright IBTimes 2023. All rights reserved.