Twitter Reacts To Melania Trump Calling Out Vogue For Being 'Biased'
KEY POINTS
Many Twitter users reacted to Melania Trump calling out Vogue for being biased
Several netizens responded by saying Vogue only features classy women on its cover
Trump's supporters agreed with her and said she was right that Vogue is biased
Melania Trump seemingly called out Vogue for not featuring her on the cover when she was in the White House, unlike the other former first ladies. Twitter users shared mixed opinions about her remarks.
In a recent interview with "Fox & Friends," the ex-FLOTUS was asked about the media treatment she received and First Lady Jill Biden's Vogue cover. She admitted that she didn't receive the same privilege despite her fashion background. "They're biased, and they have likes and dislikes," Trump said.
Her statement received a slew of reactions from Twitter users. Some agreed with her while others argued and sided with the magazine.
"Vogue has standards," one commented while sharing Trump's previous photoshoots when she was still a model. Another added, "She had her magazine spread... vogue doesn't do her type of photos."
"Not biased honey, she is just a better First Lady and has class unlike you. She cares!!" a third user wrote, implying that Trump lacks the class to appear on Vogue's cover.
"Maybe it's because all the other First Ladies have class and elegance and have made positive changes or influences during their tenure in office. I don't think anyone wore a coat that says 'I really don't care, do you?'" a fourth user added.
Several also defended Trump. For them, she did not mean any disrespect and only answered the question that the interviewer asked her. Many also agreed with Trump that the media have biases.
"Why are we fueling the fire," another netizen who admitted to being an "anti-Trump grandma" commented. "The interviewer baited her. She answered calmly and claimed bias. Is she wrong? Or are you wrong for fanning the flame? This is not news. Let's do better."
"She's absolutely correct. Let's be honest, Dr. Jill isn't exactly model material nor is she a fashion icon. It's all propaganda," a second user added.
"She's correct, they are biased. Not very complicated," a third person wrote.
"I'll never purchase Vogue, never have never will. Melania Trump was the most stylish & beautiful 1st lady and was ignored," a fan of Trump opined.
Although Trump was not featured on the Vogue cover when her husband former President Donald Trump was in the Oval Office, she did appear on the magazine cover in 2005 in her wedding dress after she tied the knot with the ex-POTUS.
The other former first ladies like Michelle Obama and Hillary Clinton, including the current one, Biden, were all featured on the Vogue cover during their tenure in the White House. Meanwhile, conservative first ladies Laura Bush, Barbara Bush and Nancy Reagan were all photographed for Vogue but none of them appeared on the cover, People reported.
"I think American people and everyone sees it," Melania remarked after calling Vogue biased. "It was their decision, and I have much more important things to do — and I did in the White House — than being on the cover of Vogue."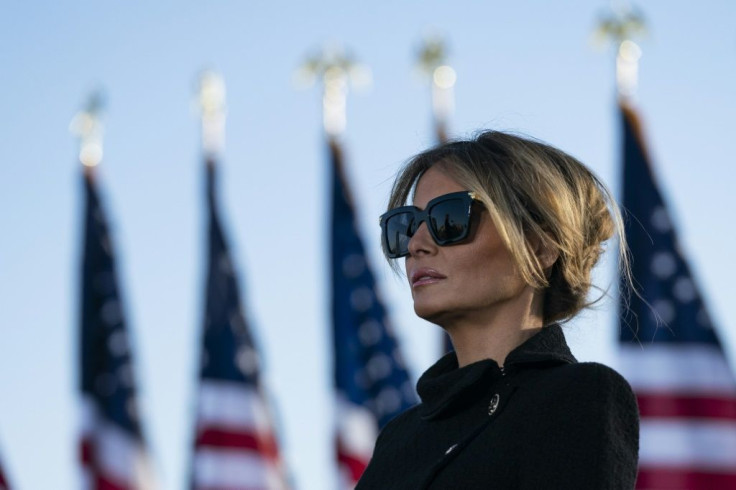 © Copyright IBTimes 2023. All rights reserved.