Twitter Suggests #UnlikelyRoyalBabyNames After Kate Middleton's Third Pregnancy Announcement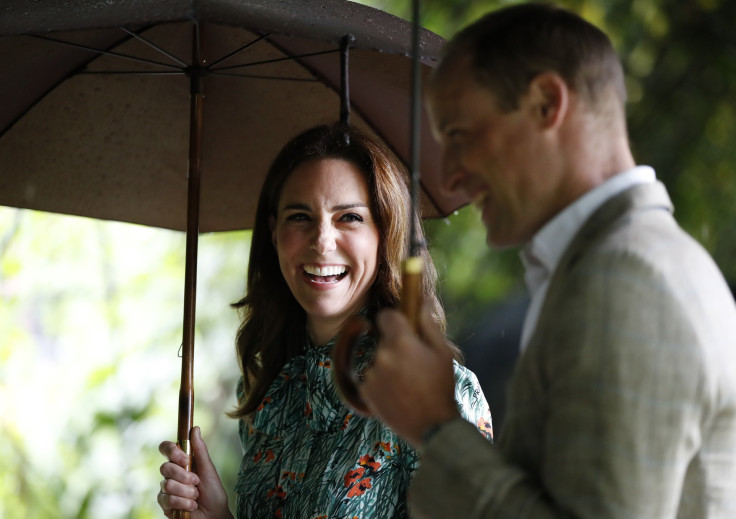 The royal family announced Monday that Prince William and wife, Kate Middleton, are expecting their third baby. The announcement of the third baby also drew criticism from some quarters with San-Francisco based children's organization called "Having Kids," urging the royal couple to not have more children.
The company, known for promoting smaller families, had posted the open letter on their website, citing issues of sustainability and equity due to large families.
However, none of this has stopped the fans of the royal family from predicting the new baby's gender and name. Bookmakers have also started with their suggestions on what the next royal baby's name could be.
Many have said the couple's third child will be a baby girl named Alice; just minutes after Kate's pregnancy news, London-based bookmaker William Hill revealed odds on the royal baby's name. After Alice, the other popular names are Elizabeth, James, and Arthur. The odds on gender are almost equal at 10/11 for a boy and a girl, and even the odds for Kate to have twins are high at 33/1, according to Time.
"Most of the names towards the top of the betting are ones which have been popular the last two times around and we expect they will be again," the Telegraph reported quoting William Hill spokesman Joe Crilly.
Meanwhile, #UnlikelyRoyalBabyNames has been trending on Twitter on Tuesday with the micro-blogging site users suggesting some funny names for Kate and William's third child.
Some of the names suggested were Rumpelstiltzkin, Wilma Fingerdoo, Prince Donald Brexit, Trump Pence, Princess Princess, Jimmy Kimmel, Royal Flush, Ivan the Terrible, among others.
Some tweeted that royal baby names should have a public vote so that everybody can suggest them.
While many offered their good wishes to Kate and William, wise-cracking netizens had quite a hilarious time on Twitter posting memes and funny reactions.
As the British public is busy suggesting names for the new child, Sun Bets, United Kingdom's online betting website has listed the odds at Alice (9/1), Elizabeth (11/1) and Victoria (12/1). It has also listed the odds as Philip (12/1), James (12/1) and Arthur (14/1), according to the Sun.
William Hill plc, a bookmaker based in London, also kept the odds at Alice (8/1), Elizabeth (10/1) and Victoria (14/1). The Betway Group, a global online gambling company, believes "Alice is a popular early front-runner to be the chosen name of Will and Kate's third baby at 15/2," the Sun reported.
"The early money suggests punters would love to see Kate and Wills welcome another little girl into their family, who is called Alice. It should come as no surprise to see fairly normal yet regal names top the betting," the Telegraph reported quoting a spokesman from another British-based betting and gambling company, Ladbrokes Coral.
"Royal watchers have been convinced over the last few weeks that an announcement was coming, and we're paying out with a smile that their hunch was bang on the money."
© Copyright IBTimes 2023. All rights reserved.