Uber NYC: Angered By Fare Cuts, Drivers At LaGuardia Airport Say They Want A Union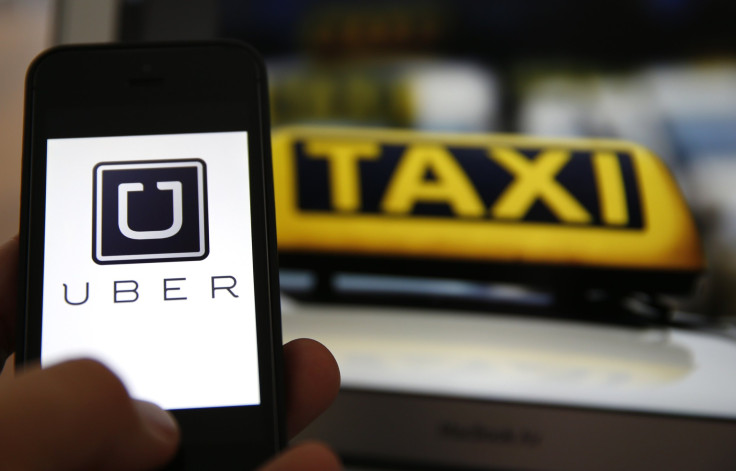 Some 600 Uber drivers at New York City's LaGuardia Airport could make history by becoming the first workers at the ride-hailing giant to form a federally recognized labor union. Earlier this week, Local 1430 of the International Brotherhood of Electrical Workers filed for an election on their behalf.
Jordan El-Hag, business manager and attorney for the union, said outreach to drivers began more than a year ago. But it was the company's recent decision to slash fares that gave the campaign the boost in support it needed to file for an election.
"They want a voice on the job," said El-Hag, business manager and attorney for the union. "Uber's imposing changes unilaterally and they want to have a say. It's about having a say over their livelihood."
Uber's move last month to cut fares by 10 to 45 percent nationwide was designed to aid the company's aggressive expansion efforts. But it also triggered some notable public backlash from drivers. In addition to fueling the union drive at LaGuardia, the fare cuts sparked protest elsewhere in New York City and calls for a Super Bowl Sunday strike in San Francisco.
Uber said the company's roughly 30,000 New York City drivers benefit from the diminished fares, which are about 15 percent lower than they were last year. Since reduced prices attract more customer demand, drivers today spend less time waiting for pickups and more time reeling in cash from trips, Uber said.
The San Francisco darling of the so-called on-demand economy has repeatedly pushed back on the notion that drivers lack control over their work. When asked to comment about the union election, a company spokesman stressed that Uber's business model encourages flexibility and independent initiative.
"Drivers control where and when they work, and they are free to use other apps at the same time as they're on Uber," the spokesman said. "It's why tens of thousands of New Yorkers have partnered with us over the last four years. Of course there's always more we can do, and it's great to hear from drivers about what they'd like to see next."
Uber Technologies Inc.'s Funding History | FindTheCompany
At any rate, the LaGuardia union campaign faces serious legal obstacles. Uber is widely expected to challenge the election bid with the National Labor Relations Board, the independent federal agency that oversees most union elections and collective bargaining in the private sector. According to observers, the company probably will raise at least a couple of issues: Whether the proposed bargaining unit makes sense, and — more significantly — whether the drivers are even eligible for union representation in the first place.
Only employees can form unions under the National Labor Relations Act, the backbone of federal labor law. Uber, however, maintains its drivers are independent contractors. The NLRB will first have to decide not to dismiss the petition. If it proceeds and Uber disagrees, the agency will hold a hearing.
By now, the employee versus independent contractor debate is familiar territory for Uber, to say nothing of its chief competitor Lyft or dozens of other companies in the on-demand economy: It's at the core of a major federal class-action lawsuit that pits Uber against drivers in California. The workers allege that Uber owes them back pay after neglecting to fork over minimum wage and overtime pay — rights afforded to employees, not independent contractors. Last week, Lyft settled a similar lawsuit for $12.25 million. The Uber case is slated to go to trial in June.
The NLRB uses the so-called common law test to determine whether an employment relationship exists. It's slightly more narrow than the one that applies in the class-action case, explained Wilma Liebman, a former chairwoman of the NLRB under the Obama administration.
"It turns in large part on the nature of control that the purported employer exercises over the way the alleged employee does work," said Liebman. "Uber's going to argue, 'Well, they supply their own cars, they work whenever they want, we don't require them to work certain shifts or hours or anything like that,' and the drivers are going to show the nature of the extensive control that Uber does have."
Among other gripes, drivers have raised concerns over their inability to dispute fare changes, or terminations based on ratings from passengers.
Liebman believes the union has a good case to be able to represent the drivers. "From what I know about the nature of the control, I think there's a strong argument to be made that they are employees," she said.
El-Hag defended the scope of the union's bargaining unit, which consists of 600 airport-based drivers as opposed to some 30,000 across New York City. The company wields "geographic control" over Uber drivers seeking to pick up passengers from LaGuardia, he said. Over time, the drivers realized they were unable to receive dispatches from the app unless they gathered in the same parking lot. He believes that satisfies the NLRB's requirement that bargaining units share a "community of interest."
The developments at LaGuardia come two months after the city of Seattle passed an unprecedented and hotly contested law that authorizes Uber and Lyft drivers to form citywide unions. One of the architects of that effort, Leonard Smith, director of organizing at Teamsters Local 117, said the organizing efforts on opposite coasts share common roots.
"What we're seeing is the expression of a real frustration about having no control over work," Smith said. "In Seattle, we're doing things one way. In New York, they're doing it a different way."
Smith said Uber's recent fare cuts are backfiring by alienating drivers: "If you keep cutting the mileage rates, where does Uber expect to get drivers from? What's its business plan?"
FOR FREE to continue reading
✔️ Unlock the full content of International Business Times UK for free
offer available for a limited time only
✔️ Easily manage your Newsletters subscriptions and save your favourite articles
✔️ No payment method required
Already have an account?
Log in
© Copyright IBTimes 2023. All rights reserved.