Uber Self-Driving Car Tests Begin As Ride-Hailing App Takes On Google, Apple, Tesla And More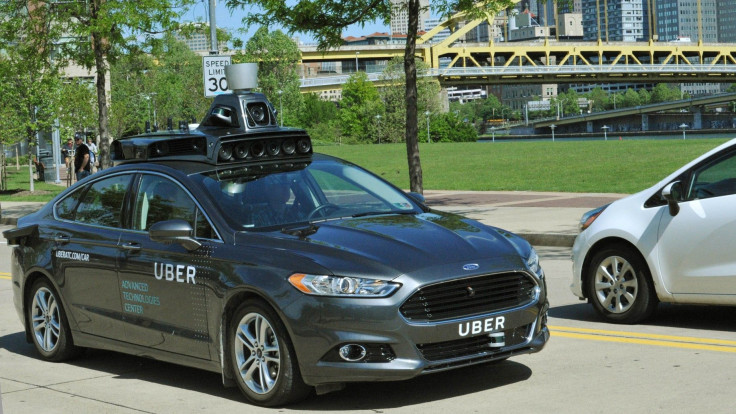 Uber has announced that it is in the early stages of testing self-driving car technology with the ultimate goal of removing the need for drivers from its ride-hailing business.
The company, currently valued at somewhere upwards of $60 billion, announced it has begun testing a Ford Fusion retro-fitted with sensors and cameras on the streets of Pittsburgh. "Real-world testing is critical to our efforts to develop self-driving technology," the company said in a blog post announcing the move. "Self-driving cars have the potential to save millions of lives and improve quality of life for people around the world."
The tests will be run by Uber's Advanced Technologies Center, which the company opened in Pittsburgh in partnership with Carnegie Mellon University in February last year, with the goal of inducting autonomous vehicles into its fleet by 2020.
Uber said a trained driver would be behind the wheel monitoring operations and along with testing self-driving technologies, the cars will also gather mapping data.
Uber is the latest in a long line of companies spanning the traditional car industry and the technology sector who are trying to come up with the world's first self-driving car. Google, which this week patented a flypaper-like adhesive covering for the front of its self-driving cars to protect pedestrians, is leading the way, having completed 1.5 million miles of autonomous driving since it began its project in 2009.
However, since then, companies like Tesla and Chinese internet giant Baidu have sought to catch up with Google while car makers like Ford, Toyota and BMW are all actively working on fully autonomous systems even as they roll out semi-autonomous features — like self-parking — to their current models.
Uber's goal is slightly different from the other companies looking into this area. Its ultimate vision is for a transportation service without any human interaction, where users book their ride through its app and a self-driving car picks them up and drops them to their destination.
Last week, China's number one ride-hailing app, Didi Chuxing, announced it had received a $1 billion investment from Apple and while the reasons for the investment were simply described as "strategic" by Apple CEO Tim Cook, many see the deal as a way for both companies to advance their respective autonomous car technologies.
Lyft — Uber's main rival in the U.S. — announced earlier this month it would partner with General Motors to test a fleet of self-driving electric taxis and while details of when and where these tests will begin are still being ironed out, the company said the tests would involve passengers.
© Copyright IBTimes 2023. All rights reserved.