Uber Update Adds In-App Chat Feature So Riders Can Easily Message Drivers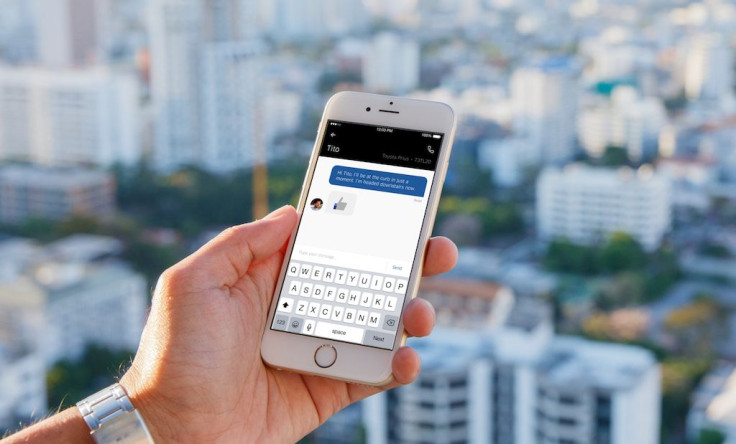 Uber has announced that its rides hailing app now comes with a built-in chat for riders and drivers. The new feature is being rolled out worldwide and should be available to all users "in the coming weeks."
"Today riders and drivers can contact one another using apps outside of Uber. But these texts can lack context – is this random number my driver? How do I know if my SMS was received? So we're adding a way for riders and drivers to chat right in the Uber app. It's now easier than ever to get in touch," Uber explained.
Uber app's chat feature will only work once the driver is already en route to the rider's location. A rider will simply have to go to the Uber app and tap on "contact" and then "chat." This will bring up a very familiar messaging interface where users can directly chat with their driver.
READ: Self-Driving: Tesla, Uber, Lyft And Others Building Own Vehicle Fleets​
When drivers receive a message, the Uber app will read the message out loud. Drivers can acknowledge that they've read and received the rider's message by simply tapping the 'thumbs up" icon. Uber says that this is a way to ensure that drivers don't get too distracted while they're driving. Both the driver and the rider will receive receipts of their transaction as well.
The idea behind the addition of an in-app chat feature to Uber's app is to make communication between drivers and riders a bit less intimidating. Before this new feature, drivers and riders would have to use SMS text messages or phone calls to talk to one another. This means that they would be exchanging their phone numbers and some users aren't entirely comfortable sharing that information.
What remains unclear about Uber's new feature, however, is whether users will be able to continue chatting with drivers after a ride has ended, as pointed out by Engadget. Seeing as this is most likely for convenience and privacy, it's likely that's not going to be the case.
Another reason why Uber has added a chat feature to its app is because some markets only have limited SMS or call plans. "In many of our markets, SMS isn't actually available for us, we don't have the technology in place," Uber product manager Jeremy Lermitte told TechCrunch.
"That's especially true in some of our key markets like Brazil and India. And then in other emerging markets where we do offer SMS, we don't have the technology in place to anonymize the personal contact info, so the rider and driver are actually sharing their personal contact information in some of those markets."
READ: Uber CEO Search: Executive Denies Travis Kalanick Will Rejoin Company​
Lermitte also revealed that Uber users, both riders and drivers, want to know if their messages are actually being read. That's the reason why the Uber app's chat feature supports delivered/read statuses — something that's not widely supported with SMS messages.
Lastly, the feature is expected to be a way to make it easier for international travelers to contact Uber drivers. Some might be entering a different country without international roaming plans, making it impossible to contact Uber drivers. Now, all they need is to connect to a Wi-Fi connection, which most airports already have, to contact their drivers.
While the messaging feature is only being rolled out to Uber's ride-sharing service at present, the company is also considering the idea of implementing it to its other businesses like UberEATS, as pointed out by TechCrunch.
© Copyright IBTimes 2023. All rights reserved.