'Undateable' Star Ron Funches Reviews Fallout 4, Previews His New Album And Calls Out Fans Who Don't Like His Sitcom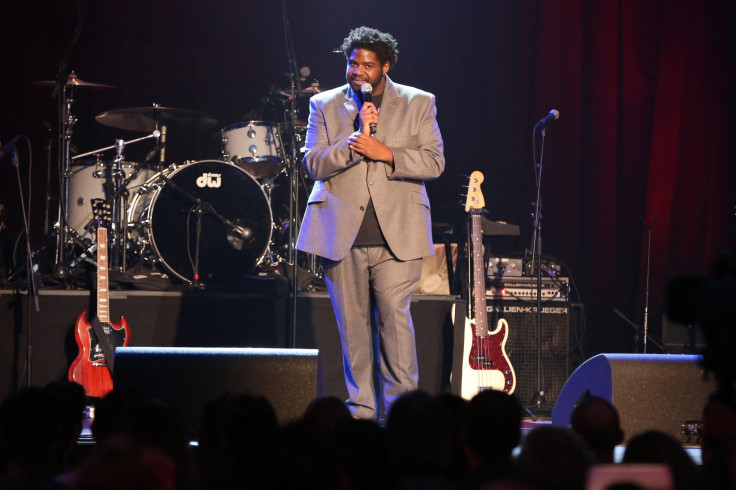 Comedian Ron Funches -- who might be most recognizable by his trademark "Asian princess" laugh -- has had a big year. The 32-year old Chicago native plays Shelly on the NBC sitcom "Undateable," a sleeper hit that premiered its third season in October and opted to take on the ambitious task of airing every episode live. The show has broad a much wider audience to Funches' quirky comedy, which had shown up frequently in the TV comedy world on more niche shows like "@Midnight," where he currently holds the record for most wins, and "Kroll Show."
Now Funches is releasing his debut comedy album, "The Funches of Us," available via Comedy Dynamics Friday. The album is a hilarious collection of some of Funches' best work -- "you're trying to capture your best set ever," says Funches -- which uses his "gentle giant" perception as a bait and switch for hysterically off-kilter observation. Funches spoke with International Business Times about the album, "Undateable," and being a comedy dad.
International Business Times: Your "The Half Hour" special for Comedy Central in 2014 was fantastic. Much of that material shows up in "The Funches of Us." Are you hoping to reach a bigger audience with the album?
Ron Funches: Well the thing with "The Half Hour" is just that -- it's a half hour.
Doing five-minute sets on "Conan" and things like that are fun and a great way to introduce yourself, but it's such a constricting time and you usually have to cut bits down. Then, your "half hour" is usually just your real introduction to people. Then, now I have this album, which is everything I have been working on and ready to retire and just out like a full meal for people to enjoy and I hope they dig it.
Watch Funches on Comedy Central's "The Meltdown with Jonah and Kumail" below:
IBTimes: So, you're retiring this material?
Funches: I had bits and pieces out, but I wanted people to know the full flow of those bits -- flow is very important to my set -- and I wanted people to see the full thing I was trying to put out then move on. I have new material that I am trying to put out and hopefully do an hour special on Netflix or whatever.
So, that was it. I wanted to collect these jokes and keep them, but I was sick of saying them. We had to put them on an album.
IBTimes: Having you been working out the new material?
Funches: Yeah, I've been over at the Comedy Store and the Meltdown just working on sets, basically having a bunch of half finished ideas. It's not great yet! But, hopefully, it will get there.
IBTimes: Are you trying to do anything new or different?
Funches: There is hopefully going to be some sort of growth in there. I want to continue to grow and talk about things that I see and have gone through. I'm at a very different point in my life then when I was writing a lot of these jokes. When I was writing these jokes I was very poor and very married and now I'm getting a little older, a little more confident, a little bit more responsible and I kind of want to write jokes from this viewpoint.
Also, now to go out to shows and not say jokes I know work. Now I have to go out and mine things and find things. It's going to be fun.
IBTimes: You've been around for awhile now. You've had a TV special and you are in your third season with a network sitcom. Why has it taken so long for an album?
Funches: Well, like you said, I was doing those other things! ... And I wanted to take my time with it. I wanted to put out something where I could be like, "I'm proud of this."
IBTimes: What makes a great comedy album?
Funches: In any great art you create a world and you invite people into that world and, hopefully, it's fleshed out enough and you've explained it well enough.
IBTimes: For better or worse you have this "adorable" tag on you, which is kind of a fun bait and switch, because you are not saying adorable things. Do you lean into that "teddy bear" perception or are you fighting against it?
Funches: It depends on the joke I guess. I'm aware of personality traits that I carry. I'm not out there being anything that I am not. If I drop something I usually do one of those "whoooop" sound effects. That's just who I am in my life. So, I can't be like, "Oh, I wish I was this tough, serious guy that people take seriously." But, I did grow up in Chicago. I've been a father since I was 20. I have been through some things. I'm not a baby!
Listen to a clip from "The Funches of Us" below:
IBTimes: Well, when did you find out that those mannerisms were such a tool for your comedy?
Funches: It's the adage I've heard before that is just the things that people make fun of you for as a kid or as a teenager end up serving you later as long as you embrace them. It was mostly like, "Hey, you talk weird and you sound weird and your laugh is weird." Now, it's like, "Oh, that's cute. It's weird for a large, black man to sound like this." People are put off by that, but again, it's who I am. I can't help that. I can only embrace that.
IBTimes: I wanted to talk about "Undateable." That show has really evolved in just a year and a half. What has that experience been like?
Funches: It's been hectic, it's been stressful, but it's probably been one of the most rewarding experiences of my life because I get to work every week on a sitcom and then, actually be proud of it. There's a lot of work behind the scenes that people don't see on Thursday when the show does not look like it's ready to go on air and no matter what it has to be ready on Friday. So, knock on wood, we've been able to put out pretty good shows almost every Friday. And I like it. I like the throwback quality to it. It kind of reminds of the TGIF Friday shows I grew up watching. It's full of great comedians. There's no other TV job I've had where they have let me just change the material to my liking or add to it or add to other people's jokes. It's just a great collaboration and I hope we get to it for a long time.
IBTimes: A sitcom is a much more traditional style of comedy than your stand-up and many of the more avant-garde TV projects you've been a part of -- "Kroll Show," "Drunk History." Did you have reservations about getting involved?
Funches: No, because my son was like, "Oh man, I don't like not having a house." So, it was very easy to say yes to it. I had some reservations along the lines of, "is this going to be fun for me? Is this going to be something I have to do as a job and I'm going to have to find my fun elsewhere?" Luckily it has been one of the most fun things in my life. I love the show. What's funny to me is I'll get fans who think they are on my side and helping me by saying, "Hey, I like you, but your show sucks." That's not being on my side. If you do support me you should watch the show. If you don't like it, that's fine, but I love the show. I'm there every day working an hour early. I think we are doing very funny stuff every day for kids, some adults. It's great stuff!
IBTimes: You mentioned kids. You talk about your 12-year old son a lot in your comedy. What's his relationship with your work?
Funches: He's funny. He's perfect about it. He lets me know just enough that he is proud of it. He'll quote lines from "Undateable" every now and again. Then, I'll be like, "Hey, you want to come to work with me on Thursday or Friday" and he goes, "No. I want to stay home and play video games. You go to work. I don't care." He's the perfect kid. He lets me know, "Dad, I love you. I'm proud of you. Also, you embarrass me and stay away from me and buy me some toys and cook my bacon."
IBTimes: Going back to "Undateable," can you talk about how the "Live" component came about and what that has meant for the show?
Funches: NBC has been big about pushing live things with the musicals that they have been doing and the Neil Patrick Harris show. Our live tapings have been the best part of our shows. Sometimes I would see some episodes later and think, "Man, that's not as funny. It's missing the joy I remember having there." We did the first live one -- in Season 2 -- and it was kind of like, "Oh! This is it. This is what it's like to be here. This is what our tapings are like." It's just fun.
It definitely is a lot more work. If I think of any ad-libs I have to to put them in on rehearsal because we don't get second and third takes. We kind of use the West Coast taping as a second take and try to switch things up and have more fun and some people get a little drunk.
IBTimes: Oh, I have to start watching the West Coast shows!
Funches: Yeah, it's a lot of fun. We have a chill VIP area where people come and hang out and eat. Dr. Drew was just chilling there last week. It makes it a fun circus. It's the closest I'll ever get to being on a professional sports team. We practice all week and then we do our game and then I go out and celebrate.
IBTimes: Speaking of games, you named your album after "The Last of Us." What video games are you playing right now?
Funches: Right, right now? As we talk? Right now I'm walking through the auto-plant in "Fallout 4" trying to stay alive. I think that is what I'll be playing for awhile because it's so big. I'm going to hopefully get through it and get to "Tomb Raider," because I loved the last "Tomb Raider" game. At least for the next month, though, I'm just going to be playing "Fallout 4" and maybe making some "Mario Maker" levels.
IBTimes: What is your review of "Fallout 4" so far?
Funches: I'm loving it! It only takes you a minute -- It's almost like life where you get dropped in and you're completely overwhelmed and everybody is better than you and you just get killed over and over and over and then, eventually, you just kind of slow down and relax and go at your own pace and you're like, "Man, this game is awesome!" There is just so much to do. I love it. If I'm not on the set rehearsing, I'm either playing it or on Twitter do my log about it!
"Undateable" airs Fridays at 8 p.m. EDT on NBC. "The Funches of Us" is available via Comedy Dynamics Friday.
FOR FREE to continue reading
✔️ Unlock the full content of International Business Times UK for free
offer available for a limited time only
✔️ Easily manage your Newsletters subscriptions and save your favourite articles
✔️ No payment method required
Already have an account?
Log in
© Copyright IBTimes 2023. All rights reserved.