'Under The Dome' Season 2 Spoilers: Watch Stephen King Read Premiere Opening Script [VIDEO]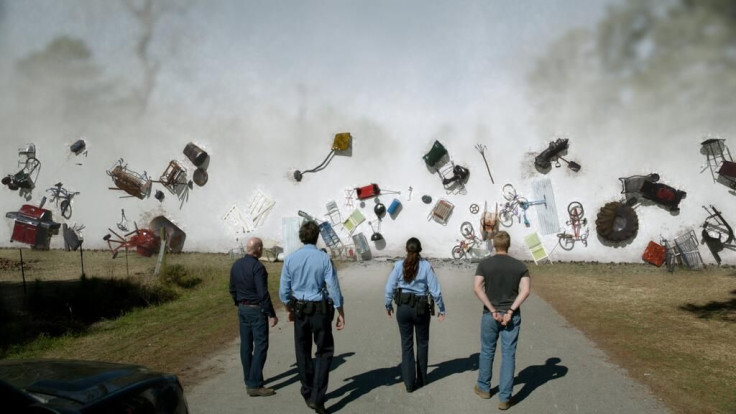 Excited for the Season 2 premiere of the hit CBS series, "Under the Dome"? You're not the only one, and that's why the show's executive producer, Stephen King, decided to tease fans with a taste of what to expect before the summer series adapted from his novel airs Monday, June 30.
To pump viewers up for the debut of his sophomore season, King read the opening scene from the premiere script of episode 1, "Heads Will Roll," written by Jack Bender.
"This is how it starts," the author began. "Scene 1, interior – Sam's Cabin, day but dark outside. We're staring at a brilliant white dome. It goes dark, returns brilliant white then it goes dark again.
"A finger flicks the dome and it glares bright white again. We pull back and see it's the bulb of a lamp without a shade. We're in the living room of Sam's Cabin, the bachelor pad of a man who was drinking hard until two weeks ago and hasn't done much housekeeping since.
"Sam Verdreaux, late 30s, is handsome and haggard, rode hard and put away wet sort of way. He needs a shave. He puts the shade back on the lamp. Goes to the couch, lifts the cushion. His emergency bottle is beneath. He struggles with the urge to pick it up, almost gives in, but a flash of white light stops him. He rushes to the window and looks out at the bright sky."
The character of Sam will be played by the former "CSI: New York" star Eddie Cahill, who will be introduced as the "reclusive" EMT brother-in-law of Dean Norris' Big Jim, due to his sister's death. It was reported that Cahill's character will also get his flirt on with Julia (Rachelle Lefevre). But we're not sure how well he'll woo her considering Lefevre described Sam as "the crazy drunk who lives alone in the woods."
Are you excited for Season 2 of "Under the Dome"? Sound off in the comments section below with what you're most excited to see when the new season airs, whether it's Barbie's fate or Chester's Mills newest threat.
© Copyright IBTimes 2023. All rights reserved.