'Under The Dome' Season 2 Spoilers: Big Jim Faces A New Type Of Terror In The Premiere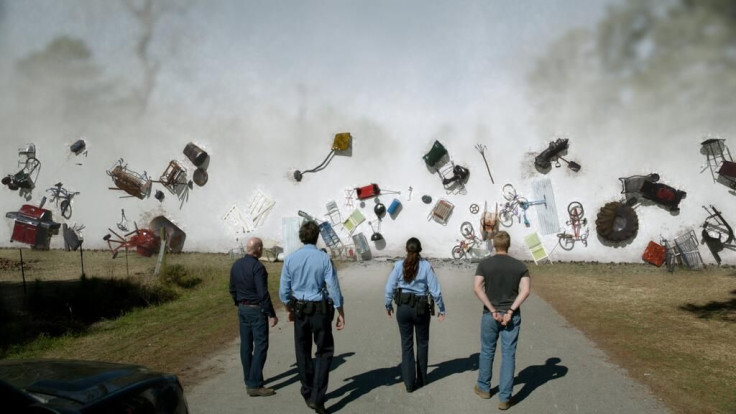 June is finally here! And you know what that means, right? There's only a few days until our favorite science-fiction drama airs its anticipated Season 2 premiere. Oh yeah, we're talking about the hit CBS series, "Under the Dome," which is set to debut on Monday, June 30.
Do you think you're ready for what Stephen King has up his sleeve for the sophomore season? We doubt it! Just check out the Season 2 scoop we have for you:
When we last saw our friends from Chester's Mill, they were in the middle Barbie's hanging. However, his execution was put on hold when the black "curtain" draped over the dome turned into an illumination of a bright, white light.

As the blinding lights alarmed residents who had gotten accustomed to living in darkness, Junior looked to his dad for guidance on whether or not to pull the lever, which would lead to Barbie's death. Big Jim gives his son the assurance he's seeking, which is when the episode and season ends.
Fans of the show have been biting their nails waiting to find out what happened since that cliff-hanger of a scene cut. And now, on June 30, we'll finally learn the truth. But get this … you can get your "Under the Dome" fill even before episode 1 premieres.
TV Guide has leaked some scoop on what will happen to Big Jim (played by Dean Norris) when the sophomore season debuts. According to reports, Big Jim will get a moment to reflect on the mayhem he's caused when the town's dictator is approached by a few "tricky" apparitions -- you know, the same one's that appeared to towns folk in Season 1.
"There are moments where Big Jim maybe sees ghosts," Norris said. "While it's a terrifying situation, it's also funny to see Big Jim have to squirm with these kind of ghosts of Christmas past and the future and have to deal with them."
Are you excited to see Norris' character -- or should we say Ebenezer Jim -- get a taste of his own medicine? Chime in with your thoughts in the comments section below and don't forget to prepare for Season 2 with a one-hour "Under the Dome" special, which is set to air on CBS Monday June 23 at 10 p.m. EDT.
The hour-long special will take a look back at Season 1, featuring highlights and interviews with the cast and executive producers. In addition, the special will tease fans with what they should expect next season from "Under the Dome," which means this is a preview that you do not want to miss!
© Copyright IBTimes 2023. All rights reserved.