'Under The Dome' Season 2 Spoilers: Episode 1 Teases Gruesome Death For 2 Main Characters When Premiere Airs June 30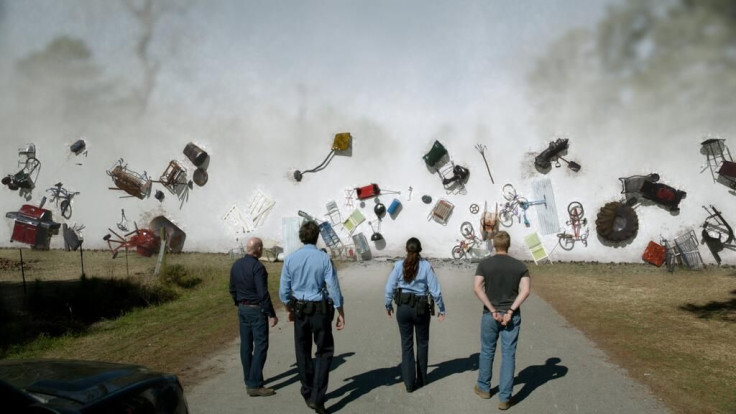 Deadly, grisly, captivating -- these are all adjectives used to describe Season 2 of the hit CBS thriller "Under the Dome." And you know what? We agree with all three, especially after getting wind of what Brian K. Vaughan has up his sleeve for the sophomore season of his science fiction drama, which is set to premiere Monday, June 30.
Recently, the masterminds behind the adaptation of Stephen King's suspense novel graced fans with their presence at a CBS summer preview event on Monday. At the event, they dished out enough teasers to make you want to start planning your "Under the Dome" premiere party now.
"We have this real tension between science and faith this year," executive producer Neal Baer said to an eager crowd. "And Big Jim [Dean Norris] is caught in the middle."
According to reports, Julia (Rachelle Leferve) is relying on faith for Dome-related inquiries, Rebecca (Karla Crome) is looking for scientific answers and Big Jim is teetering between both theories and nearly driving himself mad.
But soon those trapped in the dome will realize that their squabbles over religion are trivial when they discover that they have bigger issues on their hands: death.
"One of our characters [meets] a very untimely death," Baer teased. "So will another character; they meet their untimely death as well. That doesn't mean you won't necessarily see them again because anything is possible under the dome."
Who will be the unlucky one? We're not sure but we do have a theory on how they die. Fans were informed that "Under the Dome" would pick up just where they left off and that's with Barbie (Mike Vogel) facing the gallows. However, his execution will need a rain date when the dome suddenly becomes magnetic, causing cars and other metal objects within the dome to fly to the side.
We think that someone who is either carrying metal or perhaps has a plate in their body will be killed during this unexpected force. Couldn't you picture a character flying to the side of the dome then getting crushed by a truck? After "Under the Dome" sliced a cow straight down the middle we think anything is possible.
According to reports, magnetic fields aren't the only issues the fine folks of Dome-land will be having. The remaining survivors will have to cope with the dwindling amount of supplies within their closed-off world.

"This is a season really almost about ecological disaster impending," Baer explained. "That magnetism has caused many things to happen. You'll see our characters, particularly Big Jim, confronting almost ... biblical problems of pestilence and bloody rain because ... our characters haven't been the stewards of protecting the land and protecting each other."
Perhaps that will all change in Season 2. Those still stuck in the dome might realize they need each other alive more than they think – especially when the dome starts throwing obstacles in their way of survival.
What do you think will happen when Season 2 of "Under the Dome" premieres? Sound off in the comments section below with your predictions and don't forget to tune into episode 1, "Heads Will Roll," on June 30.
© Copyright IBTimes 2023. All rights reserved.