Under Fire, Europe Works to Bolster Debt Crisis Fund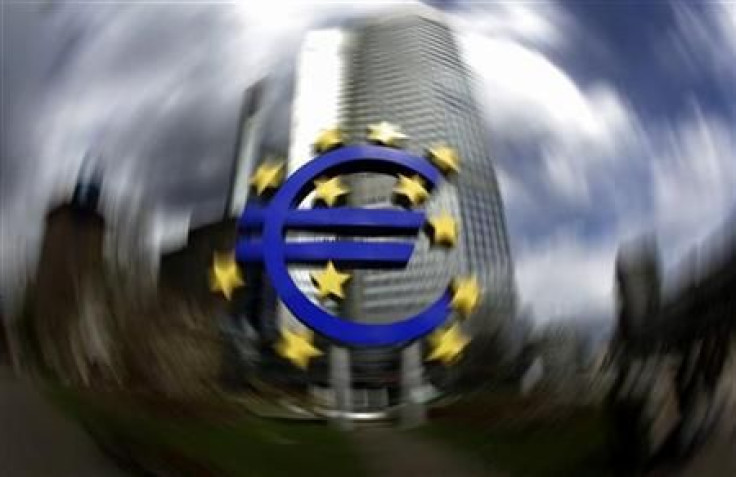 European policymakers began working on new ways to stop fallout from Greece's near-bankruptcy from inflicting more damage on the world economy after stinging criticism for failing to stem the debt crisis.

After a weekend of being told by the United States, China and other countries that they must get more aggressive in their crisis response, European officials focused on ways to beef up their existing 440 billion-euro rescue fund.

Deep differences remained over whether the European Central Bank should commit more of its massive resources to shoring up Europe's banks and help struggling euro zone member countries.

Shares and the euro fell in Asia on Monday as investors reacted cautiously to the weekend news. Financial markets have plunged in recent weeks on concerns about the ability of Europe to get a grip on the crisis.

Treasury Secretary Timothy Geithner, in unusually blunt comments, said the risks from Europe were enormous.

The threat of cascading default, bank runs, and catastrophic risk must be taken off the table, he said in speech to the International Monetary Fund on Saturday.

Europe came under more pressure on Sunday when a top IMF official said the ECB was the only player big enough to scare financial markets, which have punished many euro zone members.

The ECB is the only agent that can really scare the markets, Antonio Borges, the IMF's top official for Europe, told top economic policymakers from around the world.

However, Germany and many top officials within the ECB itself are wary about the central bank being drawn more deeply into supporting Greece and other debt-stricken states.

It is not helpful that we have an avalanche of new proposals every week, ECB Governing Council member Ewald Nowotny said.

Markets fear that European banks could be dragged down by their exposure to Greece and other debt-strapped euro zone nations, and analysts say a bailout fund of around 2 trillion euros would be needed if the crisis spread to Italy and Spain.

A senior European official hinted that kind of firepower was being contemplated.

We need to find a mechanism where we can turn one euro in the EFSF into five, but there is no decision on how we could do that yet, the official said.

Financial markets signaled some doubts that bolder steps would emerge soon given a lack of details from weekend comments and differences between euro zone leaders.

Ratings agency Standard & Poor's raised further doubts, suggesting that efforts to bolster the rescue fund would potentially trigger ratings downgrades in the euro zone region.

Asian shares trading outside Japan fell 2.3 percent to a 16-month low and the dollar index was up for the fourth session in a row.

We believe this type of plan would be seen as a credible solution to the crisis, said Warren Hogan, chief economist at ANZ Bank in Sydney.

However, this plan is still only in the 'rumor' stage, and it may face some tough hurdles in order to be passed by all EU authorities, indeed headlines are already suggesting some German dissent.

GREECE MEETS IMF IN BID FOR MORE CASH

Greece, the country at the epicenter of the crisis, is trying to secure its latest wad of cash from international lenders including the IMF next month to avoid a default.

Finance Minister Evangelos Venizelos, speaking to bankers in Washington, said Greece was determined to stay the course of its tough austerity plan to meet terms of its bailout package.

He complained the outside world did not understand the severity of the measures that Greece is taking by cutting pensions, salaries and public spending but he insisted the country will make it through the crisis.

In Athens, Greek riot police fired tear gas at anti-austerity protesters pelting them with bottles outside parliament in the first such unrest after a summer lull.

Greece is not the scapegoat of the euro area or the international economy, Venizelos said.

But IMF and European negotiators are frustrated at what they say is Greece's slow reform pace.

Venizelos met IMF chief Christine Lagarde on Sunday and afterward the IMF said a mission would head back to Greece possibly as soon as this week to assess progress.

The European Union and IMF have already bailed out Greece, Portugal and Ireland, and officials want to stop the crisis from spreading to Italy, Spain and possibly beyond.

ERECTING DEFENSES

The European Union's top economic official, Olli Rehn, said on Saturday that as soon as the region's governments confirm new powers for the bailout fund -- the European Financial Stability Facility -- attention would turn to how to get more impact from the existing money.

The new powers are expected to be ratified by mid-October. Germany's parliament votes this week on them.

Germany opposes contributing more money to help countries it sees as profligate and the focus has now turned to ways to leverage the existing bailout fund, possibly through the ECB.

Klaus Regling, who heads Europe's bailout program, said leveraging the fund's resources did not necessarily need to involve the ECB.

One top ECB official said Europe might follow the lead of the United States, which rewrote its financial rule book to cope with the 2007-2009 credit crisis.

ECB executive board member Lorenzo Bini Smaghi said there could be a European equivalent of the U.S. TARP program, which helped shore up the shaky banking system, or the TALF, which provided some liquidity to parched U.S. credit markets.

I think both scenarios can be followed.... I think that these two options could solve the problem, he said.

A former U.S. policymaker summed up the frustration voiced by many investors and commentators.

In Europe, they've kind of turned this into a bad Monty Python skit, where, you know, the guy comes out and says, 'We need to act,' and the next one says, 'You're right, let's draft -- no more talking..., 'I second the motion. Let's start doing something,' said Austan Goolsbee, formerly chief White House economic advisor.

I mean, they're not actually doing anything. They just keep agreeing that they're going to work in concert.
© Copyright Thomson Reuters 2023. All rights reserved.