Unihertz Titan Pocket Android 11 Smartphone Hands-on: What Blackberry Could Have Been in 2022
This article uses affiliate links, which means if you purchase products through these links, we may earn a commission. Click here to see our
T&C
. For licensing please click
here
.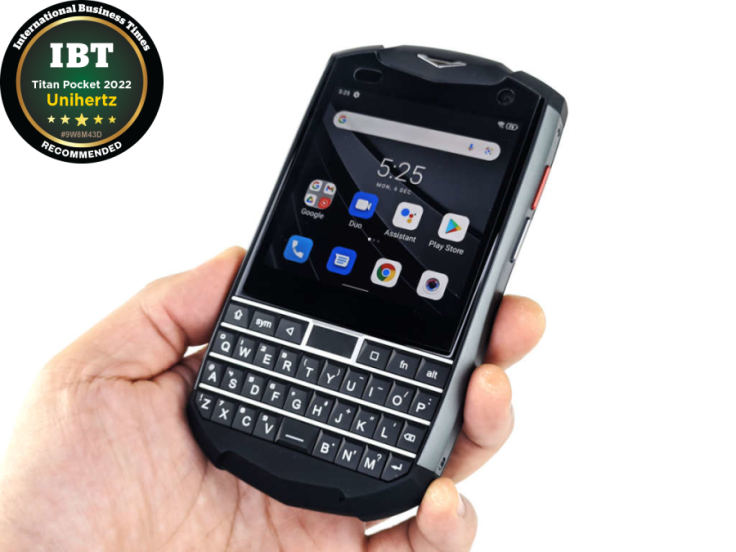 While physical QWERTY keys are something of a forgotten relic for some, it brings back sweet memories for others of a time where mobile phones didn't all look like shiny black monoliths. Blackberry was at one point the cream of the crop, and a must have for all executives who wanted that serious image.
Does the physical QWERTY keyboard aesthetics still have a place in a world of full-touch screen phones? Unihertz believes so, and so does more than 3,400 backers on their Unihertz Titan Pocket crowdfunding campaign. So what does using a phone with a physical mobile keyboard feel like in a world of touchscreens? Let's dive in to find out.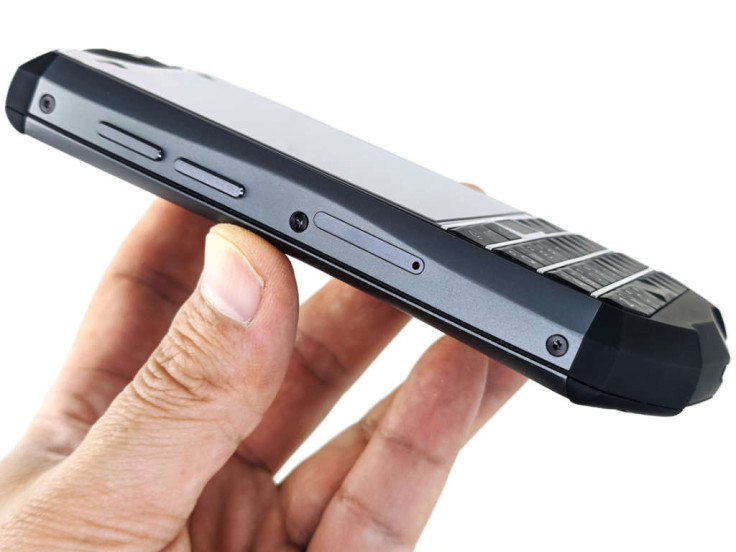 Built Like a High Quality Tank
Coming from an independent mobile company, I wasn't too sure what to expect especially when it comes to the Titan Pocket's build quality. Remembering, again, the Blackberry's heyday, a symbol of business executives and well-known for the premium-build, I doubted that a relatively smaller company like Unihertz would be able to match it.
However, upon first encounter with the Titan Pocket, I came face-to-face with a surprisingly well-built phone. Its design philosophy differed from the BB, in that it went for a more rugged build: the side and back covers are space-gray anodized aluminum, fixed in place with Torx screws, and the rest of the body of the phone, using a rubberized material, looks like it'll withstand even rough handling. The overall construction is a far cry from the usual 'fragile' glass construction that we're accustomed to on typical smartphones.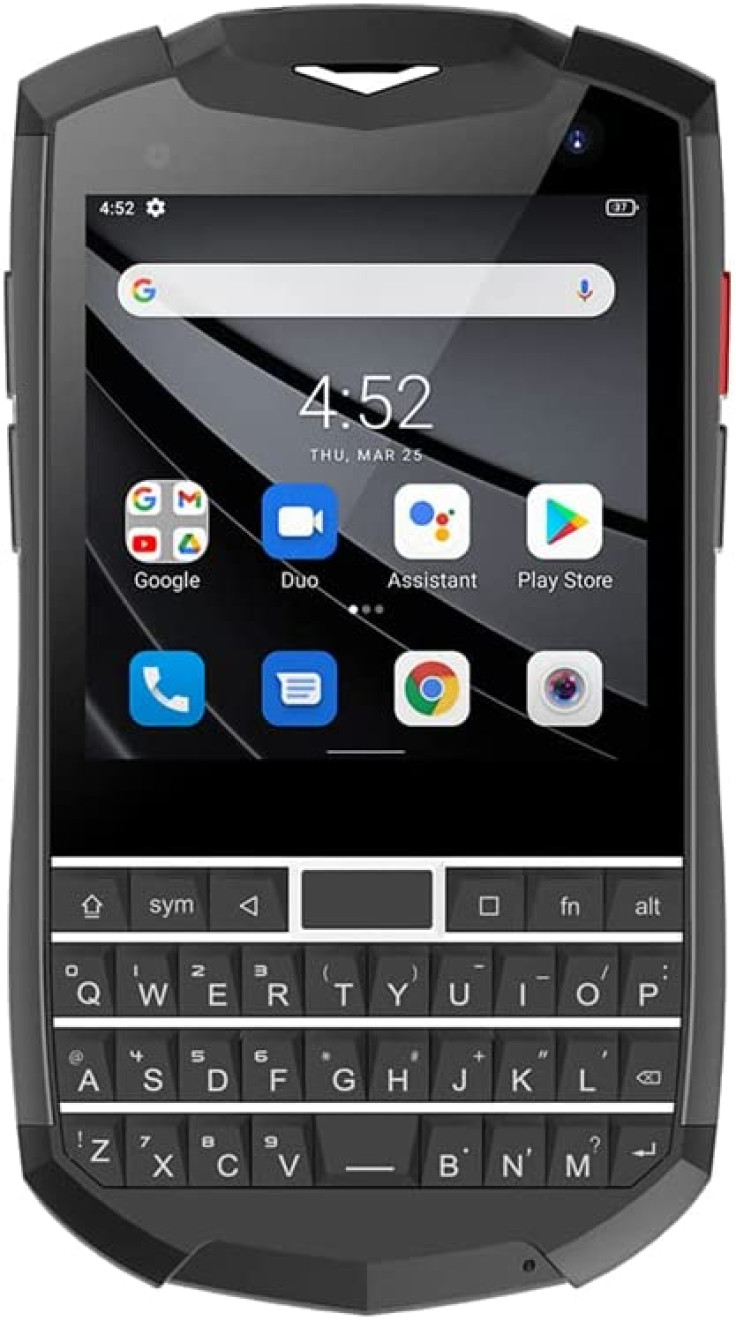 At 216 g (7.6 oz) the Titan Pocket is not a light phone, but I would argue that since it's so rugged, you won't be needing a case on it, which would make the final overall weight similar.
When using the Titan Pocket, it has quite a different feel in the hand, and after a while, I realized that this is due to its height and width ratio. Being used as the 'candy-bar' form factor of modern smartphones, the Titan Pocket is relatively short and stubby - but it's not a bad thing. It fits in the palm snugly when making phone calls, and I found it easier to hold than the standard shape of larger smartphones, which are longer and thinner.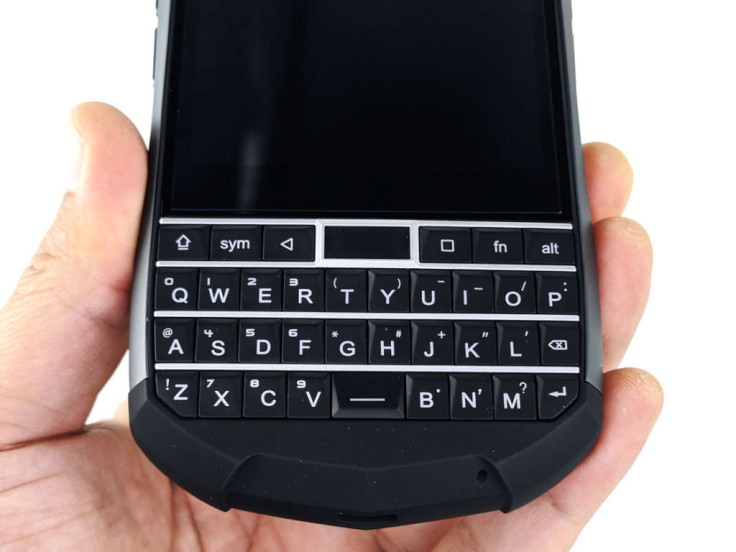 The Physical QWERTY Experience
When it comes to looking at the hardware on the Titan Pocket, obviously I must make a special mention of its QWERTY keyboard. I've had some experience with the more affordable Nokia E63, the higher end E72, and of course the infamous Blackberry Bold 9000. I'd say compared with other mini keyboard equipped phones like these, the Titan Pocket construction is closer to the premium construction found on the Bold 9000.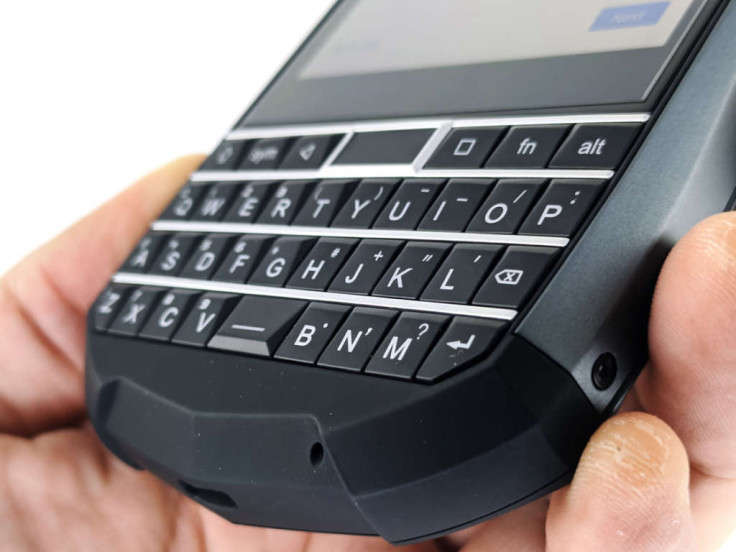 Each key has a tapered profile, so that when you type, you don't need to hit the whole key, but just the edge. This means the actual distance between each key is further than it looks, and it means that room for typos is minimized.
How does it feel to go back to physical keyboard typing after being so used to virtual keyboards? Since physical buttons need to be actually depressed to register, it took my hand muscles getting used to.
Physical buttons meant shift and function keys made more sense. Unihertz thoughtfully placed 'Shift' on the top left most side, while 'Alt' key is on the top right most corner, making them very accessible, and made uppercase letters, numbers and symbols easy to type - no more switching between virtual menus.
On the top center position, there's actually a fingerprint scanner which also functions as a capacitive home button, with the 'back' and 'menu' buttons on either side. The thoughtful key placements made the learning curve a lot easier.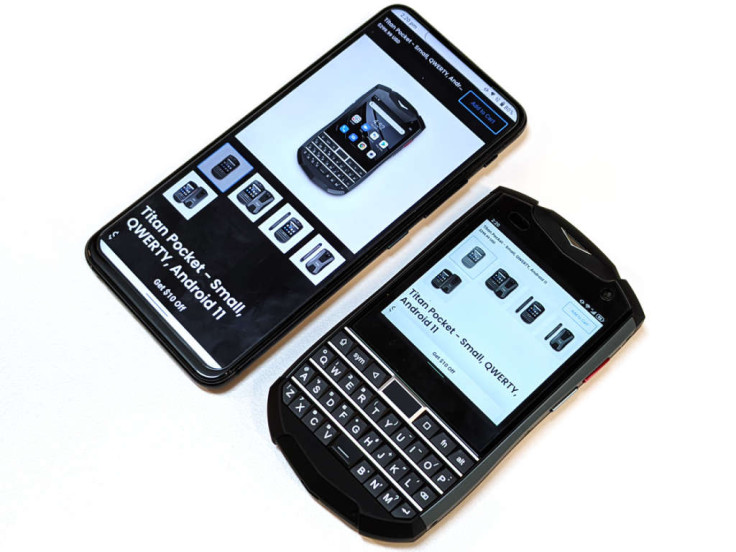 Smaller but Excellent Display
With the added convenience of the physical keyboard: something's got to give, and in the case of the Titan Pocket it is the screen real estate. The 3.1 inch, 716 x 720 pixel display is much smaller than what most people are used to these days, but it is by no means a bad display. With some calculation, the display comes to 327 ppi, which is pretty much spot on with what Steve Jobs claimed to be the 'Retina Display' (At 326 ppi), so there's no visible pixels on the Titan Pocket display.
Because of the difference in ratio, there is a reshuffle on the Android 11 layout, and a lot of texts are significantly smaller. Likewise, videos on YouTube or Facebook is also smaller as rotating to landscape on the square display.
Other than its size, the screen is excellent. The touch display is very responsive, and gesture controls can be done with ease. One-hand navigation is also a given, since my thumb can reach all four corners of the screen even from a normal gripping position.
Camera: Square by Nature
The display is not the only thing that's square on the Titan Pocket. Interestingly, the photos are also square at 12 megapixels, by default. The resolution can then be boosted to the maximum of 16 megapixels, coming in at 4672 x 3504 pixels. The picture quality of the camera is actually better than I expected, especially when the lighting is good, since it's just an affordable phone. The front facing 8-megapixel camera is also good enough for video conferencing. Even though it only has a fixed focal length, it has face detection, and automatically adjusts the brightness.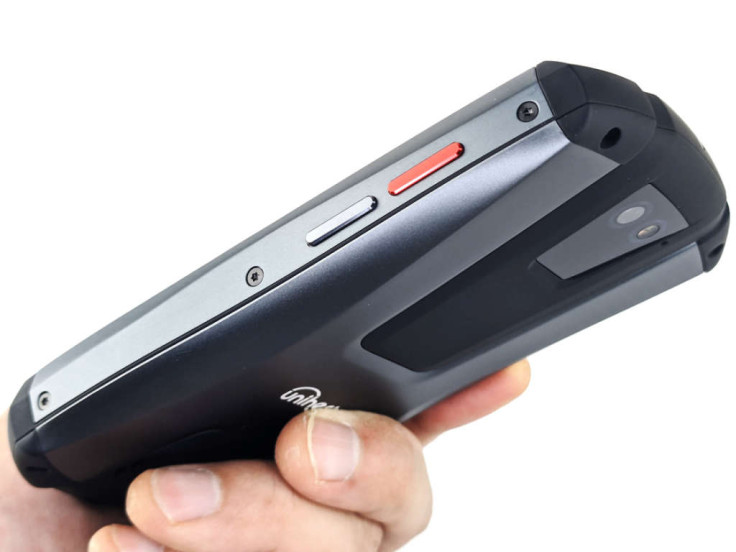 What makes the photography experience on the Titan Pocket better is the red button on the top right-hand side of the phone. When the camera app is opened, the button acts as a physical shutter key which means the phone can be gripped two handed like a conventional camera, meaning that it's more stable to hold.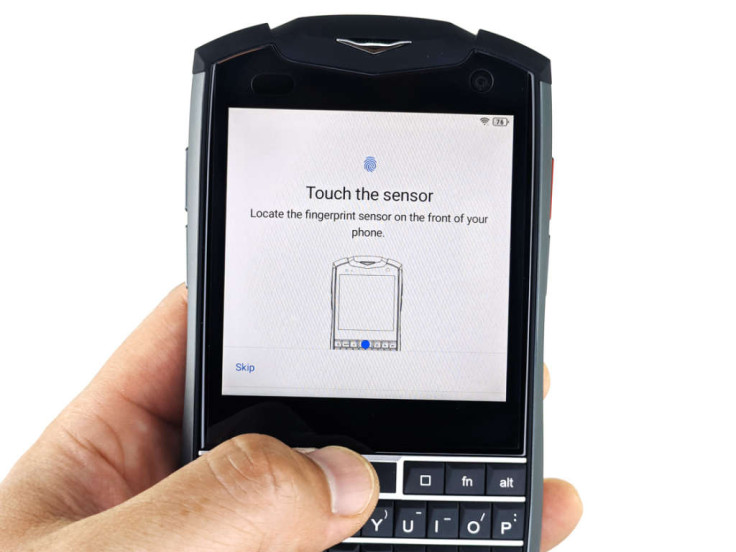 Perks: Fingerprint scanner, Audio Jack, and IR Blaster
The Unihertz Titan Pocket gets many of its major features right, but there are also many small perks that it does well which impacts day-to-day use.
Anyone who is familiar with my phone reviews will know that I take phone unlocking very seriously. Whatever unlocking method it is, it must work consistently, 100% of the time - be it fingerprint scanning or face unlock - and it must be fast, as it is something that is done repeatedly on daily basis. The front and center fingerprint scanner of the Titan Pocket is one that performs highly consistently during my extended hands-on review, and it even has its placement right where my thumb naturally rests.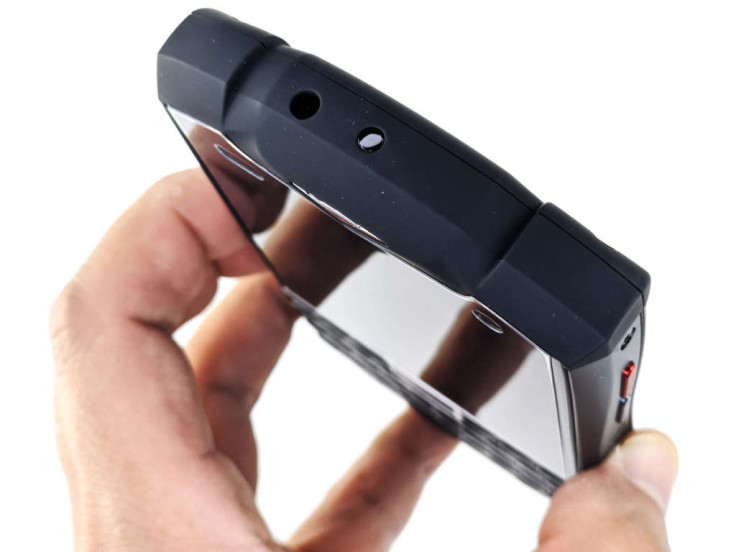 The Titan Pocket, in keeping with the tradition of affordable phones, includes a standard audio jack, which is the favorite feature to be removed from premium phones these days. This opens up possibilities for easy connectivity for your favorite earphones.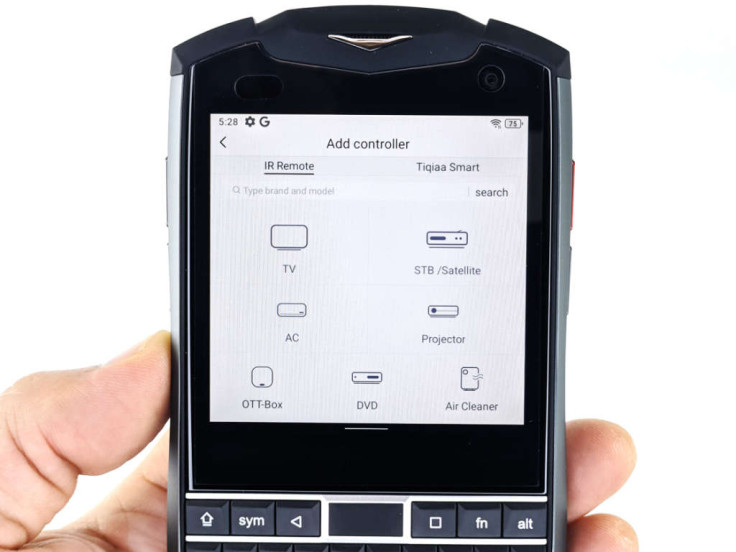 The IR blaster is another small but interesting feature to have. The Titan Pocket comes with a preloaded app for remote control, that allows you to program the phone to control all sorts of appliances, from TVs to Air Conditioners, to even Projectors. I was able to get it to work with my old Daikin air conditioner, but the TV controllers refused to load for some reason.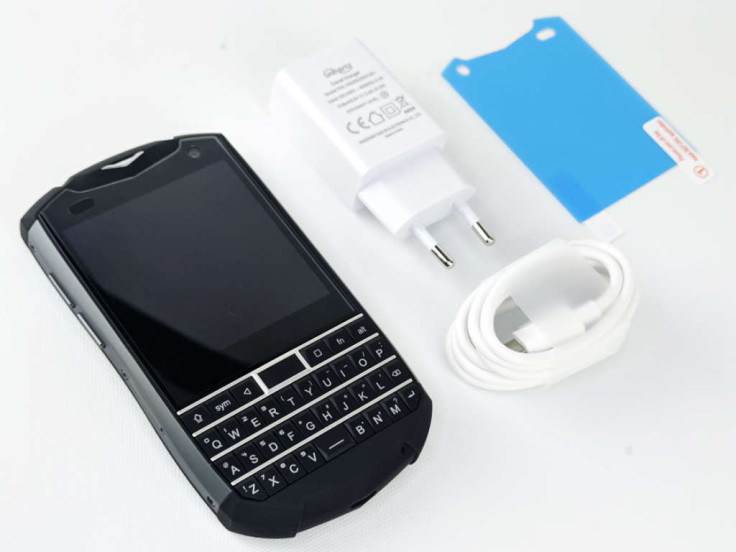 Final Verdict
At $299 (at the time of writing this article), the Unihertz Titan Pocket is considered an affordable phone, and yet its construction reminisces the premium business phone of the past. For those who miss the full physical QWERTY keyboard experience, there's nothing better on the market than this phone.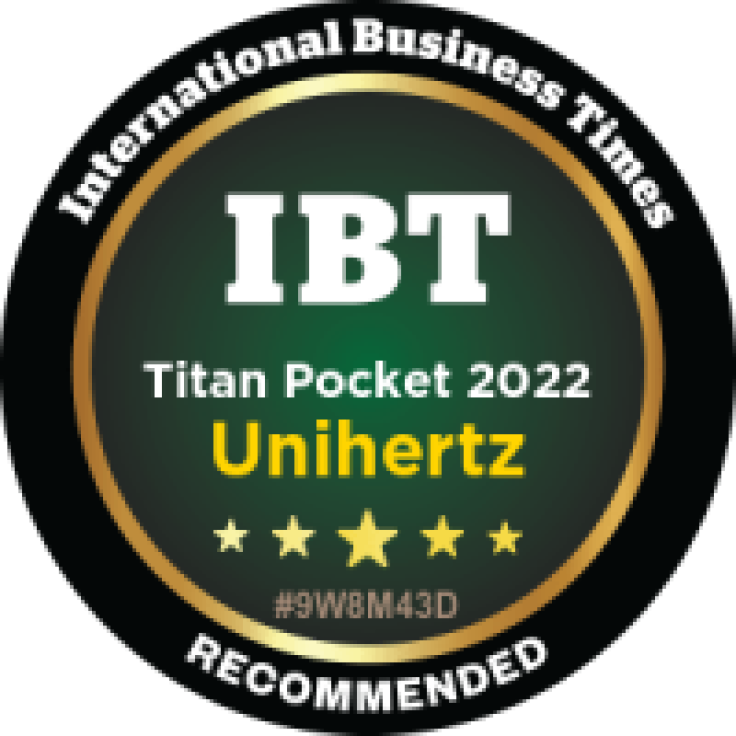 Far from being gimmicky, the Titan Pocket is a well thought out, well executed phone. We're awarding it with the IBTimes Recommended Badge. If you're after a business phone that's all about typing, this is the one to get.
David is a tech enthusiast/writer who is often on the move and is on a mission to explore ways to make his overhaul flights more enjoyable. This is a contribution to an ongoing IBTimes review series on gadgets for Business Travelers.
© Copyright IBTimes 2023. All rights reserved.
FOLLOW MORE IBT NEWS ON THE BELOW CHANNELS