United States On Track To Experience Second Warmest Year Ever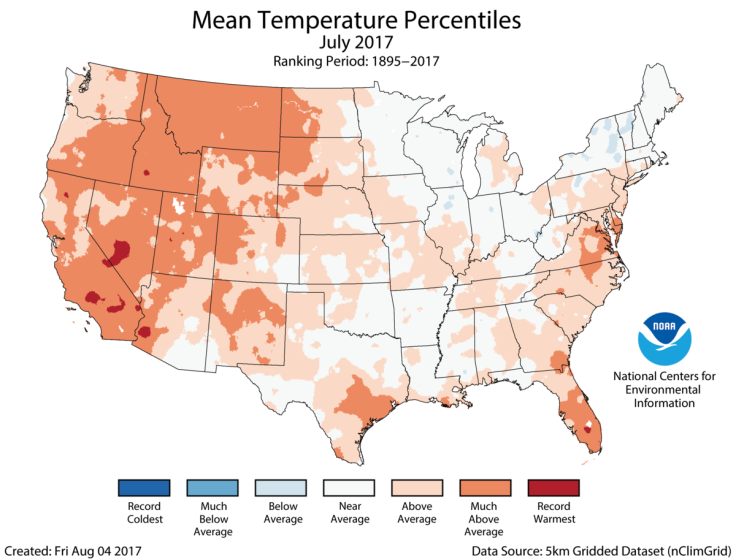 In keeping up with the year's trend, July brought the heat, cementing 2017 as the second hottest year on record to date, only behind the record set in 2012, reported National Oceanic and Atmospheric Administration Tuesday. July alone was the 10th warmest July on record spanning the last 123 years of record keeping.
Some parts of the country saw record highs including Nevada, California and New Mexico, while no sections of the U.S. recorded cool temperatures. Even more states have experienced their warmest years to date than has record-breaking Julys.
Read: Climate Change News: 2017 Has Been One Of The Hottest, Most Extreme On Record When It Comes To Weather
The average temperature in the lower 48 states was 75.7 degrees Fahrenheit, a whole 2.1 degrees above the 20th century average. The year to date average temperature for the lower 48 states is sitting at 54.5 degrees, which is 3.2 degrees above average putting it in the second warmest on record slot, according to NOAA.
Certain areas in the country saw above-average temperatures for July from the West Coast to the Rocky Mountains. Bakersfield, California, Reno, Nevada and Salt Lake City, Utah all saw record breaking temperatures in July making July 2017 the new record holder for hottest July and hottest month on record. Alaska also saw above average temperatures, the average July temperature was 56.2 degrees, 3.5 degrees above the long-term average and several areas of the state also saw record warm temperatures and their warmest month ever.
Read: Al Gore Talks 'Inconvenient Truth' Sequel: There's Still Time To Solve Climate Change Crisis
In June, NOAA announced that 2017 was the second most extreme year on record to date due to extreme temperatures, high precipitation levels, an extreme is classified as anything in the upper or lower ten 10 percent of the records to date. July's extremes will add to the overall extremity of the year so far putting 2017 in fifth place for most extreme year based on the United States Climate Extremes Index.
Notable climate events of July include the surprise tropical storm that hit Florida on July 31 bringing heavy rains and flooding to the state and the extreme heat some cities across the country has seen. Additionally the Midwest and Northeast saw precipitation above average while the northern Plains and Hawaii daw far dried conditions than they're used to. Additionally Wisconsin has now seen 7.14 more inches of precipitation than its average with a total of 25.25 inches of precipitation so far this year.
Increasing temperatures, more frequent weather extremes and more precipitation are all likely to become more frequent as climate change progresses in the coming years.
© Copyright IBTimes 2023. All rights reserved.