US Attacks Syria: Trump Orders Missile Airstrike In Response To Chemical Attack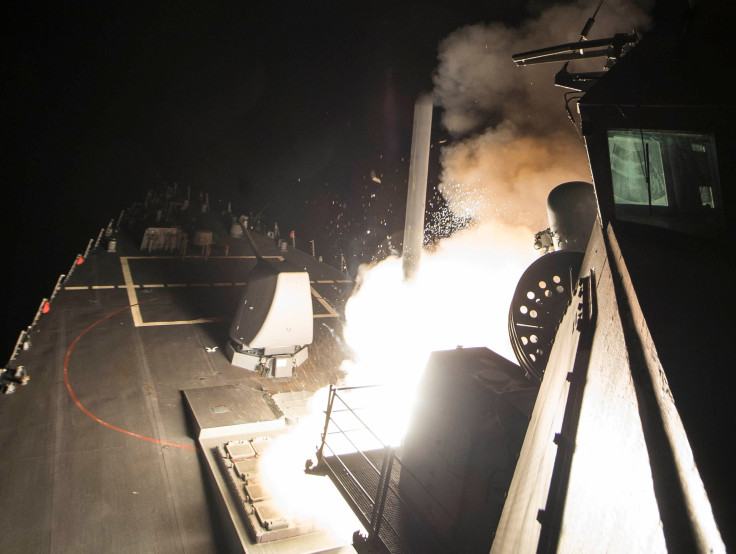 UPDATE: 1:58 a.m. EDT — Iran and Russia strongly condemned Thursday night's U.S. airstrikes in Syria, which targeted an airbase near Homs in retaliation to a chemical gas attack Tuesday. Russian President Vladimir Putin called the airstrike an "aggression against a sovereign nation" and saw it as an "attempt to distract the world from civilian casualties from U.S. military action in Iraq." He also said the military action did "significant damage to U.S.-Russia ties," his spokesman Dmitry Peskov told BBC News.
UPDATE: 1:39 a.m. EDT — The governor of the Syrian city of Homs, Talal Barazi, said the U.S. airstrike at the Shayrat airbase caused civilian casualties in a village nearby. Five people were killed and another seven injured.
The Syrian Observatory for Human Rights told Reuters the airbase was "almost completely destroyed" after the attack and at least four Syrian soldiers were killed.
UPDATE: 12:34 a.m. EDT — U.S. airstrikes on an air force base in Syria killed a number of people and left some wounded, a Syrian official told the Associated Press.
Talal Barazi, governor of Homs, where the airbase is located, did not give a number for the deaths, but he said there was an ongoing fire following the missile attack.
It is possible that the death count is low because Russia, an ally of Syrian President Bashar Assad, had been informed about the missile attack in advance. Russia is also reportedly calling for a U.N. Security Council meeting to discuss the bombing.
UPDATE: 11:42 p.m. EDT — The U.S. missile strike on the Shayrat air base near Homs in Syria did not cause "big human casualties" but led to "material damage," Homs Governor Talal Barazi said.
"I believe - God willing - that the human casualties are not big, but there is material damage. We hope there are not many victims and martyrs," Barazi told Reuters over phone. Fire fighting and rescue operations have been going for two hours, the governor added.
UPDATE: 11:37 p.m. EDT — Israeli Prime Minister Benjamin Netanyahu issued a statement late Thursday night, supporting President Donald Trump's authorization of U.S. missile launches into Syria. About 60 Tomahawk missiles were fired at a Syrian airbase in retaliation against the use of a chemical attack against civilians in Idlib province, allegedly carried out by the regime of President Bashar Assad.
Meanwhile, Bolivia requested an urgent meeting of the United Nations Security Council to discuss the airstrike conducted by the U.S.
Original story:
The United States fired about 60 Tomahawk missiles Thursday night into the government-controlled Shayrat air base in Syria, after President Donald Trump order the attack. The move was in retaliation to the deadly chemical gas attack against civilians in Idlib province Tuesday that claimed the lives of over 100 people and left 300 wounded.
"Tonight I ordered a targeted military strike on the airfield in Syria from where the chemical attack was launched," the president announced Thursday from his Mar-a-Lago resort in Palm Beach, Florida, where he was meeting with Chinese President Xi Jinping. "It is in this vital national security interest of the United States to prevent and deter the spread and use of deadly chemical weapons."
"It crossed a lot of lines for me. When you kill innocent children, innocent babies — babies, little babies — with a chemical gas that is so lethal — people were shocked to hear what gas it was — that crosses many, many lines, beyond a red line," Trump said at a joint news conference he held with King Abdullah of Jordan on Wednesday, referring to the chemical attack, allegedly carried out by the Bashar Assad regime.
Russian forces in Syria were informed earlier that the airstrike will take place at the Shayrat base and not in the areas where the Russian forces were believed to be present, according to U.S. officials. However, after Trump's White House speech stating the possibility of conducting the airstrike on Syria, Russia's deputy UN envoy Vladimir Safronkov said: "Think about negative consequences."
"We have to think about negative consequences, negative consequences, and all the responsibility if military action occurred will be on shoulders of those who initiated such doubtful and tragic enterprise," he added.
The Pentagon issued a formal statement about the U.S. airstrike. The president was said to have authorized the strike after negotiating with the National Security Council members in Florida and Washington D.C., according to National Security Advisor H.R. McMaster.
Speaker Paul Ryan had said earlier the president needed Congressional approval to carry out the airstrike. However, he issued a statement later saying that the "action was just and appropriate."
FOR FREE to continue reading
✔️ Unlock the full content of International Business Times UK for free
offer available for a limited time only
✔️ Easily manage your Newsletters subscriptions and save your favourite articles
✔️ No payment method required
Already have an account?
Log in
© Copyright IBTimes 2023. All rights reserved.