US Coronavirus: 16 States Pause Reopening, Consider New COVID-19 Restrictions
KEY POINTS
Sixteen states have paused their planned economic reopening as COVID-19 cases threaten to surge beyond reach
There have been more than one million new COVID-19 cases in the U.S. since Memorial Day
States are now considering reimposing restrictions and social distancing measures to curb the spread of the virus
The unrelenting surge in new COVID-19 cases in 31 states since Memorial Day has forced 16 of these states to now postpone reopening their economies ahead of the Fourth of July. Hard hit by the unnerving jump in new cases are young people in the South and West.
Data compiled by CNN shows 31 states reporting increases in new coronavirus cases this past week compared to last week. New cases in another 15 cases remain steady while cases are declining in Connecticut, Delaware, New Hampshire and Rhode Island.
The COVID-19 resurgence means the U.S. still leads the world in the number of confirmed cases and deaths. As of Monday evening, the U.S. reported 2.67 million cases and 129,000 deaths, according to Worldometer.
The devastating extent of this horrific surge is best appreciated when one remembers the U.S. reported 1.70 million cases and 99,000 deaths only on Memorial Day (May 25). The increase in just over one month is a staggering one million cases and 30,000 deaths -- which can be attributed mostly to states hastily and unwisely reopening their economies too early.
The current spike is reaching record proportions in Arizona, California, Florida and Texas. In Florida, which has all the makings of the next COVID-19 epicenter, Sunday saw the addition of 8,530 new cases and 29 deaths.
With the fifth highest number of cases, Florida as of Monday reported 146,000 cases and 3,400 deaths. It reported 8,900 new cases on Friday and 9,600 on Saturday, the two highest daily totals. These unwanted records brought the state's total numbers last week to more than 28,000 new cases.
Despite these grim statistics, Gov. Ron DeSantis on Sunday said the extent of the pandemic in Florida isn't as bad as the case numbers might have people believe. He claimed younger people are less at risk for the worst health outcomes.
Florida mayors are acting on their own in the face of DeSantis' downplaying the extent of the latest outbreak. Miami-Dade County Mayor Carlos Gimenez announced the closure of beaches over the Fourth of July weekend. He said limiting recreational activities is the right move since new COVID-19 cases are infecting more young adults.
Dr. Anthony Fauci, Director of the National Institute of Allergy and Infectious Diseases (NIAID), has ruefully noted "something's not working" in America's testing strategy." New data surprisingly reveals states are under investing in contact tracing. This arduous task involves tracking down all of an infected person's close contacts to stem further spread.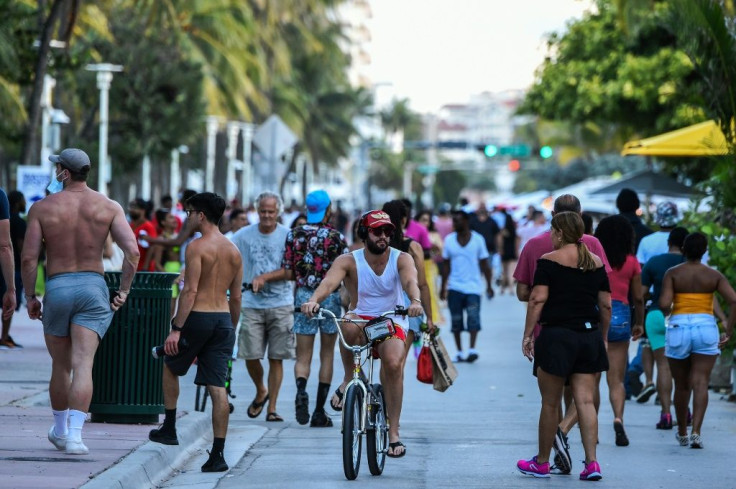 There are far fewer contact tracers than the recommended 30 per 100,000 people in the eight states now most infected by COVID-19, according to CNN. As of Monday, Florida has about seven tracers per 100,000, Texas has 11 tracers per 100,000 and Arizona has five tracers per 100,000.
In California on Monday, Gov. Gavin Newsom said the state will add more enforcement procedures if Californians and state businesses keep refusing to comply with coronavirus guidelines.
California rolled back on reopenings Sunday due to the huge spike in new cases. Newsom ordered bars to close in Los Angeles, Fresno, Imperial, Kern, Kings, San Joaquin and Tulare counties.
Texas, which is reeling from record cases, saw a despondent Gov. Gregg Abbot regret reopening the state too early.
"If I could go back and redo anything, it probably would have been to slow down the re-opening of bars," said Abbott, who earlier ordered the closure of bars. He also reimposed limits on restaurants for indoor seating, reducing it to 50% from 75%.
© Copyright IBTimes 2023. All rights reserved.
FOLLOW MORE IBT NEWS ON THE BELOW CHANNELS