US Coronavirus Cases Won't Stop Trump From Reopening Schools, Will 'Put Pressure On Governors'
KEY POINTS
On Monday, President Donald Trump tweeted "SCHOOLS MUST OPEN IN THE FALL!!!"
He promised to "very much put pressure" on governors to reopen their states' schools
Joe Biden also wants schools to reopen but depending on the COVID-19 situation in their areas
Both President Donald Trump and presidential nominee Joe Biden agree opening schools in September is a good idea despite the resurgence of COVID-19 in 31 states, but the two differ in the details.
Trump called for all schools to reopen despite the pandemic during a "National Dialogue on Safely Reopening America's Schools" held Tuesday at the White House that brought together educators, students, parents and politicians.
Trump pointed to ally, Florida Gov. Ron DeSantis, who recently announced plans to reopen schools in the state as proof schools throughout the country should reopen in the fall.
"He just announced that the schools will be open in the fall, and we hope that most schools are going to be open," said Trump of DeSantis.
Florida, however, now leads the country in the number of new COVID-19 cases daily. On July 4, Florida reported a record 11,000 cases in a single day, which DeSantis put down to increased testing.
Trump promised to lean on governors that refused to reopen schools in their states. He said he'll "very much put pressure" on governors to reopen their states' schools.
"Our country has got to get back, and it's got to get back as soon as possible, and I don't consider our country coming back if the schools are closed," said Trump. "Everybody wants it, the moms want it, the dads want it, the kids want it."
To make sure people got the message, Trump on Monday tweeted in all caps, "SCHOOLS MUST OPEN IN THE FALL!!!"
First lady Melania Trump backed her husband's statement, saying schools remain vital for the social, emotional and physical health of children.
"Many challenges for children and families can be just as invisible as the virus, and just as dangerous," she said.
The first lady pointed out children with disabilities, those with no access to technology and those living in unsafe homes could suffer worse consequences compared to those inflicted by COVID-19.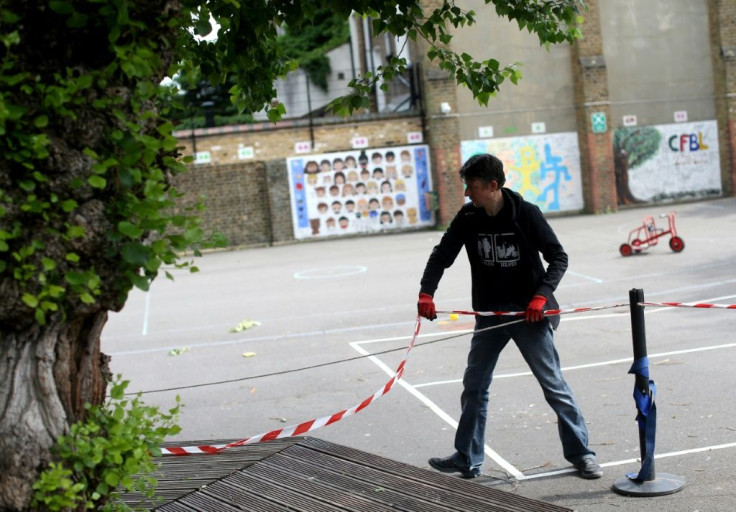 Analysts said Trump's push for school reopenings is tied to his reelection bid and his boast of a great American comeback where the economy keeps reopening despite a frightening resurgence of COVID-19.
On the other hand, Biden's plan to reopen schools is on a case-by-case basis. In "The Biden Plan for an Effective Re-opening that Jumpstarts the Economy," Biden proposed to build a Safer Schools Best Practices Clearinghouse to help schools and child care providers share approaches and tools for reopening. He also plans to provide funds for child care providers and schools to cover costs.
On his campaign website, Biden said helping schools or child care providers reopen is "perhaps the single most important step to get parents back to work." Biden also blasted Trump for doing nothing to help schools or child care providers reopen.
A Biden campaign official confirmed Biden does want kids to return to school in the fall but urges school officials base their decisions on recommendations from public-health experts.
"Of course he does," this official told Fox News. "That's why he's been making these proposals and pressing Trump to act."
The official said the U.S. still needs to ensure "we can do it safely, in line with the recommendations of public health experts, and Trump keeps failing us on that score."
Data from Johns Hopkins University released Tuesday shows 31 states reporting higher rates of new COVID-19 cases this week compared to last week. Another 15 states are holding steady and only four are seeing case declines.
"We are still knee-deep in the first wave of this," said Dr. Anthony Fauci, Director of the National Institute of Allergy and Infectious Diseases (NIAID), during a Facebook/Twitter livestream event Monday.
© Copyright IBTimes 2023. All rights reserved.
FOLLOW MORE IBT NEWS ON THE BELOW CHANNELS