US Coronavirus Spike Means New York, New Jersey To Consider Slowing Pace Of Reopening
The governors of New York and New Jersey on Monday discussed the possibility of slowing down reopening as states across the country struggle with new surges of the coronavirus. New York Gov. Andrew Cuomo is considering postponing certain aspects of the state's Phase III, while New Jersey Gov. Phil Murphy has moved to delay them indefinitely.
Specifically under consideration by the two leaders are their plans to allow indoor dining once more. New Jersey had been planning to allow indoor dining on Thursday but has scrapped the plan entirely. New York City had been set to allow it when it entered Phase III on Monday, but this may change in the near future.
New York's Phase III is also set to allow the reopening of spas, nail salons, tattoo parlors, and massage parlors in the state's 10 regions, with indoor dining only up in the air for the densely populated New York City. Cuomo pledged to make a decision on the matter by Wednesday, calling the subject a "real problem."
"I would not want to roll back anything we've done," Cuomo told reporters. "I want to continue to move forward but we may move forward with caution. We have complications that we are studying now but there are issues we have to think through. Malls and indoor dining are things that I'm concerned about and we may consider slowing them down for next week."
New York City Mayor Bill de Blasio echoed the governor's concerns at a Monday briefing.
"We're at a watershed moment for the city of New York. We have to get it right. We're going to make adjustments all the time and we'll be open to you about when we need to make adjustments," de Blasio said. "But we're also going to be very open about the progress and what we need to do. When we see a problem, like concerns about indoor dining, we have to address it."
Murphy noted that the work to contain the spread of COVID-19 is not over.
"Confidence in our restart is higher across the Northeast than it is in any other part of the country," Murphy explained. "That's because we're taking responsible and measured steps while following the science and data. We still have nearly 1,000 people with COVID-19 in our hospitals. Our sister states are now battling for their lives. Do not think for one moment that this is behind us."
New York and New Jersey were the two states hit the hardest at the beginning of the coronavirus outbreak in the U.S. and lead the country in total confirmed cases along with California. According to Johns Hopkins University, New York has seen nearly 393,000 cases while New Jersey has seen over 171,000.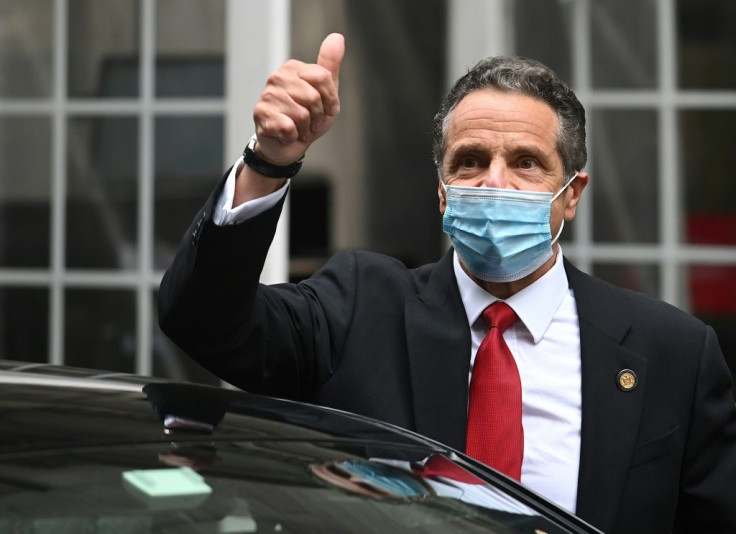 © Copyright IBTimes 2023. All rights reserved.