US-Iran Sanctions Add Layer of Conflict To Relationship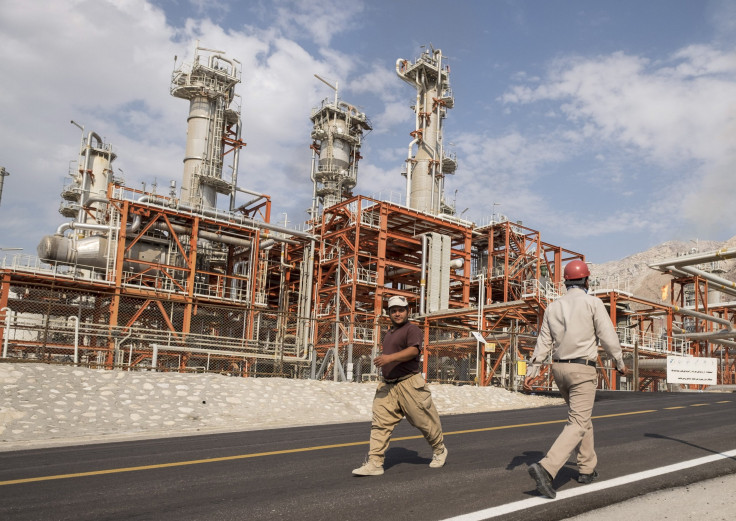 The Islamic Republic of Iran made a measure of peace with Washington and other foreign capitals last year by negotiating a landmark agreement to dismantle its alleged nuclear weapons program. In the coming years, it may face pressure from a new set of capitals: U.S. states that have passed their own sanctions against the Persian power.
Over the past decade, dozens of states have passed legislation aimed at Iran, whose behavior on terrorism, regional security, Israel and nuclear research have given lawmakers plenty to object to. The result is an additional irritant in the Iranian-American relationship, one uniting state legislators in a tacit alliance with a large swath of the U.S. Congress.
"As long as Iran continues its outrageous activity abroad, it is our right and it is our duty to make sure that we are not complicit in funding its terrorism, its human rights abuses and its other activity that is contrary to the U.S. national interests and global stability," said Rep. Peter Roskam, R-Ill.
Roskam is pushing legislation that would give federal approval to the state sanctions. At the same time, Congress is debating legislation aimed at hindering President Barack Obama's implementation of last year's nuclear weapons agreement. The House of Representatives passed that bill Wednesday.
It faces strong opposition from Democrats in the Senate, who are in a position to block its consideration. Obama would be sure to veto the bill, which layers on new requirements for lifting the sanctions that will disappear under the agreement, if it emerged from the upper chamber.
At the same time, the Obama administration is drawing up new measures, which it is likely to unveil in the coming weeks, to penalize Iranian entities involved with its recent tests of ballistic missiles.
The state sanctions are a different kind of challenge from the legislative maneuvering in which Obama, dealing with the Republican-controlled Congress, has the upper hand thanks to the presidential veto.
"We're spending a lot of time on it, a good bit trying to get the administration to view it as a serious threat," said Bill Reinsch, president of the National Foreign Trade Council, which represents major multinational corporations.
The U.S. State Department didn't respond to a request for comment. The nuclear agreement itself gives the federal government broad latitude, with a vague clause requiring the United States to "actively encourage officials at the state or local level" to avoid actions inconsistent with U.S. policy.
Dozens of states have the measures in place and could use them, sparking conflict with the other partners in the nuclear talks — Britain, Germany, France, China and Russia — over penalties against their companies. At the same time, the states could end up facing a challenge in the U.S. Supreme Court over whether the state laws violate the provision of the U.S. Constitution giving the federal government, and the president, primacy in foreign policy. And regardless of the outcome, critics charge that the state sanctions conflict with the overall goal of making the United States open to foreign investment.
Iran Overview | FindTheData
The state laws, of which there are at least 24, vary in scope.
California, for example, passed a law in 2010 that prohibits any state agency from signing a contract worth $1 million or more with any company or person doing business worth at least $20 million that's connected to Iran's energy sector.
Florida bars state pension funds from investing in companies that do business with Iran's energy sector, and lawmakers there have vowed to keep them.
"Our investment sanctions are not tied in any way to President Obama's negotiations with the Iranians," Don Gaetz, a Republican Florida state senator, told Reuters. "They would have to change their behavior dramatically and we would not be necessarily guided by President Obama or any other president's opinion about the Iranians."
New York, Ohio, Texas and Pennsylvania have varying species of divestiture laws as well.
In 2007, California passed a similar law to Florida's, which had particular importance given that CalPERs, one of the largest pension funds is the world, and a major teachers' fund, is based there. And that law unquestionably had an effect, at least on the way California managed its money in foreign companies.
The funds divested from companies based in China, India and South Korea, including Chinese oil giant PetroChina, because of their Iran ties. The teachers' fund is monitoring other companies, including Russia's Gazprom, to determine if it needs to divest another $400 million as a result of the state law.
The impact of the laws on the calculations of foreign companies is harder to measure.
"It's counterproductive to the general notion of 'invest in the U.S.' and 'hire Americans,'" said Richard Sawaya, a vice president at the National Foreign Trade Council. "Look at the competitive environment that states engage in to secure foreign investment. This runs completely counter to that."
What's likely true is that the state sanctions play their own role in making foreign companies with operations in the U.S. think twice about doing business with Iran, if only for the sake of public relations. And financial sanctions rigorously enforced by the U.S. Treasury Department can make it difficult to even execute a transaction with Iran, according to a legal analysis by Alan Kashdan and Scott Wise, lawyers at Hughes Hubbard.
"The net result of these overlapping instruments is a web of extraterritorial sanctions that threatens any non-U.S. company engaging in business with Iran or thinking about doing so," they wrote. "Indeed, viewed as a holistic regime, and considering the nature of Iran's economy, there are very few transactions regarding Iran that the U.S. sanctions regime does not have the potential to impact."
States might also feel the impact of the laws they've made in ways they didn't anticipate.
Twice in the last 15 years, state sanctions laws against other countries, notably Myanmar, have been struck down by the Supreme Court in narrowly written rulings that don't necessarily mean the current state laws are invalid.
The result may be that a law — such as the California one inhibiting foreigners who do business in Iran's energy sector — could provide a company with legal standing to take the case up the judicial food chain to the U.S. Supreme Court.
"It's likely to end up in court like the rest of them," said John Tures, a professor of political science at LaGrange College in Georgia. "It's likely to be an American subsidiary of a company that is foreign-owned, and gets blocked from getting a contract."
© Copyright IBTimes 2023. All rights reserved.
FOLLOW MORE IBT NEWS ON THE BELOW CHANNELS