US-Mexico Border Crisis A 'Big Problem'; Biden Tells Migrants 'Don't Come Over'
KEY POINTS
President Biden discouraged migrants from trying to cross the border
The U.S. has seen a spike in the number of unaccompanied migrant children
There are over 4,000 children currently in Border Patrol custody
President Joe Biden on Tuesday discouraged migrants from entering the United States amid a surge in the number of unaccompanied migrant children currently in U.S. custody.
In recent weeks, the number of unaccompanied teens and children who have attempted to cross the Mexico-U.S. border has shot up. Homeland Security Secretary Alejandro Mayorkas on Tuesday said there were at least 4,000 migrant children in Border Patrol custody.
"We are on pace to encounter more individuals on the southwest border than we have in the last 20 years," Mayorkas said in a statement.
This prompted President Biden to discourage would-be migrants from attempting to cross the border with hopes of entering the United States.
"Yes, I can say quite clearly: Don't come over. Don't leave your town or city or community," the president told ABC News' George Stephanopoulos. "We're in the process of getting set up, don't leave your town or city or community."
During a press gaggle aboard Air Force One on Tuesday following Biden's interview, White House press secretary Jen Psaki was asked whether Biden's discouragement of migrants was partly due to worries that letting more refugees into the U.S. would signal that the country was more open to immigration.
"I wouldn't make a direct connection," Psaki said. "I would say it's just something where we want to make sure that our system is prepared for to manage the process effectively and smoothly."
When she was pressed to comment about the situation on the U.S.-Mexico border, Psaki referred to the spike in unaccompanied children as a "big problem." But like President Biden, she refused to call it a "crisis."
"I would say that his focus is on developing solutions, pushing his team, encouraging his team, to develop solutions that will expedite processing at the border, that will open more facilities that will ensure kids are treated with humanity and also treated safely," she continued.
Republicans blamed Biden's decision to rescind former President Donald Trump's strict immigration policy as one of the reasons why the border is seeing a spike in migrants.
"This crisis is created by the presidential policies of this new administration. There's no other way to claim it than a Biden border crisis," House Minority Leader Kevin McCarthy said during a trip to a Border Patrol center in Texas.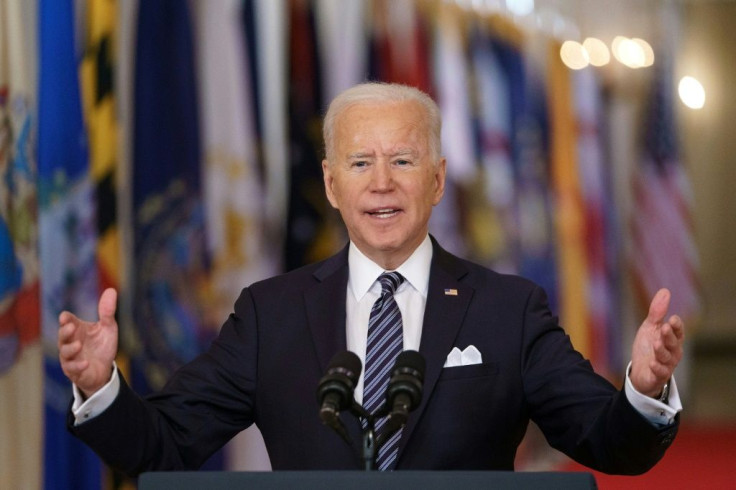 © Copyright IBTimes 2023. All rights reserved.