US Neo-Nazi Terror Group Atomwaffen Division Resurfaces Under The Name National Socialist Order
KEY POINTS
The neo-Nazi terror group Atomwaffen division has resurfaced in Colorado after dissolving earlier this year, rebranded as the National Socialist Order
The group is loosely organized but its members have been connected to homicides, child pornography and home-made bomb materials
At its height, the original forum for the group had over 1,600 unique users
The violent neo-Nazi group Atomwaffen Division resurfaced in Colorado Springs, Colorado, recently, rebranded as the National Socialist Order, NBC Denver affilliate KUSA reported. Atomwaffen Division had disbanded in March following infighting and arrests.
A member put a sticker on a Black Lives Matter sign with a swastika, picture of Adolf Hitler, and a recruitment email, KUSA said.
The Southern Poverty Law Center classifies AWD as a "series of terror cells that work toward civilizational collapse." It boasts membership across the U.S. and is connected to a plethora of crimes from child pornography to killings.
The group was founded in 2011 as an online message board and grew in influence until disbanded. The original message board ceased operation in 2017 but had more than 1,600 unique users at its height, who were loosely organized, fomented white supremacist violence online and conducted "hate camps" to train members in survival skills and weapons handling, the civil rights group reported.
Devon Arthurs, one of the first members to distribute flyers, was arrested in 2017 following the killings of two other members. Arthurs allegedly told officers he had killed the two after they disparaged his conversion from neo-Nazism to radical Islam, and that his roommate, founding AWD member and flyer distributor Brandon Clint Russell, had threatened to kill people and bomb infrastructure.
When authorities searched the apartment they found homemade bomb components, along with a framed photo of Oklahoma City bomber Timothy McVeigh. AWD's activities slowed following Russell's arrest two days later. Russell was sentenced to five years in prison after pleading guilty to possessing an unregistered destructive device and unlawfully storing explosive material. He released a recording from prison, saying he was still involved with AWD.
Arthurs was declared unfit for trial in May.
A third AWD member, Samuel Woodward, was arrested for the killing of a gay Jewish man, Blaze Bernstein, in 2018. Nick Giampa, a Virginia 17-year-old, was charged with murder after the killing of his ex-girlfriend's parents. And Benjamin Bogard, a college student in Texas, was arrested on child pornography charges. He pleaded guilty in 2019 and was sentenced to six years.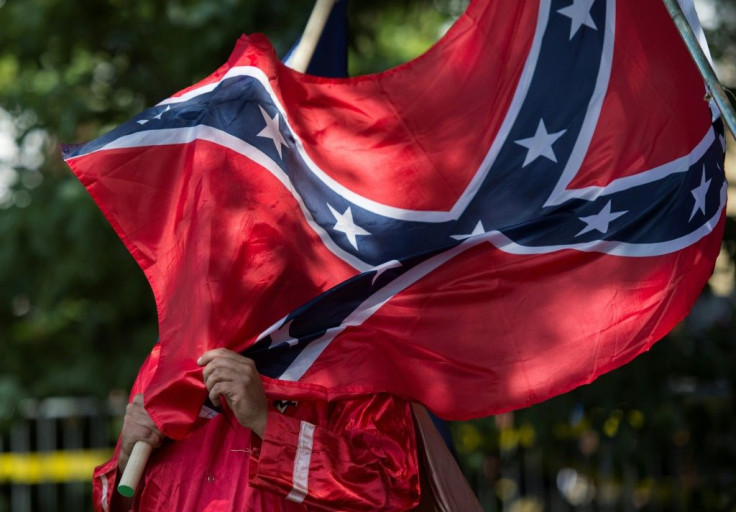 The Atomwaffen Division officially disbanded in March. Critics say that this is simply to throw off the State Department, which has been ramping up pressure on white supremacist groups. This theory was lent credence by their recent reemergence and rebranding as the National Socialist Order, complete with social media accounts and videos. An LGBTQ-owned business was among the places targetted in Colorado Springs for recruitment stickers. 9News reports the flyer campaign was accompanied by a new website.
Joanna Mendelson, a senior investigative researcher with the Anti-Defamation League's Center on Extremism, told Westward at the time: "It comes as no surprise with the recent pressures exerted on this extreme and violent neo-Nazi group that they are issuing a public statement of dissolution. It's the ultimate protective clause to say that this group will no longer exist, but it doesn't take away their messaging. The dedication and commitment to the ideology remains."
© Copyright IBTimes 2023. All rights reserved.