US Supreme Court Justice Ruth Ginsburg Hospitalized For Possible Infection
KEY POINTS
Ginsburg was examined at a hospital in Washington DC after experiencing fever and chills
She was then admitted to Johns Hopkins Hospital and underwent endoscopic surgery
She was previously hospitalized in May for a non-surgical procedure
U.S. Supreme Court Justice Ruth Bader Ginsburg was hospitalized Tuesday, July 14, to treat a possible infection.
The 87-year-old Associate Justice of the Supreme Court of the United States was initially sent and examined at Sibley Memorial Hospital in Washington D.C. late Monday after she experienced fever and chills.
Ginsburg was then admitted at Johns Hopkins Hospital in Baltimore where she went an endoscopic surgery to clean a bile duct stent that was placed in August after she was treated for a malignant tumor on her pancreas, said Bloomberg.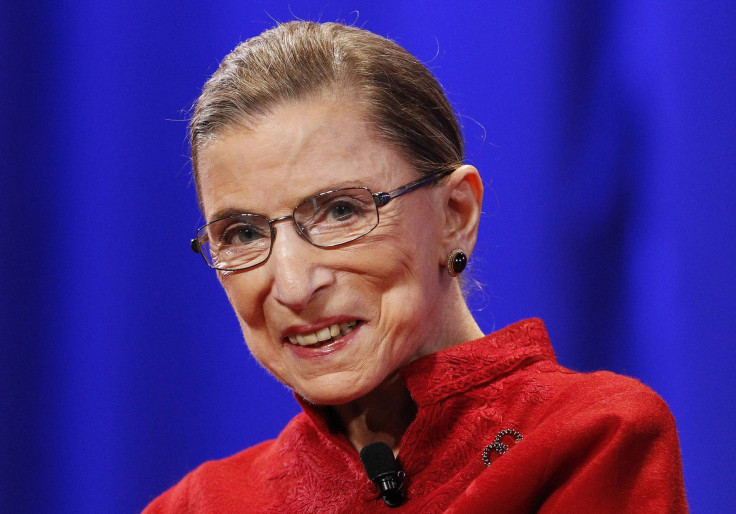 "The Justice is resting comfortably and will stay in the hospital for a few days to receive intravenous antibiotic treatment," according to Al Jazeera, citing a statement from spokeswoman Kathy Arberg.
Ginsburg was nominated by former United States President Bill Clinton and took the oath of office on August 10, 1993.
Ginsburg, the court's oldest justice, was also hospitalized in May where she underwent a non-surgical procedure after a gallstone blocked her cystic duct and caused an infection. She was treated and spent "a day or two" at Johns Hopkins Hospital.
She has had a number of health issues that date back to 1999, including colorectal, pancreatic and lung cancer. In November 2018, Ginsburg fell and broke three ribs. Medical tests then led to a treatment for lung cancer that made her miss a number of oral arguments in January 2019, said The Guardian.
Ginsburg also battled pancreatic for the second time in August 2019. The Supreme Court said at the time the "abnormality" was first detected during a routine blood test in early July. A biopsy was scheduled later that month and found it to be a malignant tumor.
She "tolerated treatment well" after completing a "three-week course" of radiation therapy, said USA Today, citing a statement from the Supreme Court.
President Donald Trump, who was told of Ginsburg's condition, wished her "the absolute best" during a press briefing at the White House late Tuesday. He also said Ginsburg has given him "some good rulings."
A native of Brooklyn, New York, Ginsburg spent a considerable part of her legal career as an advocate for gender equality and women's rights. While she served as the lone female justice on the Supreme Court, she was given the moniker "The Notorious R.B.G" for her "fiery liberal dissents" and in reference to the slain rapper, "The Notorious B.I.G."
© Copyright IBTimes 2023. All rights reserved.