USA Vs. Azerbaijan: Live Stream Info, TV Channel And Preview For World Cup Warm Up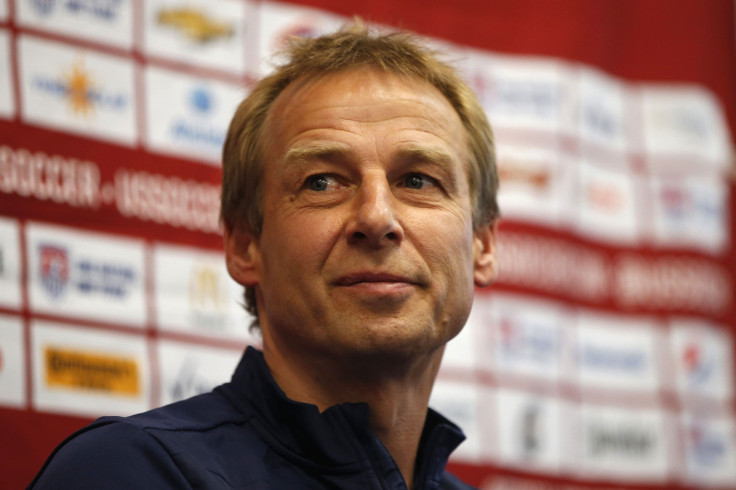 Landon Donovan continues to dominate debate around the United States squad, but Jurgen Klinsmann and his chosen 23 will attempt to get on with the task of preparing for the World Cup when they take on Azerbaijan on Tuesday. The match at San Francisco's Candlestick Park is the first of three warm-up matches before the U.S. head to Brazil to begin their campaign against Ghana on June 16.
By then Klinsmann will hope that Donovan's headline-making exclusion has been confined to memory. In order for that to be the case, encouraging performances and results will be required, starting on Tuesday. Games ahead of a major tournament always provide a coach with a conundrum of whether to work on the cohesion between the first-choice players or to provide experience and opportunities for those on the fringes of the first XI. Klinsmann is keen to strike a balance, while also getting a confidence-boosting victory.
"We want to win any game that we play," he said. "It's important to start with a win in the Send-Off Series and build confidence and see where the guys are right now after an intense two weeks. We hope we can offer the fans an exciting match."
"We'll definitely experiment here and there because we want to give the guys as much playing time as we can. We also want to see a flow in our game with the lineup that looks very strong and very close to the one we will be seeing three weeks down the road. We try to fit both, but it's not easy."
Chris Wondolowski, one of the players most relieved to have survived the seven-man cull from the squad last week, will be one of those looking to enhance his prospects in Brazil. And the Bay Area native has extra incentive to do well in the United States' first international in San Francisco in eight years.
"It's very exciting," he said. "I remember coming here and watching games, both Giants and 49ers games. A lot of fun memories. I am very excited to get out here and play.
"I want to be peaking at the right time, which is down in Brazil. These next couple weeks are paramount to try and be playing my best."
Bizarrely, the friendly will see the U.S. going up against an Azerbaijan team coached by the man who is acting as a special adviser to Klinsmann in the buildup to the World Cup. Berti Vogts was coach of Germany when Klinsmann was among the squad that won Euro '96 and has been brought in by his former player, specifically to help scouting the opposition at the World Cup.
In a group featuring one of those opponents, Portugal, Azerbaijan came fourth in their efforts to qualify for the World Cup. And Vogts has dismissed the notion that he will be tailoring his team to suit the Yanks' needs.
"First, I'm the national coach for Azerbaijan," he said, according to the Associated Press. Proud to play here against the United States. Azerbaijan is a very, very small country. More Azerbaijans are looking forward for this match.
"It's a huge match for Azerbaijan, and I hope the match also will help the United States. It's the first match, then they play against Turkey in New York and in Jacksonville against Nigeria. It's very interesting matches for the U.S. It's a friendly. It's a natural match. It's not a match about two friends. It's a match of Azerbaijan-USA."
Where to watch: The international friendly will kick off at 10 p.m. ET. Coverage will be provided by ESPN 2 and Univision Deportes, with a live stream available on Watch ESPN.
© Copyright IBTimes 2023. All rights reserved.