USA vs. Cuba Soccer 2015: Prediction, Preview, Team News For Gold Cup Quarterfinal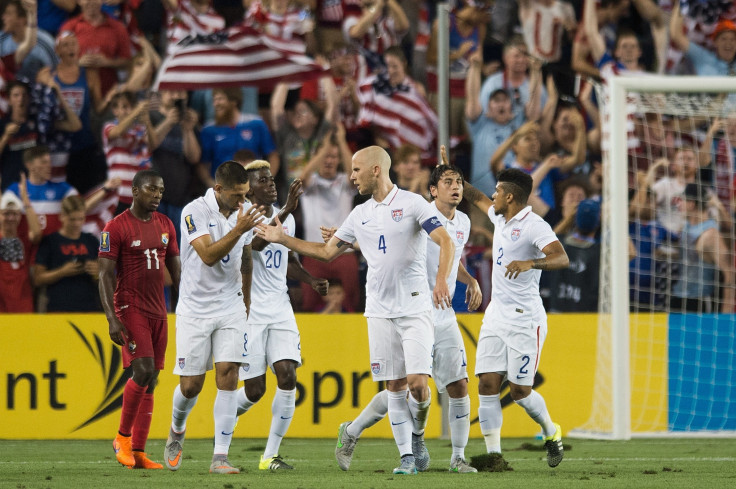 The United States didn't have things all in its own way in getting through the Group stage, but the team could realistically not have wished for a kinder draw in the knockout stage of the Gold Cup. Having topped Group A, the U.S. will take on the most unlikely team to progress, Cuba, in the quarterfinals, with a possible semifinal awaiting against either Haiti or Jamaica. Meanwhile, arguably the three biggest threats to the U.S. retaining its title, Mexico, Costa Rica and Panama will all have to battle it out on the opposite side of the bracket.
Jürgen Klinsmann's side finished with seven points from the group stage, but in none of its three games were they comfortable. In the opener against Honduras, the U.S. was hanging on late on, while it was fortunate to survive a wave of dangerous counter-attacks in the first half before emerging with a 1-0 win over Haiti. Against Panama, the U.S. was punished for its missteps when going behind, although the Americans still recovered to claim a draw.
Hardly overwhelmingly impressive then, although, the efforts of Klinsmann's team look better when compared with those of the two teams considered its main rivals for the trophy at the start of the Gold Cup. Last year's World Cup quarterfinalist Costa Rica failed to win any of its three group matches, while eternal foe Mexico was unable to top a group containing Cuba, Guatemala and Trinidad and Tobago. And Klinsmann was also eager to point out that the U.S. had to come through what was on paper the toughest group in the competition.
"Looking back at the group stage I think it really confirmed what we were all saying, even if some people didn't really want to believe it: It was the most difficult group we received with Honduras, Panama and Haiti," he said in an interview with the U.S. Soccer website.
Having made it through, Klinsmann believes that the tough challenges already faced could stand the U.S. in good stead as it seeks to retain the title it won in 2013 and secure a berth at the 2017 Confederations Cup.
"I think it can only benefit you if you've had real games already in the group phase," he said. "Two years ago, we had Belize and Cuba and things looked very easy. Going into this tournament, we needed to be on our toes from the first second and we were."
Still, the U.S. coach has made it clear he wasn't completely satisfied with his team's play. Taking advantage of a rule that allows quarterfinalists to make up to six changes to its squad, Klinsmann has made three alterations for the remainder of the competition. The most eye-catching was the departure of striker Jozy Altidore. But despite his experience and previous strong performance in his national uniform, the Toronto FC striker failed to score or look like scoring in the group stage, and has only recently returned from a recent hamstring injury.
"We believe that Jozy's just not there yet," Klinsmann explained. "Jozy never really got into this tournament and never really picked up the rhythm. He's just simply not in the shape right now to help us."
LA Galaxy striker Alan Gordon has been called up as Altidore's replacement, with the other changes seeing 33-year-old DaMarcus Beasley come out of international retirement to replace fellow left-back Greg Garza and Alfredo Morales being moved aside for Joe Corona. Against Cuba, the team will also be without the services of John Brooks, after the center-back picked up a suspension for his second yellow card of the competition against Panama.
Whoever is involved, the U.S. will have reason for confidence heading into the quarterfinals. Cuba began the Gold Cup in disarray, with six players and its coach Raul Gonzalez missing its opening match due to visa issues and another Kailen Garcia defecting. Cuba promptly lost 6-0 to Mexico and then, following another defection, suffered a 2-0 defeat to Trinidad and Tobago. While the visa problems had been resolved, two more players were to disappear from the team's base ahead of Cuba's final group match against Guatemala.
Yet, against the odds Cuba secured a 1-0 victory over Guatemala to make it into the quarterfinals for the second successive Gold Cup. It was a fairytale story, having also progressed despite finishing with a goal differential of -7, the worst ever for a Gold Cup quarterfinalist. But the U.S., which has won the last two meetings by a combined score of 10-2, will be aiming to bring Cuba down to earth in Baltimore on Saturday.
Prediction: Cuba did wonderfully well to emerge with a victory against the odds in a do-or-die match, but it's difficult to see how it won't be overwhelmed against the United States. The U.S. has looked particularly vulnerable in defense so far and is still yet to find its rhythm going forward, but there is more than enough quality to garner a comfortable win en route to the last four.
Predicted score: USA over Cuba, 3-0
© Copyright IBTimes 2023. All rights reserved.