USS John McCain: Destroyer Collision Opens Gap In Missile Defense Against North Korea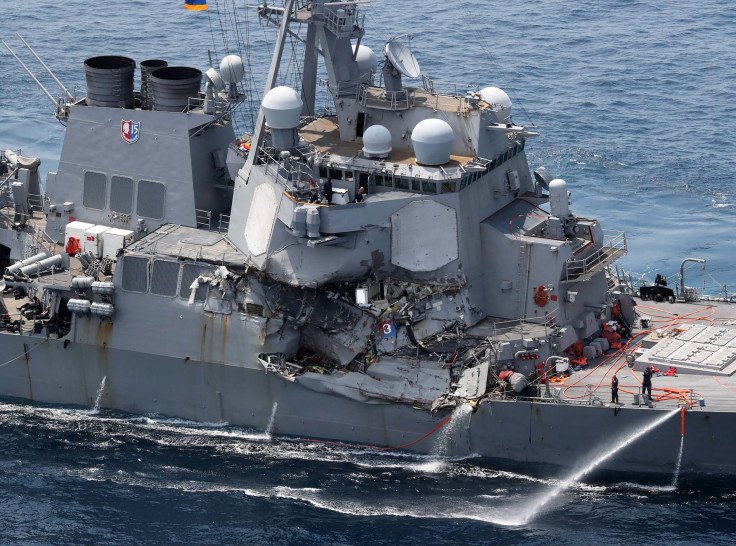 The collision of a second guided-missile destroyer in Asian waters within two months will seriously hobble the Japan-based U.S. Seventh Fleet, whose main aim is to contain an ambitious China and counter an ICBM-armed North Korea.
Rescue operations were on for 10 missing sailors when the USS John S. McCain collided with a merchant ship east of the Straits of Malacca early Monday morning.
On June 17, seven sailors were killed when another guided-missile destroyer, the USS Fitzgerald, collided with a container ship off the coast of Japan.
The Fitzgerald and John S. McCain are both ballistic missile defense (BMD) ships and part of the same destroyer squadron based on Yokosuma.
The Seventh Fleet is the largest of the US Navy's deployed sea forces, with roughly 50­-70 ships and submarines, and 140 aircraft across the Indian Ocean and the Pacific. It is the only one that is "forward deployed," meaning it is the first to respond when something happens in the region, the Associated Press reported.
The USS Ronald Reagan, a nuclear-powered supercarrier, is permanently deployed as the fleet's flagship carrier at Yokosuma. The fleet also includes up to 14 destroyers and cruisers at any given time armed with long­-range Tomahawk land attack missiles, anti­-aircraft missiles; and up to 12 nuclear-powered submarines.
The threat from North Korea escalated swiftly when the country conducted two ICBM tests in July and announced the "entire" US mainland within range of its missiles.
With two ships — capable of provide missile defense against short to intermediate-range ballistic missiles and fitted with the most advanced anti-submarine warfare equipment — retiring hurt, the Navy has lost critical assets in the western Pacific. Both were Arleigh Burke- class destroyers equipped with the Aegis missile defense system.
They are part of a multibillion-dollar mission to protect the United States from foreign ballistic missiles, especially from North Korea. The Aegis system on the ships can track ballistic missiles and provide targeting data for ground-based interceptors stationed in Alaska and California.
Another layer of this shield is the Terminal High-Altitude Area Defense system, or Thaad, that the U.S. has installed in South Korea, and which is capable of intercepting or destroying incoming missiles mid-flight.
There are more destroyers and cruisers based in Japan that can be used to destroy North Korean missiles.
Here's what the McCain is equipped with:
One 29 cell and one 61 cell Mark 41 vertical launching systems.
90 RIM-156 SM-2, BGM-109 Tomahawk or RUM-139 VL-ASROC missiles
Two Mark 141 Harpoon Missile Launcher SSM (surface-to-surface missile)
One Mark 45 5/54 inch (127/54 mm) lightweight gun
Two 25 mm chain guns
Four .50 caliber (12.7 mm) guns
Two 20 mm Phalanx CIWS (an advanced radar-controlled gun system)
Two Mark 32 triple torpedo tubes
The navy's priority now would be to replace them as soon as possible.
While the extent of the damage to the ships is yet to be assessed, it is highly unlikely they would be returning to service soon. They will most likely be taken to the United States for repairs. It took nearly three years for the USS Cole to become operational again after it was bombed by terrorists in 2000.
The Navy will have to figure out how to fill the void created by the absence of these destroyers. They can probably send new ships to take their place, or surge-deploy additional ships from the U.S. to the western Pacific for extended periods.
Though it will easier to equip replacement ships with the latest equipment as in the damaged destroyers, it will be near impossible to match the experience of their crews who have operated almost exclusively in the western Pacific. The years of getting to know the geography, tactics, and building operational experience uniquely applicable to Western Pacific conflict scenarios will be hard to replace, and the replacement crews will have their tasks cut out.
Asked whether other ships would be deployed to maintain its strength amid rising tension with North Korea, a Navy spokesman said it was "way too early to know," the Guardian reported.
© Copyright IBTimes 2023. All rights reserved.