Utah Coal Mine Remains On Fire Almost 3 Months Later
A coal mine fire in Utah that has been burning for nearly three months is wreaking havoc on the impoverished town surrounding it and is threatening the jobs of 230 workers.
The fire started in late September in the Lila Canyon mine, about 110 miles southeast of Provo. It's a top three coal-producing mine in Utah, providing nearly a third of the state's coal and it yielded 3.3 million tons in 2020.
Officials still haven't determined a cause and are struggling with how to put it out. Local officials believe spontaneous combustion is the culprit, a common cause of a coal mine fire.
The Labor Department's Mine Safety and Health Administration is investigating.
Regardless of cause, the mine is in danger of closing permanently and its 230 employees in danger of losing their jobs.
When the mine began burning 1,200 feet underground all miners were evacuated safely.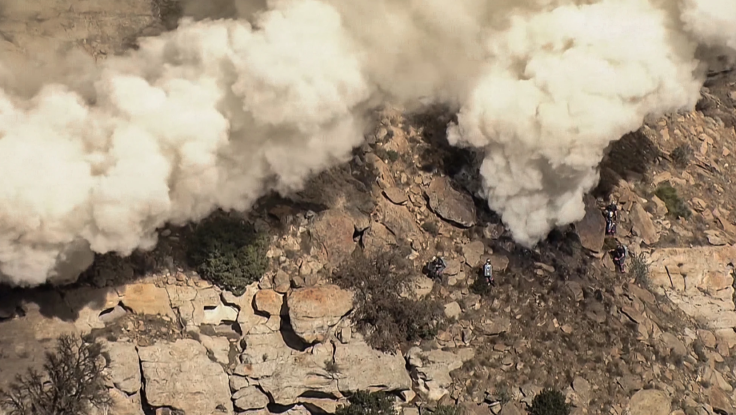 The fire has already impacted two of Utah's biggest power plants, according to the Bureau of Land Management (BLM). Rocky Mountain Power has lost its leading coal supplier.
"The actions approved in this environmental assessment are focused on extinguishing the fire and, by doing so, prevent damage to equipment and existing mine infrastructure," said BLM Utah State Director Greg Sheehan in a press release.
In addition, about a quarter of the residents in the mining town of East Carbon are currently living in poverty, according to U.S. Census Bureau data.
"The younger people work in the mine, and that's their main source of income," Janice Hunt, an East Carbon resident and former coal mine worker, told NBC. "There could be big consequences, especially to our community. We're already suffering as it is."
Lance Porter, the Green River district manager, said Emery County Coal Resources, the company that runs the mine, has a strategy to extinguish the fire eventually.
"It can be challenging to eliminate coal fires," Porter told NBC.
Porter said the plan does not guarantee the fire will stop burning. He said vents in the mine have been closed to cut off the fire's oxygen supply. Porter did not comment on whether there was an environmental threat to the local communities surrounding Lila Canyon.
Emery County Coal Resources, an American Consolidated Natural Resources subsidiary, did not respond to several requests for comment by NBC.
© Copyright IBTimes 2023. All rights reserved.