'Vampire Diaries' Season 5 Spoilers: 7 Things To Know Before The Season Finale; Episode 22 Clues Roundup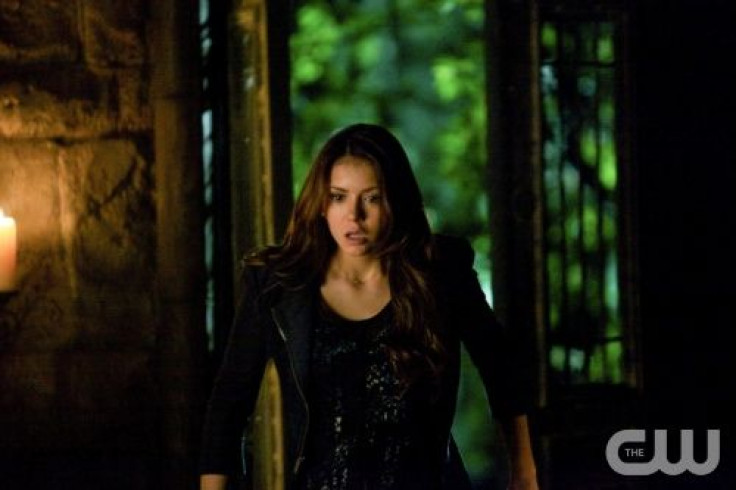 It's almost here – "The Vampire Diaries" season finale! While the final episode of Season 5 means a long hiatus, fans can't help but be excited about the coming drama. We've compiled a list of seven spoilers and clues to know before episode 22 (the season finale) airs on May 15.
Ready to dive in?
1. The Official Synopsis
As we previously reported, episode 22 will be called "Home." The Season 5 finale will find Damon "heartbroken by an unexpected tragedy," but trying to hold himself together to deal with the disintegration of the Other Side. Teaming up with Bonnie, the elder Salvatore will push her to find a way to stop the Other Side from crumbling. And while it's unclear if Bonnie will find a solution, she'll definitely take advantage of the opportunity to "settle an old score."
Meanwhile, Elena will demand that Luke and Liv help stop the Other Side, and in order to get them to cooperate, Caroline proves some "personal motivation." But Caroline's strength will crack when Liv makes an off-hand remark about Stefan that leads to a "surprisingly emotional response."
Finally, Markos and the Travelers will be resorting to violence to prove their control over Mystic Falls. And unfortunately that involves an act on Tyler that leaves Sheriff Forbes horrified.
But Mystic Falls might get a happy ending. New information from Sheriff Forbes will lead Damon, Matt and Jeremy to come up with a plan that "relies on split-second timing" – a massive explosion.
"Vampire Diaries" fans can expect confusion, heroism, sacrifice, relief and despair by the end of the finale.
2. The Fate Of Delena
Will they or won't they get back together? That's the question that Damon and Elena fans are dying to know.
Things have been rocky ever since Elena suggested that they be friends, but their kiss at the end of episode 20 revealed that the sparks are still there. Unfortunately the Travelers got to Elena before the duo could talk more.
Where does that leave their relationship? "Vampire Diaries" executive producer Caroline Dries told TV Guide that Damon and Elena's feelings "will be expressed by the end of the season," which means that fans can expect an "intense, emotional scene in the finale."
"The couple is put through their ultimate test as they try to save their friends, their town, and each other," creator Julie Plec added to E! News.
3. Welcome Back
The Season 5 finale of "The Vampire Diaries" will welcome back some familiar faces. Grams, Vicki and Kol have all already popped up in the last few weeks thanks to the crumbling Other Side, but Dries told TV Line that fans can expect more "faces that we've been missing over the series."
[Click HERE to check out nine "Vampire Diaries" characters we want to see return in the Season 5 finale.]
4. Damon And The Other Woman
Move over, Delena shippers. Damon is expected to have a "big moment" with another woman in Mystic Falls. According to TV Guide, the scene will leave fans talking after the finale – but it's not clear if this "big moment" will be romantic, deadly or worse.
5. A "Threeway"
Could the "other woman" in Damon's life be Bonnie? Ian Somerhalder revealed to E! News that Damon will be working alongside Elena and Bonnie in the finale.
"The ending I think is really going to throw people," he dished. "And it definitely involves Damon in a very cool way. So I guess the tease would be there is some very, very cool stuff with Damon, Elena and Bonnie. Just stuff you didn't see … maybe it's a threeway. Definitely a cliffhanger."
6. Three Major Deaths
Yes, that's right. "Vampire Diaries" fans can expect not one, not two, but three "major" deaths by the end of the Season 5 finale.
"When aren't there big deaths?" Bonnie's Kat Graham teased E! Online. "It's what happens with them that matters."
Magic, vampire blood and the Other Side have allowed characters to flip flop between life and death. But Dries confirmed to Zap2it that the deaths will be permanent.
7. Tyler's Fate
With the Travelers knife gone, Tyler is seemingly stuck with the Passenger inside him. But just because one of Markos' men is stuck inside him doesn't mean that he's safe. As previously mentioned, Markos and the Travelers will use such shocking violence against him that Forbes will be horrified. Expect the hybrid's storyline to reach its climax in the finale.
The Season 5 finale of "The Vampire Diaries" will air on The CW on May 15 at 8 p.m. EDT. What do you think will happen in episode 22, "Home"? Let us know your theories in the comments section or send a tweet to @AmandaTVScoop.
© Copyright IBTimes 2023. All rights reserved.