'Vampire Diaries' Season 5 Spoilers: Nina Dobrev Tweets Gruesome Bloody Photo; Who Gets Bit?
The more vampires – the more gore! Filming for season five of the "Vampire Diaries" is in full swing and actress Nina Dobrev has tweeted a pretty gruesome photo.
"Blood and gore at 5:22 a.m. … Just another day at the office," Dobrev posted along with a photo. "Night shooting till sunrise … Is that soon? My bed is calling my name!!!"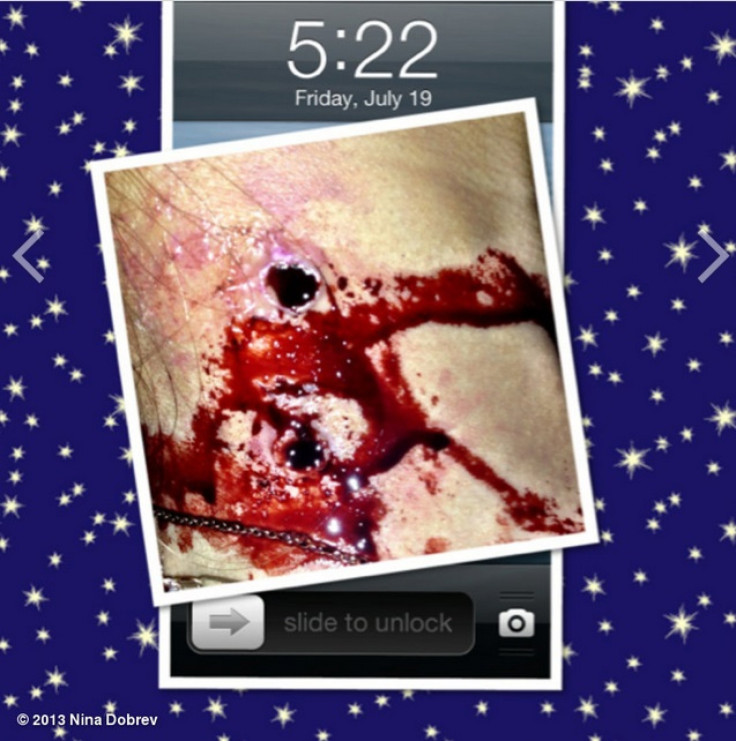 So, who's doing the biting? And who's the victim?
We're assuming that Nina Dobrev is involved in it somehow, which means she could be playing the aggressor or the victim. If the actress was filming as college freshman Elena, it's possible that she could be snacking on some of her new classmates; however, after losing her humanity in season four, we highly doubt that she'll be attacking humans anytime soon – unless provoked.
Another option behind the bite comes in the form of Dobrev playing Katherine, Elena's old doppelganger who ingested the cure in the season four finale. After years of torturing humans and vampires, Katherine is now helpless. The only known vampires still in town are Damon and potentially Tyler, who we doubt will be feeding on this firecracker. This means that Katherine could have done something to result in Damon or Tyler taking a bite out of her – or an old vampire enemy of hers has found her in Mystic Falls.
Dobrev's sneak peek at season five comes a couple days after her CW co-stars swarmed Parsippany, N.J. for a "Vampire Diaries" convention. While at the convention, Matt's Zach Roerig reminisced about the beginning of season four when Elena transitioned into a vampire. In a church scene that some viewers will remember, Matt offered himself to a hungry Elena – and Roerig revealed that Dobrev actually bit him! "She bit my neck like nobody's business," he said laughing. Here's hoping that the picture Dobrev posted is of fake blood and not an actor gone wild!
"The Vampire Diaries" returns to the CW for its fifth season on Thursday, Oct. 10. What do you think is going on in the picture? Let us know in the comments section.
© Copyright IBTimes 2023. All rights reserved.