'Vampire Diaries' Season 7 Spoilers: Paul Wesley Hints At Possible Love Triangle For Stefan And Caroline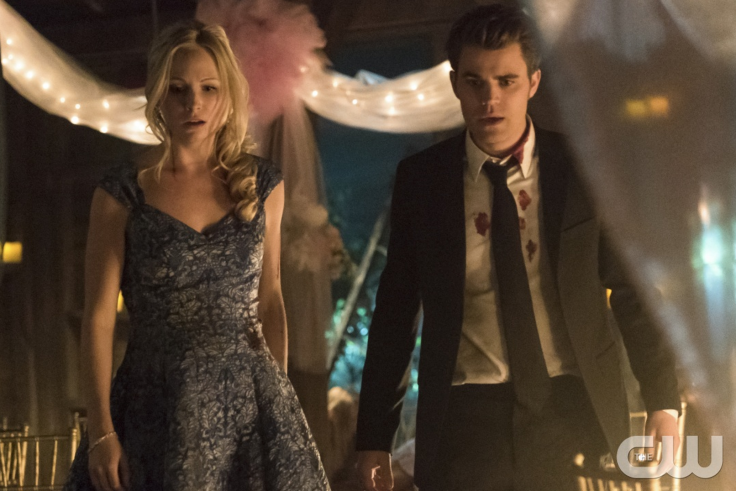 "The Vampire Diaries" might not be ditching love triangles after all. Though Elena (Nina Dobrev) has left the CW drama, Stefan (Paul Wesley) might be caught between two ladies once again. Wesley teased that a woman from his past might try to come between him and Caroline (Candice King), even though their relationship will be the main romance at the beginning of Season 7.
"Now that Elena is gone, that is sort of the romance story of Season 7," Wesley told Just Jared. "Well, there's another chick that comes into Stefan's life that creates a bit of a divide. Someone from his past. He's got eyes on Caroline, but someone from his past …"
So who is this woman? Were she and Stefan together at one point? It's not like Stefan has an extensive list of exes. Wesley didn't give any further hints about the person from his past, but he might share some steamy moments with the other woman.
"I'll be lip-locking with more than one woman," Wesley teased to TVLine last month. He didn't specify whom he was referring to, but it might be the woman from his past. We'll just have to hope that it's in a flashback of some sort. After all, Stefan promised Caroline in Season 6 he'd wait for her to be ready for a romance.
The woman creating a "divide" between Stefan and Caroline won't be the only person from Stefan's past to surface in "The Vampire Diaries" Season 7. Although Elena is unconscious until Bonnie (Kat Graham) dies, Wesley recently revealed that Stefan will still have to focus on protecting his ex.
"Elena's still a very big part of the story," Wesley told TV Insider recently. "Her body's in danger in the first few episodes, and Damon is doing everything he can to make sure it stays safe if and when she wakes up. We all had imagined this complete reboot where Elena was gone, but she's talked about so much!"
Protecting Elena and a face from the past are only the beginning of Stefan's problems. King teased that Lily's (Annie Wersching) return to Mystic Falls only makes Stefan's situation worse. "Stefan's the one batting that curveball," she explained to Just Jared Jr. "Caroline's trying to figure out a way to support him through some … he's learning a lot with his mother being back in town. There's a lot of family history that's coming up for him and his past."
It's not just the past that Stefan will have to worry about. As Lily and the Heretics take over Mystic Falls, he'll have to worry about the future of his hometown. The Heretics will try to destroy the place, but fans will have to tune in to the premiere to see if Stefan can stop them.
"The Vampire Diaries" Season 7 premieres Thursday at 8 p.m. EDT on the CW.
© Copyright IBTimes 2023. All rights reserved.