'Vampire Diaries' Season 7 Spoilers: Premiere Photos Show Damon And Bonnie's Vacation And The Heretics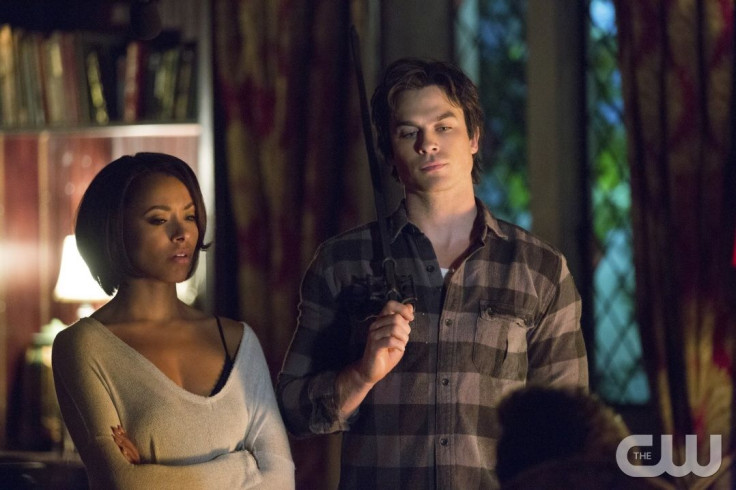 "The Vampire Diaries" Season 7 won't give the Mystic Falls gang any time to rest. The CW has released new photos of the drama that show Damon (Ian Somerhalder) and Bonnie (Kat Graham) bonding and Caroline (Candice Accola) getting tortured, TV Guide reports.
Bonnie and Damon are pictured together in the "Vampire Diaries" premiere, but they aren't in Mystic Falls. They're dealing with the loss of Elena (Nina Dobrev) and drowning their sorrows in alcohol. "When we meet Bonnie and Damon, they're with Alaric in Europe on a binge-drinking tour," Plec revealed to PopSugar in July.
While Bonnie and Damon remain friends (not lovers), they'll also have to deal with some issues stemming from Elena's curse. "They've really, really found a deep friendship with each other, which is surprising given how little respect they had for each other leading up to that situation," Plec told Buddy TV at San Diego Comic-Con. "And now, they still have that, but there's this underlying resentment on both sides … They're going to have to work their stuff out if their friendship is going to stay on track."
While Damon and Bonnie deal with their issues, Caroline will be in danger at home. It seems Lily's (Annie Wersching) Heretics will waste no time starting trouble. She'll meet Nora (Scarlett Byrne) and Mary-Louise (Teresa Liane) right away, according to the premiere photos, and it looks like the evil couple will use their powers to hurt her.
"Mary-Louise and Nora are such mean girls," Plec told Zap2It. "They are hilarious. They out mean-girl Caroline and they take lots of pleasure in torturing her."
However, judging from all the bodies around them, it looks like Caroline is lucky to be alive. The Heretics are already massacring people in the premiere episode. Yet, Lily will not be doing any of the dirty work. "What I love about Lily is that I don't think we ever see her lift a finger on the show," executive producer Caroline Dries told TV Guide. "She has a way of being manipulating and calculating and she knows how to push her son's buttons."
"The Vampire Diaries" Season 7 premieres Thursday, Oct. 8, at 8 p.m. EDT on The CW.
© Copyright IBTimes 2023. All rights reserved.
FOLLOW MORE IBT NEWS ON THE BELOW CHANNELS