'Vampire Diaries' Season 7 Spoilers: Damon Will Show His 'Wild Spirit' Post-Elena; EP Julie Plec Teases Trouble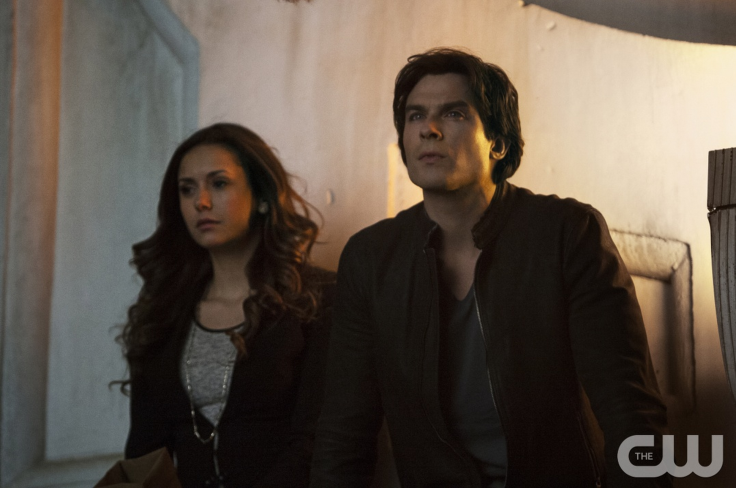 "The Vampire Diaries" Season 7 will be rough for Damon Salvatore (Ian Somerhalder). Elena (Nina Dobrev) is under a curse that will keep her away from Damon for decades, so the vampire has to figure out what to do until she wakes up. Without Elena to guide him, Damon might be in more trouble than ever on the CW drama.
"The fundamental romance has hit the biggest roadblock of all-time in the form of a six to seven-decade coma," showrunner Julie Plec told the Hollywood Reporter. "But there's something beautiful in the poetry of that. Damon's wild spirit and having to keep himself tame to wait for the girl -- which of course that [wild spirit] is the Damon we met in season one – he was waiting for the girl."
This echoes statements that Ian Somerhalder has made about the character's new direction. "We want to go back to that simple type of storytelling, where it's sexy, dark, and funny," Somerhalder told PopSugar. "Damon was this supervolatile and very unpredictable guy. He wasn't very a nice a lot of the time, but he was vulnerable. People can respect that, and it draws them in. Without giving too much away, we want to go back to that type of storytelling."
However, Damon going back to his bad boy ways in "The Vampire Diaries" Season 7 might not go well. "It's just a matter of what he gets up to as he's waiting for the girl that could get him into trouble," Plec teased to the Hollywood Reporter. "And I mean murderous trouble."
Plec didn't reveal who might end up dead, but Damon will likely butt heads with his mother Lily's (Annie Wersching) group of Heretics, vampires with the powers of witches. "They fight like cats and dogs, and they fight for each other and against each other all the time," Plec explained. "It's fun to watch them do their thing. They have no regard for the rest of the people in the community, and they have no regard for Stefan and Damon, who they consider to be the stepsiblings they don't want to know."
That doesn't necessarily mean Damon will kill the new cast members, though. They could be around for a long time. The Heretics are so much fun to watch that Plec has even thrown around the idea of giving them their own spinoff. "I look at the casting of the Heretics and I think, 'Oh, they're interesting - could they be their own show?' - so it's one of those [where] we'll see," Plec told Digital Spy. However, she'll have to wait and see if fans react the same way when the Heretics show up.
"The Vampire Diaries" Season 7 premieres Thursday, Oct. 8, at 8 p.m. EDT on The CW.
© Copyright IBTimes 2023. All rights reserved.
FOLLOW MORE IBT NEWS ON THE BELOW CHANNELS