Venus 'Angelic' Palermo Living Doll Videos Have Critics Warning Of 'Disastrous Consequences' [PHOTOS]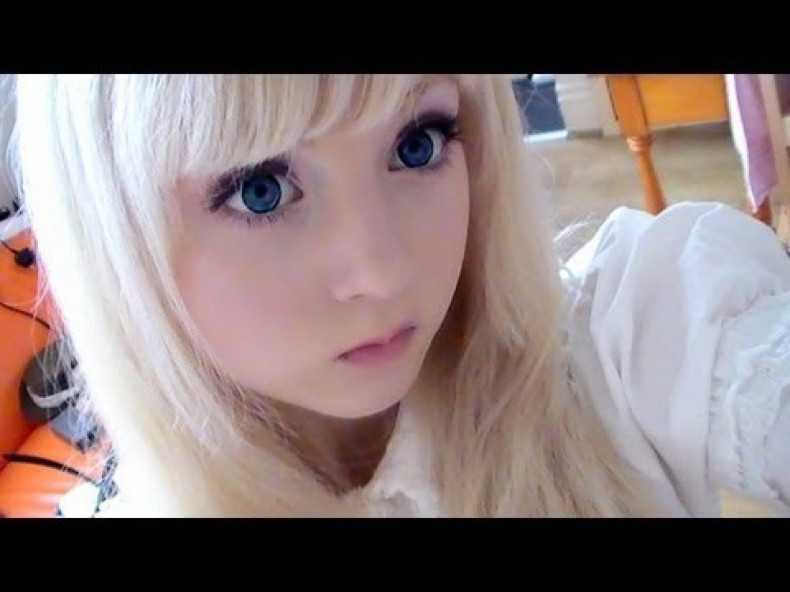 Venus Palermo, known online as Venus Angelic, has become an Internet cult sensation with viewers around the world clamoring for a look at her YouTube videos. No, Venus Angelic is not the next pop sensation or D.I.Y. master. Venus Angelic is a living doll. Although her popularity is on the rise, critics and professionals alike are voicing concern over the young girl's Lolita style.
Venus Angelic is a 15-year-old girl who is gaining enormous popularity online because, well, she looks like a living doll. With huge eyes, porcelain skin and white-blonde hair, the teenager could be a life-size version of a young girl's plaything.
She has a multitude of YouTube videos, offering makeup and beauty tutorials for other girls and woman around the world who want to attain that living doll look. Altogether, her YouTube videos have garnered more than 10 million views.
The most popular videos are her makeup tutorials, in which she teaches viewers how to use cosmetics to transform into a doll.
Some people were asking me, 'how do you do your makeup?' and I decided to put a tutorial on YouTube, Venus Angelic told the cast of RightThisMinute, a television show that puts a spotlight on the strangest clips circulating on the Internet.
Her makeup ritual is anything but typical. Venus Angelic uses contact lenses with a full, opaque color to make here irises look extra-large, similar to those of a doll's. Angelic then applies two coats of peach concealer to her face and then powder in her natural skin tone. We want the difference between powder color and natural color to be seen as it creates a natural but doll-like skin, she said in a YouTube tutorial.
Venus Angelic's mother approves of her daughter's style choices.
I would be horrified if she came home pregnant, I am not horrified if she is innocent and [a] very nice, good girl who likes some cute clothes and frills and ribbons, Margaret Palermo told the hosts of the British morning show, Daybreak.
However, not many others approve of Venus Angelic's living doll guise.
You look and sound like a complete freak, a viewer commented underneath one of the teenager's YouTube video. You're 15 - you don't need make-up! You should get some counseling. You had no father in your life and your mum obviously treated you like a doll as you're all she had. You shouldn't post videos on here encouraging normal kids to your WEIRD and unnatural ways.
Seeing young girls changing themselves and not loving their body or face and still doing nothing, this is narrow-minded, my friend, commented another.
Professionals have also voiced concern over the Lolita look.
Dr. Gray, clinical director at The British CBT & Counselling Service warned that placing such an emphasis on one's physical appearance at an early age could have disastrous consequences, possibly leading to depression, anxiety or an eating disorder later in life, according to the Daily Mail.
Gray told MailOnline, At any age placing too much value on physical appearance can be potentially detrimental to a person's self-esteem and sense of self-worth. Equally concerning is why these images have been created and for what purpose.
Distorting or enhancing pictures of children so that they appear older and more sexual surely crosses the line between how we should treat the children in our society and how we should not.
When young girls are over-sexualized in the media or targeted with particularly adult-themed products like push-up bras or thong underwear, public outcry ensues.
Images of 10-year-old model Thylane Lena-Rose Blondeau surfaced from the January 2011 issue of French Vogue, showing a highly-sexualized editorial of the young Blondeau-turned-Lolita draped over various animal skins, lathered in make-up, and staring seductively into the camera.
The photos caused a firestorm sparked by individuals furious that such images - which some claimed blurred the line between fashion editorial and child pornography - would be condoned. Despite shocking and appalling many, Blondeau's mother defends the racy spread. Quoted in an ABC News article, Veronika Loubry, a fashion designer herself, told a French newspaper, The only thing that shocks me about the photo is the necklace that she's wearing, which is worth 3 million Euros [$4.3 million]. Comments were later posted on Blondeau's Facebook fan page, possibly by the mother, stating bad person [sic] in usa [sic] for drawing attention to her daughter, before later posting something going's [sic] wrong at the moment. The page was then shut down.
According to the Daily Mail, Fleur Dorrell of the Mothers' Union in the UK described the images as physically disturbing and guilty of blurring all thoughts of beauty. She also expressed grave concerns over both Vogue and the modeling agency that represents Miss Blondeau.
She is over sexualized, just look what happened to JonBenet Ramsey, clinical psychologist Leslie Seppinni told E! News around the time the ads appeared in Vogue. When you dress a young girl up provocatively with makeup to give her the appearance of an adult, then these pedophiles who have a propensity for child abuse are receiving the message that's OK, when it's not.